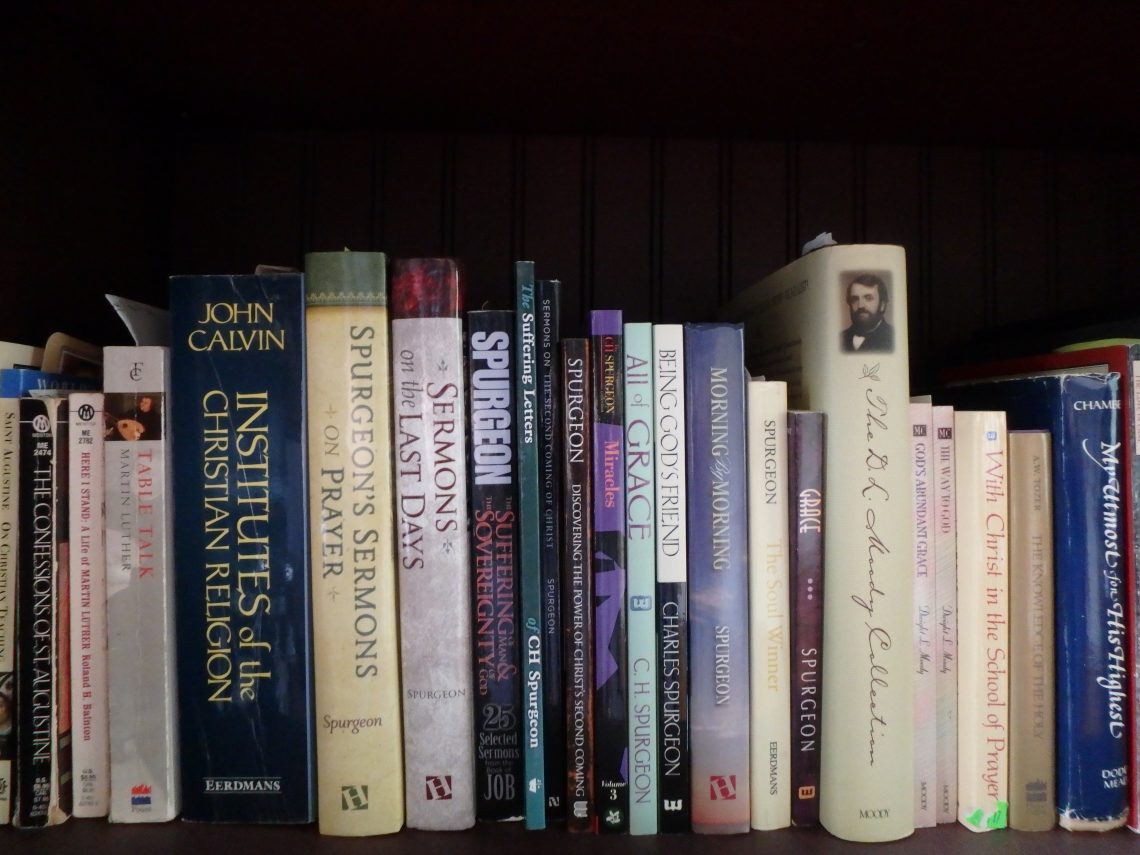 Five of the Greatest Christian Books of All-Time? (What Are Your Picks?)
"The discerning person acquires knowledge, and the wise person seeks knowledge" (Proverbs 18:15).
"I would like you to give me five of the greatest Christian books of all time."
This was what I told my dad in response to his asking me to provide Christmas gift suggestions for him and Mom about fifteen years ago. Of course, in this case I meant books other than the Bible, as I understood that the Bible contained 66 of the greatest and most influential books from throughout Christendom's history.
Now for my dad, this request may have been one of the best challenges or gift suggestions of all time since he's a person who has enjoyed reading and studying the Bible and other Christian writings most of his life. (This is something I always admired about him.) So Dad perused his library, did some research, and sought suggestions from other Christians he respected, including his brother, my Uncle David, who was a Presbyterian minister. I know this was one "assignment" that Dad enjoyed. (And, by the way, thanks to both Dad, and Mom, for giving me five great books on Christmas day that year.)
But what prompted my suggestion? Well, in my Christian walk and study I was ready to begin reading some of the great works and inspirational classics from the previous two millennia. You see, in the previous ten years I'd read the Bible twice, and had read and/or studied portions of it a dozen times more. I'd also thoroughly enjoyed listening to a lot of radio preachers from whom I gleaned as much wisdom and knowledge as I possibly could. I'd heard many learned Christians speak of, and about, great Christians of the past saying, so and so held this position on… and such and such was the position of…. Conversations of that sort had not always interested me, but by this time in my life I was interested. I wanted to know the thoughts, opinions, and ideas of the learned and wise believers who had gone before me. Many of them devoted their lives to studying the Scriptures, serving God, and battling the enemies of God and the Gospel through their words and writings. Some did these things when their very lives were being threatened. I wanted to see what they had to teach me. After all, "Those who are wise store up knowledge" (Proverbs 10:14) and "The one who associates with the wise grows wise" (Proverbs 13:20). And God knows I have always needed all the help I could find!
So, what books did Dad settle on?
1.      The Confessions of St. Augustine
2.      The Bondage of the Will by Martin Luther
3.      Institutes of the Christian Religion by John Calvin
4.      The Soul Winner by Charles Haddon Spurgeon
5.      Mere Christianity by C.S. Lewis
Since such lists are subjective, I expect some will say, "That's what he came up with?" But I also suspect that if you asked my father, "Why did you pick those books?" he would answer something to the effect that he could have picked ten or fifteen books, that he might change a couple of the books today, but those are the ones he chose at the time. Certainly, picking five books from all the Christian writings of the last 2000 years is not an easy task. (I hope you will try it in a moment, and see for yourself how difficult it is.)
As for me, if I recall correctly, I read Confessions, Mere Christianity, and The Soul Winner within a year or so of receiving them. I began Luther's The Bondage of the Will in 1997 and found it, at the time, the most difficult book I'd ever attempted to read. Thinking back, I recall only being able to read one or two pages a day before finding the need to stop and rest my brain.[1] The book became so laborious for me that I put it aside for over a year. In the interim I read the biography of Luther, Here I Stand by Roland Bainton, in order to gain a better perspective on the book. I picked Bondage of the Will up again at the end of 1999 and finished it in 2000. But what of Calvin's Institutes? Well, desiring to read it from beginning to end, not only as an occasionally reference, I still have only read about one third of it in these many years, as it weighs in at over 1200 pages (Yikes!).
So now, here's the challenge for the reader: I invite you to respond to this blog and present us all with your list of Five of the Greatest Christian Books of All-Time. How will you choose? What will your criteria be? Will you pick the five books that had the greatest impact on your life, the five that God really used to  make a difference in your Christian walk, faith, or understanding? Will your list be of the five books you would highly recommend to unbelievers or, perhaps, five books you would recommend to new or growing Christians? What subjects will you choose? Christian history, biography, novels, psychology or relationship books, science or intelligent design, theology, philosophy, apologetics, commentaries, books by evangelists and/or preachers. Here is your opportunity to present your list. And when you respond, please tell us why you have chosen your five books.
Below is my list of Five of the Greatest Christian Books of All-Time, chosen for the following reason: They are books that really had an impact on me and my Christian thinking as I went in search of the Truth. They are books that I would want everyone to read, believer and non-believer alike, because in my heart I would hope and pray that they would impact each reader as much as they impacted me.
1.      Mere Christianity by C.S. Lewis
2.      The Problem of Pain by C.S. Lewis
3.      The Confessions of St. Augustine
4.      Here I Stand: A Life of Martin Luther by Roland H. Bainton
5.      The Case for Christ by Lee Strobel
This is my list for now, at this moment in time. I expect it could have been different a year ago… It might be different in another year. Perhaps you will pick one of them up, read it, and be blessed by it.
"The words of the wise are heard in quiet" (Ecclesiastes 9:17).
So what's your list?
---
To read some of my other columns, check here: https://blogs.bible.org/author/stephen-j-drain/
[1] To know how I felt, one must look up the Gary Larson Far Side cartoon in which a student in class raises his hand and says, "Mr. Osbourne, may I be excused? My brain is full." Possibly here.