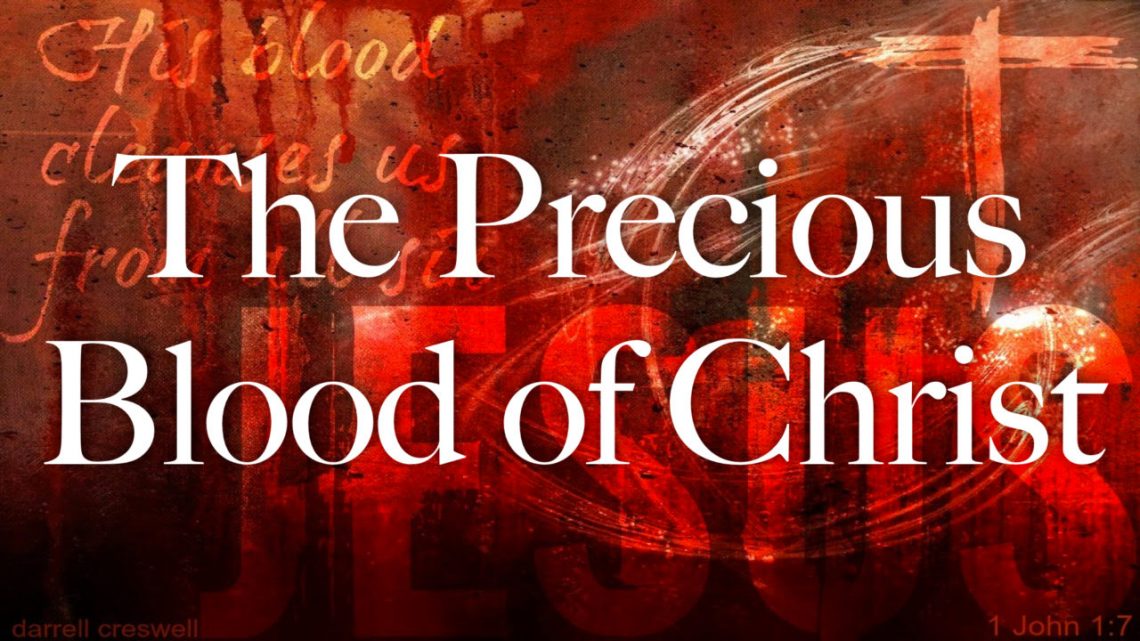 Redeemed by the Blood of Jesus
---
There are three different words in the Greek New Testament translated into our English word "redeem." We will explore these three words and allow them to tell their story of the Cross of Jesus Christ (1).
---
I. The first Greek word is agorazō, which means to buy a slave in the marketplace. This word is used in the following verses:
For you were bought at a price. Therefore glorify God with your body. (1 Corinthians 6:20 NET)
But false prophets arose among the people, just as there will be false teachers among you. These false teachers will infiltrate your midst with destructive heresies, even to the point of denying the Master who bought them. As a result, they will bring swift destruction on themselves. (2 Peter 2:1 NET)
They were singing a new song: "You are worthy to take the scroll and to open its seals because you were killed, and at the cost of your own blood you have purchased for God persons from every tribe, language, people, and nation. (Revelation 5:9 NET)
Our slave market is this earth with all unsaved people being slaves of sin (John 8:34) and thus Satan (Romans 6:16). After the fall of Adam, all the human race could rightfully expect would be punishment for its sins. However, God the righteous judge stepped down from His judgment throne and Glory to take upon Himself the guilt and penalty of human sin. He thereby satisfied His justice thus making it possible to give mercy by justice satisfied to all hell-deserving sinners. This mercy is given to those who put their faith in the Savior (1) who died for them. This was Jesus, our Lord, who paid the price for sin's penalty at Calvary. Those who trust in His blood, belong to Him as His bondslaves.
The one who eats my flesh and drinks my blood has eternal life, and I will raise him up on the last day. (John 6:54 NET)
II. The second Greek word is exagorazō, which means to buy out of the slave market. This word is used in the following verses:
Christ redeemed us from the curse of the law by becoming a curse for us (because it is written, "Cursed is everyone who hangs on a tree") (Galatians 3:13 NET)
But when the appropriate time had come, God sent out his Son, born of a woman, born under the law, to redeem those who were under the law, so that we may be adopted as sons with full rights. (Galatians 4:4,5 NET)
Those saved are never to be put up for sale in any slave market again. They belong to Jesus forever!
III. The third Greek word is lutroō, which means to set free by the payment of a ransom. This word is used in the following verses:
He gave himself for us to set us free from every kind of lawlessness and to purify for himself a people who are truly his, who are eager to do good (Titus 2:14 NET)
You know that from your empty way of life inherited from your ancestors you were ransomed– not by perishable things like silver or gold, (1 Pet. 1:18 NET)
That is, the Lord's bondservants are set free from sin and their old master Satan! This is so we can experience that for which God created us – fellowship with and service to God!
The Effects of the Blood of Jesus
Through the Blood of Jesus, I am redeemed from the power of the Devil!
Let those delivered by the LORD speak out, those whom he delivered from the power of the enemy, (Psalms 107:2 NET)
Therefore, since the children share in flesh and blood, he likewise shared in their humanity, so that through death he could destroy the one who holds the power of death (that is, the devil),  and set free those who were held in slavery all their lives by their fear of death. (Hebrews 2:14-15 NET)
The one who practices sin is of the devil, because the devil has been sinning from the beginning. For this purpose the Son of God was revealed: to destroy the works of the devil. (1 John 3:8 NET)
Disarming the rulers and authorities, he has made a public disgrace of them, triumphing over them by the cross. (Colossians 2:15 NET)
Through the Blood of Jesus, all my sins are forgiven!
God publicly displayed him at his death as the mercy seat accessible through faith. This was to demonstrate his righteousness, because God in his forbearance had passed over the sins previously committed. (Romans 3:25 NET)
Indeed according to the law almost everything was purified with blood, and without the shedding of blood there is no forgiveness (Hebrews 9:22 NET)
In him we have redemption through his blood, the forgiveness of our trespasses, according to the riches of his grace (Ephesians 1:7 NET)
From John, to the seven churches that are in the province of Asia: Grace and peace to you from "he who is," and who was, and who is still to come, and from the seven spirits who are before his throne, and from Jesus Christ– the faithful witness, the firstborn from among the dead, the ruler over the kings of the earth. To the one who loves us and has set us free from our sins at the cost of his own blood (Revelations 1:5 NET)
Through the Blood of Jesus, I have peace with God.
For God was pleased to have all his fullness dwell in the Son and through him to reconcile all things to himself by making peace through the blood of his cross– through him, whether things on earth or things in heaven. (Colossians 1:19,20 NET)
But now in Christ Jesus you who used to be far away have been brought near by the blood of Christ. For he is our peace, the one who made both groups into one and who destroyed the middle wall of partition, the hostility, when he nullified in his flesh the law of commandments in decrees. He did this to create in himself one new man out of two, thus making peace, and to reconcile them both in one body to God through the cross, by which the hostility has been killed. And he came and preached peace to you who were far off and peace to those who were near, so that through him we both have access in one Spirit to the Father.  (Ephesians 2:13-18 NET)
The Blood of Jesus, God's Son, continually cleanses me from all sin.
But if we walk in the light as he himself is in the light, we have fellowship with one another and the blood of Jesus his Son cleanses us from all sin. (1 John 1:7 NET)
Through the Blood of Jesus, I am justified, made righteous, just as if I had never sinned.
Much more then, because we have now been declared righteous by his blood, we will be saved through him from God's wrath. (Romans 5:9 NET)
But now in Christ Jesus you who used to be far away have been brought near by the blood of Christ. (Ephesians 2:13 NET)
Through the Blood of Jesus, I am sanctified, made holy, set apart to God.
Therefore, to sanctify the people by his own blood, Jesus also suffered outside the camp. (Hebrews 13:12 NET)
Through the Blood of Jesus, my conscience is cleansed from dead works.
how much more will the blood of Christ, who through the eternal Spirit offered himself without blemish to God, purify our consciences from dead works to worship the living God. (Hebrews 9:14 NET)
he saved us not by works of righteousness that we have done but on the basis of his mercy, through the washing of the new birth and the renewing of the Holy Spirit, (Titus 3:5 NET)
My body is a Temple of the Holy Spirit, redeemed, cleansed, by the Blood of Jesus.
Or do you not know that your body is the temple of the Holy Spirit who is in you, whom you have from God, and you are not your own?  For you were bought at a price. Therefore glorify God with your body.   (1 Corinthians 6:19,20 NET)
You know that from your empty way of life inherited from your ancestors you were ransomed– not by perishable things like silver or gold, but by precious blood like that of an unblemished and spotless lamb, namely Christ. (1 Peter 1:18,19 NET)
Watch out for yourselves and for all the flock of which the Holy Spirit has made you overseers, to shepherd the church of God that he obtained with the blood of his own Son. (Acts 20:28 NET)
Satan has no place in and no power over me through the Blood of Jesus and the Word of God!
But they overcame him by the blood of the Lamb and by the word of their testimony, and they did not love their lives so much that they were afraid to die. (Revelation 12:11 NET)
The Blood of Jesus represents His dying for Us
"It was not Jesus' physical blood that saves us, but His dying on our behalf, which is symbolized by the shedding of His physical blood. If we could be saved by blood without death, the animals would have been bled, not killed, and it would have been the same with Jesus. Thus bloodshed was the symbol for death when Moses ratified the covenant on Sinai. Likewise, when the Tabernacle was inaugurated, Moses sprinkled the tabernacle and all the vessels of the ministry with the blood, again picturing the price to be paid for sin. The central lesson of the covenant was thus illustrated by the sprinkling of blood in the Tabernacle and Temple as long as that covenant stood. The purpose of the blood was to symbolize sacrifice for sin, which brought cleansing from sin. Therefore, without shedding of blood there is no forgiveness. Again, however, we need to keep in mind that the blood was a symbol. If Christ's own physical blood, in itself, does not cleanse from sin, how much less did the physical blood of animals. It is not surprising, then, that the Old Covenant allowed a symbol for a symbol. A Jew who was too poor to bring even a small animal for a sacrifice was allowed to bring one-tenth of an ephah (about two quarts) of fine flour instead (Leviticus 5:11). His sins were covered just as surely as those of the person who could afford to offer a lamb or goat or turtledove or pigeon (Leviticus 5:6–7). This exception is clear proof that the old cleansing was symbolic. Just as the animal blood symbolized Christ's true atoning blood, so the ephah of flour symbolized and represented the animal blood. This non-blood offering for sin was acceptable because the old sacrifice was entirely symbolic anyway. Yet this was the only exception. And even the exception represented a blood sacrifice. The basic symbol could not be changed because what it symbolized could not be changed. "For the life of the flesh is in the blood, and I have given it to you on the altar to make atonement for your souls; for it is the blood by reason of the life that makes atonement" (Leviticus 17:11). Since the penalty for sin is death, nothing but death, symbolized by shedding of blood, can atone for sin. We cannot enter into God's presence by self-effort to be righteous. If we, on our own, could be good, we would not need atonement. Nor can we enter His presence by being model citizens or even by being religious. We cannot enter His presence by reading the Bible, by going to church, by giving generously to the Lord's work, or even by praying. We cannot enter His presence by thinking good thoughts about Him. The only way we can enter into God's presence, the only way we can participate in the New Covenant, is through the atoning death of Jesus Christ, made effective for us when we trust in Him as saving Lord. God has set the rules. The soul that sins will die. The soul that is saved will be saved through the sacrifice of God's Son. For this sacrifice there is no exception, no substitute, for this is the real thing. Because they were symbols, God provided a limited and strictly qualified exception (flour) to the old sacrifices. But there can be no exception for the real sacrifice, because it is the only way to God." (2)
---
(1) Left-click on the underlined phrase to open another article in a different tab with more explanation.
(2) MacArthur, J. F., Jr. (1983). Hebrews (pp. 237–238). Chicago: Moody Press.
G
---