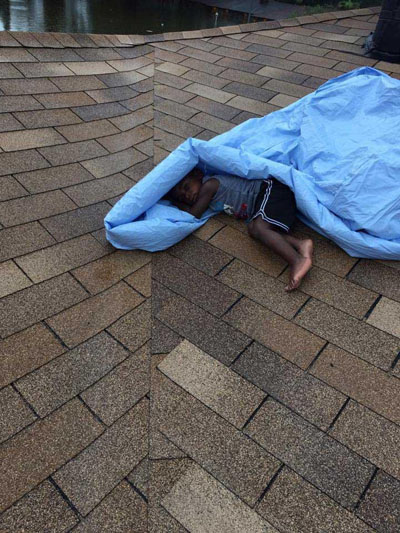 Houston We Pray for You by Faith
This weekend I sat with my eyes fixed on the news as the entire nation watched Hurricane Harvey drop trillions of gallons of water on the Gulf Coast. I was pleased to hear that the hurricane lost some of its might, only to awake to the scene of a city buried under flood water. My news feed was covered in stories of heroic moments that define our struggle against mother nature, yet there was one story in particular that caught my eye.
A mother of three young children escaped to the roof of their home as their furniture slowly rose to the top of the ceiling. With nowhere else to go, they settled down to spend the night under a tarp watching the ever-rising current. The mother mentioned that she was losing hope and posted a video pleading for salvation to come. As a mom of three, I couldn't help but try to put myself in her shoes; what would it feel like to know you and everyone you hold dear are hours away from what feels like certain death? While balancing the slippery slopes of the roof top you could actually see the water line threatening to overcome even the highest perch they could reach.
Seconds after her video was posted, hundreds of comments pledging prayer came flooding in. Some left #prayforhouston, while other inserted the infamous praying hands emoji , and some typed out prayers of encouragement for this young family.

I was taken aback by the widespread outcry for God's intervention, and the deluge of calls for his demonstrative glory. The abundance of prayer pledges seemed to rest conspicuously among a culture that is quick to voice its antipathy towards all things godly. I experienced this juxtaposition of prayer abiding with unbelief while dealing with something difficult in my own life. An atheist, whom I love dearly, told me he was praying for me. I said thank you, but I was left scratching my head; why would one pray if they do not believe in the power behind it? Believers and non-believers alike have become accustomed to provoking Christan lingo without Christian faith; for example, Bruno Mars proliferated the term #blessed without mentioning the God from whom all blessings flow. Social media activism often commits prayer to those who suffer but it leaves me to wonder how many emojis, memes and gifs are backed by sincere prayer.
My search for sincerity in prayer is compounded by the fact that even believers are slow to pray in faith, believing that God can change one's circumstance. It's as if our fingers type out hollowed prayers for victims of tragedy while we secretly doubt God's power. By all means, I do not wish to diminish the present pain that Houston is experiencing or even compare the quiet prayers of those who share #hashtags to those who hold prayer meetings. However, I do wish to draw our eyes to gaze upon the greatness of our God, the only one who is able to reach down from eternity to interact with our day to day lives through prayer.
I wish to remind us of the splendor of God; while he is holy and set apart above all creation, he is also personal and tender hearted. Even more astounding yet, is that God, in all his might, is still in the "business of blessing" as the old folks in my church used to say. What they meant by this was that God's miraculous interaction with his people did not come to an end; he is not far from us and he has the power to act on our prayers.
Therefore as we pray for those affected by Hurricane Harvey, let us remember that we serve the God of Abraham, Issac, and Jacob who was the same yesterday, today and forever more. (Hebrews 13:8) The God who parted the red sea, who through prayer added years onto King Hezekiah's life, who looked upon the people with compassion, who restored sight to the blind and caused lame men to walk, who was buried only to be raised again in 3 days, this is the God we still serve!
This is the God who still answers prayers, and this is the God who still saves people from the flood. As we bow to pray, as we poise our fingers to support others via hastags, let's be sure that our prayers are backed by God's power, knowing that the "Lord's hand is not too weak to deliver you and his ear is not too deaf to hear you." (Isaiah 59:1)