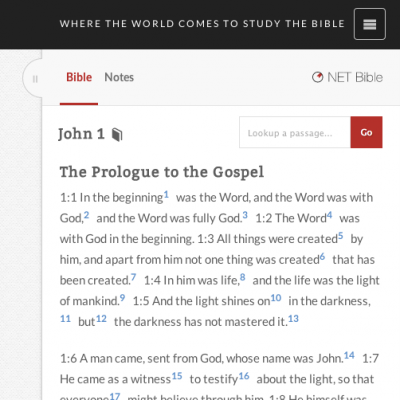 Introducing the NET Bible Drawer
Not long ago someone showed up in the Bible.org office and asked this question: "Wouldn't it be cool if a site called 'Bible.org' actually had the Bible on it?" They were right. Bible.org had thousands of Bible study resources, but the NET Bible was kind of in it's own world over in the NET Bible Study Environment.
After several brainstorming sessions –and too many trips to the Keurig to count– the NET Bible Drawer was born.
The NET Bible Drawer has tons of awesome features, but I want to show you just a couple of them here. (Don't worry. We've created a page for you to explore everything else that the drawer can do.)
To access the NET Bible Drawer, just click the tab at the top right of any article on Bible.org.
Notes
Click on any verse in the drawer and a bubble will pop up that allows you to add a note. You'll have to have a Bible.org user account to take notes, but your notes will be synced with the NET Bible Study Environment and with the soon-to-be-released NET Bible iOS app.
NET Bible Notes
As you know, one of the benefits of the NET Bible is the vast amount of information found in the notes. All of the NET Bible notes are available in the drawer. Just click the note number and red box will show up at the bottom of the page containing the note.
We're always happy to hear from you, so let us know what you think about the NET Bible Drawer. Just leave a comment below, drop us an email, or connect with us on Facebook, Twitter, or Google+.