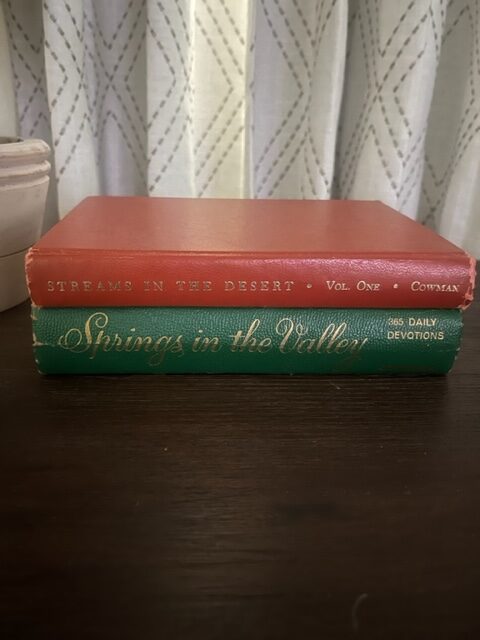 Lettie Cowman, Fellow Traveler
Perhaps you have never heard of Lettie Cowman, but hopefully you have been introduced to her mloved devotional books, Streams in the Desert and Springs in the Valley. These two books, published in 1925 and 1939 respectively, have been perennial best sellers, gracing the nightstands and desks of men and women for generations. What made them so timeless and who was the woman behind them?
Lettie and Charles Cowman served faithfully as missionaries in Japan from 1901-1918. Their efforts were successful, but eventually Charles developed serious health problems and they had to return home. This was not the future they expected. Lettie began to journal various quotes and scripture verses meant to strengthen their faith and help deal with the inevitable disappointment and heartache of their broken dreams.
From that point on, she sat by her husband's sickbed, nursing and caring for him until he passed away several years later. In God's timing, the 1920s were a turbulent time in American culture, marked by economic prosperity, flappers, prohibition and eventually the stock market crash. It was against the background of a growing interest in evolution, made popular by the writings of Charles Darwin, that her devotional, Streams in the Desert, was published. It was also the year of the Scopes Monkey Trial, the legal battle between John Thomas Scopes, a high school science teacher accused of teaching evolution, and the state of Tennessee. It was illegal at that time in Tennessee schools to teach anything other than the biblical story of creation. The Scopes Trial quickly gained national attention as a showdown between fundamental Christianity, which taught the biblical account of creation, and evolution which was the scientific theory that explained man's creation through natural selection. Clearly Darwinism and atheism had captured the imagination of the American public, and bookstores could not keep books on evolution in stock. But Lettie's Streams in the Desert appeared to hit a nerve with the American public and unexpectedly also became a best seller, indicating there was still a hunger for books on faith. Several years later she published Springs in the Valley, a companion volume. A prolific writer, Lettie Cowman also published seven other books.
Lettie's inspirational insights developed during their dark times on the mission field as well as the years spent caring for her invalid husband. She continued to add to her collection of various quotes, poems and meditations from well respected Christian authors such as F.B. Meyers, A.B. Simpson, C.G. Trumbull, Harriet Beecher Stowe, Frances Ridley Havergal and Hannah Whitall Smith, among others. Her references indicate the eclectic and extensive nature of her reading. She found comfort in not only the promises of God, but encouragement from other believers who had traveled similar roads of difficulty.
Lettie also introduced a new format regarding the devotional genre. She put her devotions in a calendar form, which had not been done before. She organized each entry with the date, then introduced a scripture verse or passage, a corresponding meditation or thought, and then a prayer. She clearly expected her readers to do what they already knew to do – to spend time in prayer and Bible reading at the beginning of each day. Lettie wrote in a manner that drew her readers in, becoming close companions on a spiritual journey, seeking comfort and assurance from the Bible. She refers to her reader as "anxious one", demonstrating her compassion for those going through trials such as herself.
Her titles reflect her overall theme, picturing the biblical metaphors of spiritual thirst and hunger. Introducing Streams in the Desert, Lettie quotes Isaiah 35:6, "…In the wilderness shall waters break out, and streams in the desert."  In her introduction to Springs in the Valley, she writes, "He sendeth springs into the valleys, which run among the hills", quoting Psalm 104:10. She dedicates the second volume, Springs in the Valley, to "my fellow travelers on the Desert Highways of Life…"
Lettie Cowman's devotional books prove the staying power of the written word. She is yet another woman in church history who leaves a legacy of faith and inspiration to those who come after her. If you are an "anxious one", in the desert or in the valley, begin this devotional journey with Lettie. You will find encouragement and strength for your own journey and hope for the days ahead.
This blog was originally published on March 31, 2023 at https://research.lifeway.co