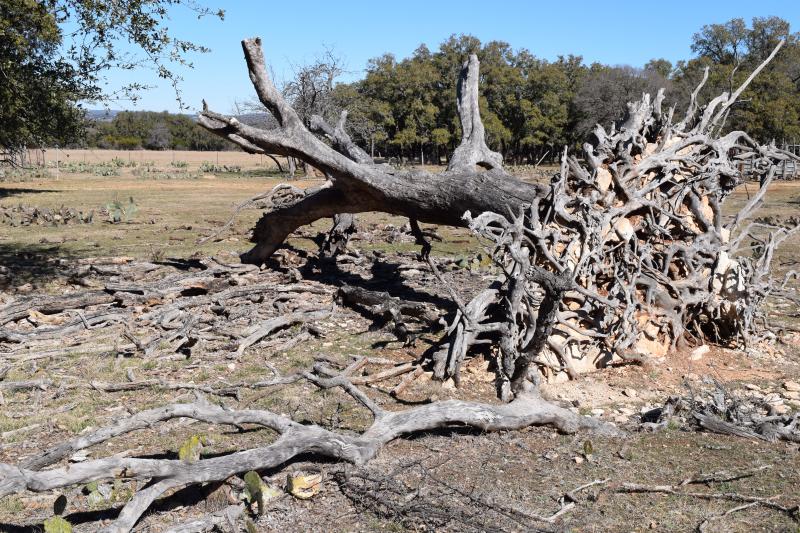 Life Without The Holy Spirit
Can you imagine life, human existence, without the Holy Spirit – the third person of the Trinity? A few years ago, before I saw this tree, I wondered how it would be if I had no Holy Spirit within me. It might resemble this picture – a tree, for whatever reason, that has lost it's footing, it's grounding, it's life – formerly a formidable structure now a pile of dried, dead wood fallen over revealing no roots.
Every time we drive by this dead tree on #290 headed home, I look at it. Would this be what my life would be living without the indwelling Holy Spirit? As I followed the progression of this thought, I began to wonder how much would be impacted by this reality – no Holy Spirit.
I would be operating totally on my own resources.
I would have no assurance of my salvation. I would have no Presence of Christ living inside of me. His Spirit would not be indwelling me. I would have no internal conviction of sin. I would have to transform myself into the image of Christ.
I could not understand the scriptures. I would have no guide. I would not know truth. I would have no internal comforter, nor intercessor, nor counselor. I would be totally on my own. My own efforts would be all I had. Nothing else.
I would have no power, no internal equipment nor effectiveness in telling someone else about the risen Christ. I would be on my own to convict the person of their need for God.
There might even be no written revelation of God. The Spirit inspired the writers of Scripture. I'd have to figure out on my own the origin of life; what to do with my sin; on and on my thoughts continued.
Basically it would be like living without life support – bankrupt…trying to make my life work and be strong on my own.
Then, abruptly, as if waking from bad dream or in this case a nightmare, I began to focus on the reality of all God provides for me, for you, in fulfilling the promise Jesus made to send His Spirit. My immediate response was overwhelming gratefulness. I wanted to slip out of my chair and fall on my knees to worship this profound Provider of exactly what He knew I would need. In the hour of His deepest need He prays for me and for you that the Father would take care of us – John 17.
In John 14 -16 He promised to give us a Comforter, a truth guide, an illuminator of scripture, an agent of conviction; Someone to be in us and with us; the one who would bring glory to the Lord through me, through you.
Just before Jesus left to return to the Father, recorded in Acts 1, He told his disciples to wait in Jerusalem until they would receive what the Father has promised – the powerful indwelling Holy Spirit.
Paul in Romans 8 gives more insight on the Spirit. The Spirit gives peace of mind. The Spirit leads the believer; is the agent of our adoption into the family of God. The Spirit confirms within my spirit that I really am a child of God. The Spirit intercedes for me when I pray according to the will of God.
In I Corinthians 6 Paul explains that the Spirit washes, sanctifies and justifies believers. In I Corinthians 12 the Spirit gives believers spiritual gifts for the common good. The list goes on and on. Do your own research and add to this list.
As I embrace this reality I am SO grateful the Spirit of God lives in me. Thank God He thought ahead and knew exactly what it would take to restore the imago dei in every believer's life. He knew exactly what we would need to make it. Thank you, Lord! I do not have to live my life without the Holy Spirit – dead, dried up and useless.
Picture: Credit Andy Seidel; Adapted from the original blog posted Wednesday, 1/04/2012
http://blogs.bible.org/engage/gail_seidel/life_without_the_holy_spirit