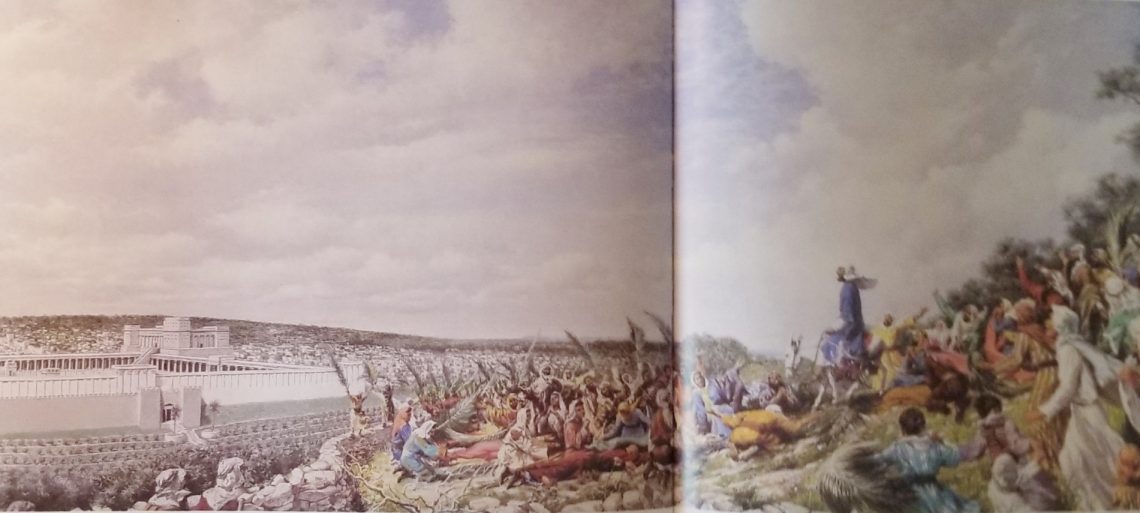 Missing My Crowd: A Palm Sunday Lament (but can we really choose trust?)
It's just wrong to spend Palm Sunday and Easter at home. I wished I'd been on my way to church yesterday instead of listening to a sermon on line. I so missed seeing our kids waving palm branches. Singing praises and hosannas in a room full of voices blending so strongly that my own is submerged in a sea of praise.
My morning began with a silent reading about a day of praise. Jesus riding in, gently, peaceably down the Mount of Olives through the Beautiful gate and the streets of Jerusalem.
What was missing yesterday was the crowds.
Can you imagine lining up behind Jesus 6 ft. apart? Walking down the Mount of Olives in single file? It really puts a damper on the joy. Sucks all the energy out of the scene. We were meant to worship in crowds. Multitudes. Singing loudly to our God and king.
It was just not the same singing along with the TV. Or even with a few neighbors on our decks/balconies. (My neighbor asked me if I'd like to sing some Palm Sunday worship songs with her—she sang from her deck, I sang from mine and my other neighbor, a worship minister, sang from our patio below. We were a little too far apart to hear each other very well. And it didn't sound like the YouTube balcony singing by Italian opera singers. But we raised our voices and our hearts together. "Wherever two or more are gathered in Jesus name….")
When it comes to worship more is better. Like the description of worship in Hebrews 12: "But you have come to Mount Zion and to the city of the living God, the heavenly Jerusalem, and to innumerable angels in festal gathering, and to the assembly of the firstborn who are enrolled in heaven, and to God, the judge of all, and to the spirits of the righteous made perfect, and to Jesus, the mediator of a new covenant…"
So while I enjoyed singing with my neighbors, I missed my crowd. Missed our "festal gathering." Our "assembly" together before our beautiful God. Maybe you did too.
Thankfully, God welcomes lament
The Bible is full of people lamenting their losses of people or things dear to them, lamenting when they feel helpless in their situations, lamenting when their hearts are broken and their worlds turn upside down. The words of the book of Lamentations echo our own lament these days: "How lonely sits the city that was full of people! …The roads to Zion mourn, for none come to the festival; all her gates are desolate…"
Like the Biblical laments we pour out our pain and loss to God. The Psalms of lament even help us wrap words around our own sadness and anxiety. From Psalm 77: I cry aloud to God, aloud to God, and he will hear me. In the day of my trouble I seek the Lord; in the night my hand is stretched out without wearying; my soul refuses to be comforted…"
In Mark Vroegop's book Dark Clouds, Deep Mercy: Discovering the Grace of Lament, he encourages us to lament like the psalmists: turn to God, bring him our complaint, and ask boldly for his help and healing. But don't leave it there. A Biblical lament also chooses to trust in God's goodness and love.
Again the words of Psalm 77: "Has God forgotten to be gracious? Has he in anger shut up his compassion?" Then I said, 'I will appeal to this, to the years of the right hand of the Most High.' I will remember the deeds of the LORD; yes, I will remember your wonders of old. I will ponder all your work, and meditate on your mighty deeds. Your way, O God, is holy. What god is great like our God?"
What a beautiful turning from "crying aloud," to "remembering his mighty deeds," to a declaration of trust in who God is, "Who is great like our God?"
My great lament of 2009
In 2009 my heart was in deep lament over our departure from a pastoral ministry of 19 years in the middle of the great recession of 2008. When the decision was finally made to step down, I felt like my soul launched into the abyss. I remember lying awake at night in fear we were free-falling and would crash before we found a new ministry. I was turning to God and complaining alright. Asking boldly and constantly for a new ministry that would be a great fit for my husband and me.
But I wasn't wholeheartedly trusting.
Even though our previous ministry provided us with a year's salary to see us through a long search, inside I knew I was walking in fear and doubt. As we slogged through months of unemployment and search I struggled with trusting God. That began to bleed into a struggle with trusting my husband. We had been on the unemployment roller coaster once before. But we were much younger. This time we were nearing 60. Our search looked totally different.
Finally, it began to look like God was leading us to a wonderful church that looked like a great fit for both of us. But with my rheumatoid arthritis and Jack's heart stents, it looked like the insurance was going to be a deal breaker for us. In one final lament we cried out to God in the words of Hezekiah, "Lord we don't know what to do, but our eyes are on you."
And God worked a miracle to help us afford the insurance and accept the offer of our church here in South Carolina. He made a way when there was no other way. And encouraged so many people in the process.
After God provided for us so amazingly, I went to him in gratitude and humility, confessing my lack of trust in him. Repenting of my great fear in the face of his tremendous provision. I grieved the fact that I had not trusted his love and goodness toward us wholeheartedly, even when I had seen his love and goodness over decades of ministry. He had been so faithful. And I had been so faithless.
I decided that, by his grace and strength, should we face another great shake-up, I would not doubt him again like that. He had proven his love and goodness too many times. I didn't want to let him down like that again.
So here we are. After almost ten years of ministry, Jack retired last October. We are living on social security and our IRAs. Suddenly, like many of you, our finances have taken a huge hit. The world has turned upside down. I miss my church. My crowd. So many people and things from my normal life. In the last two weeks we have driven somewhere exactly four times: groceries, take-out, and the lake.
But this time, by God's grace, I have doubled down on a proper lament: turning to God, bringing him my complaint, boldly asking for help and choosing to trust him. I long to honor him with a "confident, alert expectation that he will do what he said he will do" (Eugene Peterson's description of hoping in God). He will supply all our needs in Christ Jesus (Phil 4:19). He has been so good to us. I want to acknowledge him and thank him with solid belief. In this Covid crisis there have been some anxious moments. But no freefall.
Lord, I believe. Please help my little cracks of unbelief.
How about you? Have you been able to remember the mighty deeds of God in your life and trust him to supply all your needs?