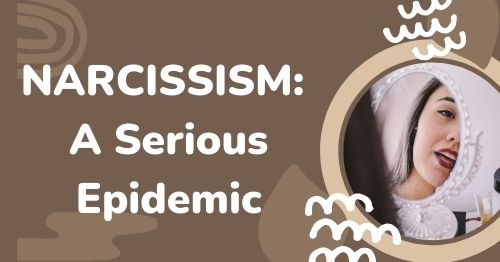 Narcissism: A Serious Epidemic
Listen to this blog as a similar podcast:
A news article in January declared, "We are raising a generation of deluded narcissists." Wow! Is this true? How did this happen? And, in what ways should I notice it infiltrating the local church? This has been bugging me for a month.
I wanted to know the difference between plain old self-centeredness and narcissism. So, I consulted a few experts. We all have some self-centeredness in us. But, narcissism is way beyond that. It is an unhealthy self-focus that is so centered on promoting oneself that it does damage to anyone who doesn't bolster one's image. The "deluded" aspect refers to the impact of media and technology that allows children, adolescents, and young adults to become "faux celebrities—lead actors in their own fictionalized stories." The article referenced above describes how.
Professor Jean Twenge of San Diego State University, a noted generational researcher and author of the book Generation Me, describes the accumulated effects of our trend to narcissism bluntly. "I see no evidence that today's young people feel much attachment to duty or group cohesion," she says. "Instead, young people have been consistently taught to put their own needs first and to focus on feeling good about themselves. This is not an attitude conducive to following social rules or favoring the group's needs over the individual's." Twenge should know; she is young enough to be part of Generation Me.
My husband, Ron, describes in his book No Jerks On The Job the genesis of where this trend of socially destructive self-centeredness begins. He points to the cumulative effect of several things that we personally do to encourage self-centeredness in our society. Among these are tolerating the period of adolescent behavior into adult-age years, dumbing-down the definition of what we consider acceptable adolescent behavior, and parenting our children in a manner that promotes self-centered personal growth.
For pure impact, though, Ron states that nothing compares to the effect generated by the change in our educational system from outcome or performance-based student appraisal to one that is esteem-based. Starting in the 1970's, this movement toward 'unconditional validation' of student performance encouraged educators to place an emphasis on how a student feels about themselves no matter how they act or whether they learn anything or not. Professor Twenge states that now "60 percent of teachers and 69 percent of school counselors agree that self-esteem should be raised by providing more unconditional validation of students based on who they are rather than how they perform or behave." With such sweet succor of self-centeredness, the stage for our sudden fall to narcissism has actually been set for four decades.
With this understanding of the trend toward narcissism, I decided to Google "narcissism in the church." Some of the articles that popped up showed that this is a huge issue in any church that is attracting men and women who are now in their 20s and 30s. One guy even posts a weekly blog about narcissists in church and how to help their victims! Another gives clues on how to recognize a narcissist pastor. Yikes!
Having raised three children in the past 40 years who are not narcissists but generous-hearted, socially responsible, and generally humble (none of us can be always humble), I wonder how they feel being labeled as part of this generation. What about you?
---
More Resources:
Healthy Living Bible Study of Colossians (read online)
Healthy Living Bible Study of Colossians (download pdf)