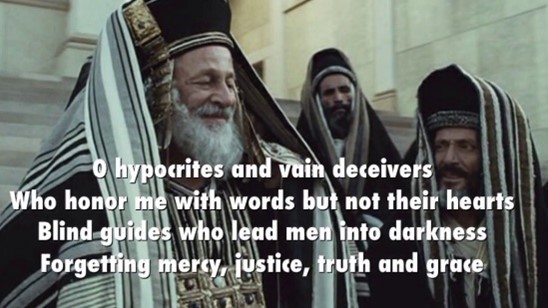 I have been teaching children for just shy of 50 years. That is a lot of teaching. But have I been teaching them well? In recent years, I have had to stop and reevaluate the things I have said as I quoted God's Word to the children. In doing so I concluded that there were times that if a child followed my teaching, they would come out more like a pharisee than a believer. How many times have we as teachers and parents been guilty of telling the children that God hates sin without emphasizing His great love for the sinner?
The Pharisees had God's Words in their mouths but not in their hearts and used it as a sword to cut people down spiritually. "Woe to you, experts in the law and you Pharisees, hypocrites! …you neglect what is more important in the law—justice, mercy, and faithfulness!" Matthew 23:23 "But Jesus replied, "Woe to you experts in religious law as well! You load people down with burdens difficult to bear…" Luke 11:46
Yes, God does hate sin in our lives. But why? He hates it because it damages us. It keeps us from a deep meaningful relationship with Him and with one another. How can we as teachers teach and example the grace of God even as we teach the desire God has for all to be obedient?
I am convinced that one of the greatest needs that we have as human beings is to know the Love of God. In a world where love is so easily misrepresented, we need to redefine for our children what love is. Love is not overlooking and ignoring sin. It is not pretending that we are all just a bunch of good people who occasionally do bad things. NO! Love can not be love and overlook sin. Sin must be dealt with.
"God is love."1 John 4:8 Love created us in God's image. We have value just because we are. Love took on flesh and left all the glory of Heaven to free us from the bondage of sin in our lives. Love convicts and chastises when we go astray to remind us that we are living dangerously and will only reap havoc and chaos in our lives and in our relationships if we continue down a sinful path. Love takes on the punishment of sin hanging on a cross after being beaten and having a crown of thorns placed on His head in ridicule. Love died for sin and lives again to set us free from sin's bondage. Love is a person, and that person is Jesus Christ.
If our children are to understand the love of God, they need to fully appreciate the devastating power of sin in our lives. They need to hear to what extent that God has gone on our behalf to deliver us from the punishment and the end results of sin. In our lessons from God's Word, we need to emphasize and help them understand that the laws of God are not there to overwhelm us or to condemn us. The opposite is true. We are already condemned the minute we are conceived. "Look, I was guilty of sin from birth, a sinner the moment my mother conceived me." Psalm 51:5 The law is there to teach us first that we are a sinner and secondly that we need a Savior. The Good News of the Gospel is that we do have a Savior and the same Savior who saves us from sin so that we can go to Heaven is the same Savior who sanctifies us on a daily basis saving us from our daily transgressions that threated our earthly relationships.
Jesus should and must always be front and center in our teaching our children about sin. "Suffer the little ones to come unto Me,' means to help them feel free to run to Jesus for help when they sin not to feel shamed and worthless because they have made Jesus sad with their sins. Is He sad? Yes! But why? He is sad because sin separates us from His good blessings. Jesus always has our best interests at heart. The most wonderful truth in the Bible and the most important truth for us to grasp about living the Christian life is that obedience was never meant to be a duty or a payment for God's love and blessing. Obedience was meant to be an act of love in response to the great love God has for us, 2 Corinthians 5:14-15.
Let's reevaluate our teaching and ask ourselves the hard questions. Are we making little Pharisees when we punish without grace or reward without a pause to thank Jesus for helping us to do those things, He calls us to do? Let's help our children realize that we can't obey on our own and that is why God gives us His Holy Spirit to live in us. What amazing grace to want what is best for us. What mercy to give us the gift of the Spirit to enable us to do all that He calls us to do. Understanding grace and mercy makes all the difference in a life. The pharisees grabbed hold of the law but neglected grace and mercy. Let's not make that same mistake.