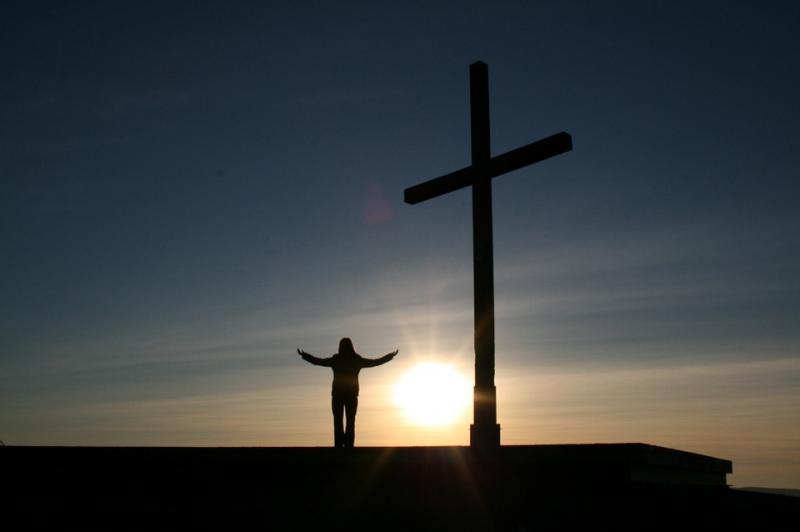 One Centurion Soldier's account of the day Christ was crucified.
As a centurion soldier, it was up to me,
To get Him up, and back down from that tree.
False is the news, and wrongly accused, as friends of His deny,
Their friend, teacher, savior, preacher, afraid like Him, they'll die.
We thrashed His back, red and black, ripping new flesh free.
Mangled whips, cracked against back and hips, brackish the future would seem.
As black and sin grew stiller then, and the sun refused to beam.
The cross on His back, no tormenter lack, blood staining the stones under His feet,
He stumbles and falls, and almost crawls, down that crooked street.
My eyes—blind to the man confined, to hang for all to see.
The One, true King, of everything, giving His life for me.
They screamed, demeaned, and caused a scene over Him—who set us free.
Guilty redeemed, how awful it seemed, that we couldn't just let Him be.
"A King," would seek, and never be weak—in his quest for fortune and great fame.
But, He was meek and loved the weak, nothing about Him to blame.
But they rejected and expected someone to charge—with a criminal case.
The highest Name, is one and the same… as I looked the Son of God in the face.
Salvation He taught, freedom He bought, the weight of the world on Him,
We laughed and we mocked, and spent all our lots on His clothes, as He carried that limb.
I helped with that crown, and shoved it down, the thistles of thorns for His head,
"Forgive them," He said, as blood brown and red, trickled staining and soaking the ground.
"Pick up the pace." The look on His face, His mother watching cries.
Takes my place, pleads my case, and for me suffers and dies.
As the dead man was walking, people kept talking and continued to cause a scene.
Everyone mocking, mocking and mocking, the One, who came to redeem.
We all jeered and taunted, for this is what we wanted, to kill this King of the Jews.
And now I'm haunted at how I flaunted, my part, I played in this too.
"Kill him," we cried, "Crucify!" For really, what was there to lose?
He faced the mobs, while others sobbed, and offered Him wine which to drink.
But, He refused the swab, His wounds to throb; no one knew what to do or to think.
"Is this God's Son?' Then surely just one, miracle He could certainly do.
We wanted it done; we had won, as the skies darkened black through and through.
Satan grinned at all the sin, and planned His jealous attack.
Evil would win, over one of three men, who were nailed to the cross with a whack.
The nails piercing through, one and then two, each of His hands and His feet.
How could any man possibly plan to stand, this death without defeat?
Crucified and left to die, He hung there with a thief on each side.
One taunted and jeered, while onlookers leered and the other asked for forgiveness and cried.
"If you are the One, God's only Son, then surely you can set us free!"
But, the other believed what he couldn't see, and became Christ's before he died.
Then Jesus cried out, "My God, My God, why have you forsaken your Son?"
He took His last breath, and it was done, and the day became as night.
Grey and onyx, took over, no more sun, for there was no longer any light.
The earth in mourning booming so loud, in fear I beheld the sight.
Shaking with such fierceness, the veil completely split and I fell to the ground to sit.
Facing the fear, towards Him I neared, trying to see through the grit.
On my knees, terribly appalled, at it all, I drew near to the cross.
I saw with my heart, I had made the wrong call when I saw the love and the loss.
"Get Him down," said Pilate and take Him away.
"Secure the grave for the next three days.
Put His body in the tomb and seal with a stone.
No one and I mean no one leave it unattended, alone."
That's what Pilate said all right.
And things were fine till after that second night.
When the great stone rolled away in plain sight.
And I knew Pilate would not understand my plight.
Angels from nowhere seemed to appear.
Trying to think rationally, I sat frozen with fear.
I pretended to sleep, as if I were dead.
But inside I knew, He had risen as said.
He was bruised and broken for my sin.
I opened my heart and let my Savior come in.
Jesus, who perfect, died for me.
Died for you too on Calvary's tree.
He rose from the dead on the third day.
And is at the right hand of God forever to stay.
Those crimson drops of blood He shed.
Paid the penalty on my head.
Washed and bathed in forgiveness and love.
My Savior sent down from up above.
To teach your child the meaning of the Easter Story I would suggest making Resurrection Eggs. Click the link provided.http://www.faithgateway.com/making-resurrection-eggs-easter-story/#.WOenH_nyvcs