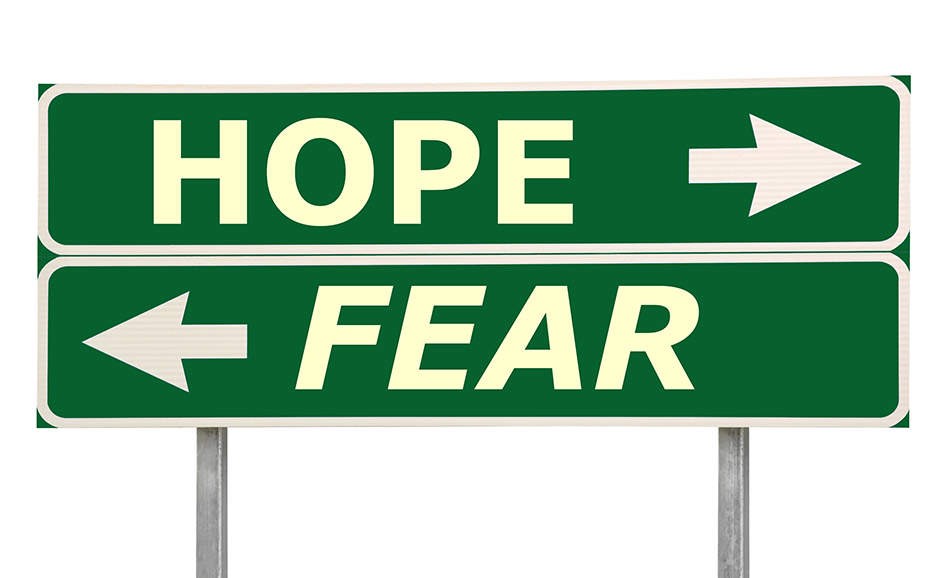 So Much to Be Hopeful For!
Below is part of a sermonette that I was recently asked to give at a community-wide, canned food drive event that a local charity was holding in my neighborhood.  As you might expect, there really wasn't that many people there considering the current social distancing challenges any large scale event poses. So, I thought I would just share this with you. Enjoy!
The other day my wife had the morning news going while she was enjoying her morning coffee. As I was getting ready for the day, I sat down with her and we went over each other's schedule.  As we were talking, I couldn't help noticing that the news covered about six stories during that time and every story was a negative or tragic story.  It was either about all of the people who have died of the Corona virus, or about someone getting killed or a house fire or some sort of natural disaster somewhere across the world.   Everything the news was sharing was just flat-out bad news.  
Now I've heard the old saying that if it bleeds it leads and I get that we as people are more fascinated with the shocking or tragic than the happy and cheerful.  There is a lot of psychology the proves that we are drawn to the negative and that we do this because we tend to draw comparisons to the negative with our own lives and it makes us feel better temporarily.  Truth is while it may give us short term hope, it also feeds into our fear bank and that's not a good thing.  
You see, hope is always on the positive side of our lives and the situations we find ourselves in. Fear on the other hand, is always on the negative side and really has no other function other than to kill our hope. Fear is one of the greatest tools of the evil one and he uses it to keep us from living out our lives the way God intends. It also keeps us from realizing our potential and our dreams and if he had his way, Fear would make us flat our miserable. I think Covid-19 has made fear much more of a thing and much more recognizable as a serious threat to our lives.
So, I thought today I would share some good news with you all and in the process share the hope that God has for all of us during these crazy times. You ready for some good news?
Here's what I'll do – I'll share with you what the Devil wants you to hear and then I'll contrast that with what God wants you to hear:
Devil: There has been 820K people die from Covid worldwide – live in fear and isolation.
God: There has been over 15.6 mil people recover from Covid – Hope and trust in me!
Devil: You will never get another good paying job – fear that your family will starve.
God: I will never leave you or forsake you – draw near to me & you will find mercy and grace!
Devil: In regard to politics, the other side is evil and is trying to destroy this country. Fear this!
God: Politics will fail you – I won't. Be consumed with my Son instead. He is your hope!
Devil: The world will never be the same! Fear change!
God: The world will indeed change, but I will always remain the same – yesterday, today and forever.
By the way, if you think the world is weird now, we need to remember that the world has been through so much and people all over the world have been suffering and dealing with craziness for a lot longer than we have. We should count our blessings and live on the hope side of life and not the fear side.
There is quite a bit more to this sermonette but for now I hope you'll think about it the next time you're having negative thoughts.  Try to turn your negative into a positive.  Count your blessings and live on the hope side of life.  When you read or hear about bad news, ask your self what was the Good news? When you have a negative thought, stop and ask "what am I in fear of?" and then remember what scripture tells us: Fear not, for I am with you; be not dismayed, for I am your God; I will strengthen you, I will help you, I will uphold you with my righteous right hand. Isaiah 41:10.
Brian