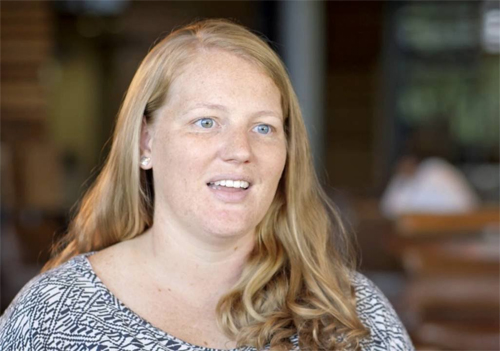 I'm thrilled to welcome one of my favorite millennials as today's guest blogger. Nika Spaulding is a proud graduate of both the University of Oklahoma and Dallas Theological Seminary, and she currently serves as Resident Theologian at St. Jude Oak Cliff, a church plant in the Dallas area.
As I type this article from the comfort of my kitchen table, I can see a pile of books on my couch, three full bookshelves in my living room, two books on the crowded table, and one behind me on the island. Right before sitting down to type, I passed two more bookshelves in my bedroom and hit pause on my audiobook on my cellphone. Tomorrow I'll head to my office where I have three more bookshelves with more academic subjects waiting to be referenced. To say I love books would be as gross of an understatement as saying Willy Wonka loves chocolate.
My love for books started at a young age wanting to dominate the accelerated reader program at my school. I remember setting my light bright on the bottom bunk of my bed so I could read after my mom turned out the lights. I should probably thank God I did not set my house on fire. This love of reading served me well in seminary as I had to devour books for my degree and wanted to be incredibly well-informed as I launched into full-time ministry.
You can imagine my shock when I found out that most of my friends and parishioners did not think consuming books was the number one pastime. To be fair, I also get paid to read, learn, and teach. I also know most people are juggling full-time jobs, raising kids, caring for aging parents, cheering on the Sooners (maybe that's just me), and a whole host of other responsibilities that make their time a premium resource. Realizing that most folks might only read a few books a year, I knew I had to figure out a way to recommend the most bang for your buck. If you're only going to read a handful of books a year, do you want to read something that most people will toss out after one read or do you want to read books that have stood the test of time? Furthermore, if you are only going to read a handful of books a year, how do you know which ones are theologically strong and which ones are entertaining, flashy, and ultimately theologically problematic?
Since I got asked, "what should I read?" repeatedly, I developed a framework to choose quality resources. While there are limits to this grid, I think the principles are helpful to folks wanting to read quality books. Also, my reading over the last few years has expanded greatly to include non-white authors. While in the past I have not taught about the value of reading more diversely, I would include that now. I hope you find the principles below helpful. And, if you would like to learn more, follow the links to the Beyond Ordinary Women resources. Kay Daigle has created a wonderful resource for women's ministers, and hopefully you will enjoy the two of us chatting about this very subject.
First rule of book club:
Make sure the books you are reading do not violate the essentials of the faith. What are those essentials you ask? Great question.
I like to think of the doctrines of the Church like concentric circles: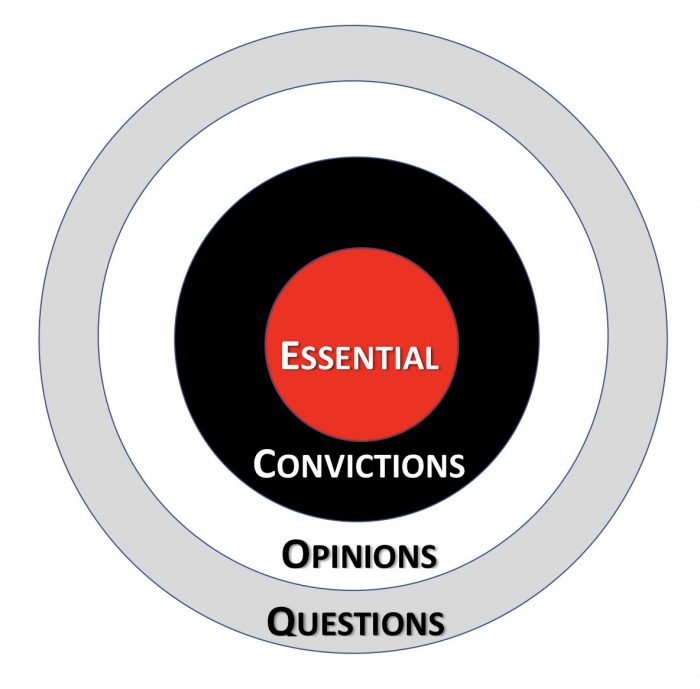 At the center of our faith are a handful of doctrines that Christians must not reject. These doctrines are present in our creeds, the Scriptures, and have been around for centuries. These essentials are things like salvation by grace, sinfulness of man, Jesus being fully God and fully man, the atonement, the resurrection, the trinity and the belief that someday God will restore everything. If any book violates one of these essentials, toss it. If a book says, Jesus was a good man and the first creation of God…trash. If a book says, you are enough on your own to save yourself…trash. If a book says humans are essentially good and without sin…trash. Do you really want to spend your precious time reading a book that teaches bad theology?
Second rule of book club:
Read trusted, timeless authors. There are books and authors who will stand the test of time. There is a reason I still run around yelling, "For Narnia and for Aslan!" CS Lewis' Chronicles masterpiece has been and will continue to be read by generations to come. This will come as no shock, but I love going to Half Priced Books to search for gold…I mean books at steep discounts. I say search because typically it is hard to find really great, theologically rich books without repeated trips. Why? People tend to hold onto those books. Whenever I see the newest book on the shelf and 15 other identical copies of that book it tells me the first owners did not think it worthwhile to keep on their shelves for years to come.
Third rule of book club:
Recognize the weakness of my rule #2. Okay, I just told you to read trusted, timeless authors, but I also must give a very strong caveat. Yes, I want you to read Lewis, Augustine, and Tozer. But, I also know that much of publishing history has limited our resources to white men. By the grace of God, women and minority authors are getting more opportunities to publish and we are all better for it. So, while reading trusted, timeless authors is important, you should also have a healthy dose of Jemar Tisby, Fleming Rutledge, Jen Pollock Michel, Howard Thurman, Justo Gonzalez, Latasha Morrison, and others.
Fourth rule of book club:
Find the most humble, kind, loving, servant-hearted Christian you know, and ask them what books had the most impact on them. I love books because I believe they can change our lives. Literally. A book by James KA Smith convinced me to plant a church, CS Lewis caused me to start taking people a lot more seriously, and Hannah Hurnard has held my hand many, many times as I climbed the mountain to the Good Shepherd. I want to be kind, loving and servant-hearted, so I want to know what is shaping the people who are that way.
I hope these rules help you as you guide yourself and others into valuable books to read. As technology continues to claim more time and space in our lives, I know it becomes harder and harder to find time to read. Push back against the tyranny of the notifications and never-ending feeds. Welcome these brilliant authors into your homes, minds, and conversations. If I can help, or recommend a book, feel free to reach out at [email protected]
Oh, and For Narnia and For Aslan!
Nika has series of videos/podcasts "Choosing Trustworthy Resources" on this topic for leaders produced by Beyond Ordinary Women Ministries.