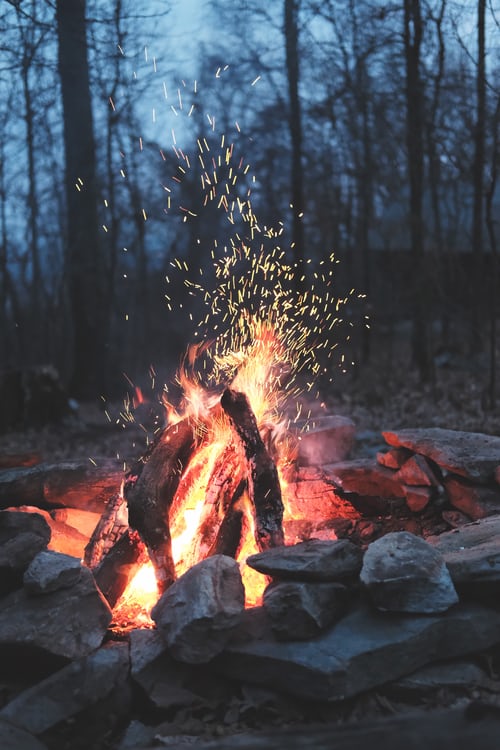 Training the next generation to seek Jesus; the call to intentional parenting
I am an experienced camper. Growing up, my family camped across the United States from the Mexican Border to New York City. We tent camped during tornadoes, temperatures above 100 degrees, and flooding rain. I remember hunkering down in a bathroom during a tornado warning only to share the bathroom with the biggest scorpion my little eyes had ever seen. As a child, I couldn't decide if I would rather suffer through the storm in the tent or cower in the corner with the scorpion.
Included in my memories of these cherished family adventures were Sundays on vacation. My Dad always traveled with a suit. His mother was elderly, and morbidly he declared that he might be called away for her funeral, so he needed to be prepared. The suit also came in handy because our family would often stumble into a random church we would happen upon on a Sunday. It wasn't uncommon for us to spend weeks at a time in the car on a road trip. More often, my Dad would pull out a tiny travel Bible he carried with him and he would read scripture while we were traveling in the car.
Faith was a priority in my home. My Father set the example. After dinner, when we were young and we could still be compelled to sit at the dinner table, we would read the Bible together. My Dad had a special chair by a window that he sat in every morning to read his Bible and spend time in prayer. So, it wasn't a great surprise that "church" was still going to happen no matter where, literally and figuratively speaking, life took us.
Continuing the family tradition, my husband and I spend a great deal of time outside with our boys. We are raising avid little outdoorsman. I recently found myself gleaming with pride as my 9 year old son determinedly hiked a strenuous trail with his fishing pole in order to fish in a stream that we new we would approach. If I catch a fish, my 7 year old takes it off of the hook for me. They have become experienced (supervised) kayakers and typically navigate the water with ease. We have spent countless hours hiking trails, fishing, biking, and boating and as they grow I am witnessing them become very comfortable and confident in these activities.
However, as I reflected on our most recent camping experience, the memories were stained with conviction. Not once on our lovely trip had I mentioned God's splendor in the views. When Sunday morning came we scrambled to hit the trail as fast as we could.
At one point during our stay, I spent a considerable amount of time teaching my eldest son to build a fire. I carefully critiqued his kindling, the placement of his starter, how the sticks were placed around the fire and had him move them countless times to construct what I felt like would be the perfect fire. I wanted him to learn how things ignite and how to maintain the flames so that big logs could be added. In the end, the "perfect fire" would be created.
What about his spiritual life? Do I devote so much attention to his knowledge of God's Word? I reflected on what it would be like if I memorized scripture with him and carefully explained the meaning. Multiple times a day life provides opportunities to talk intentionally to my children about God, filling their minds with the wisdom of the Lord and preparing them to one day read scripture for themselves and grow independently toward Christ.
I am an experienced Christian. I have walked with Jesus my entire life. I trusted Christ at a young age and since then I have been both a growing and struggling Christian. My relationship with Jesus is as comfortable to me as the great outdoors. I want this for my children. Not only do I want this, but it is my calling as their parent to instill this in them.
"Hear, O Israel: The Lord our God, the Lord is one. You shall love the Lord your God with all your heart and with all your soul and with all your might. And these words that I command you today shall be on your heart. You shall teach them diligently to your children, and shall talk of them when you sit in your house, and when you walk by the way, and when you lie down, and when you rise. You shall bind them as a sign on your hand, and they shall be as frontlets between your eyes. You shall write them on the doorposts of your house and on your gates (Deut. 6:4-9).
I want my boys to pursue Christ with the same enthusiasm that they pursue the best fishing hole. I want to create a variety of meaningful experiences for them that intentionally lead them to Jesus. Just like these well planned trips, it won't be by accident that our children become comfortable with seeing and pursuing Jesus.
Maybe you have developed wonderful family habits that create a home like the one described in Deuteronomy, if so, may God bless and sustain your efforts! If like me, you've been side tracked lately by well meaning activities, I pray that you would be encouraged to take every opportunity to place the commandments of the Lord before your children and find joy in growing in the Lord together.