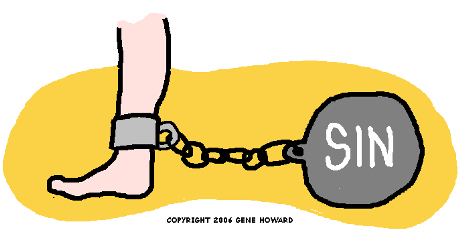 Recognizing Sinful Patterns
Where do our sinful patterns come from? Scripture is quite clear that our sin comes from the evil desires of our old nature. James 1:15 "Then when desire conceives, it gives birth to sin, and when sin is full grown, it gives birth to death. "
A onetime sin does not a pattern make! So how is it that we have these patterns of sin that entangle us, tripping up our spiritual step. Someone may ask me why purple is my favorite color. I would answer that I do not really know, I just really like it. Even so there are sins that each of us seems just naturally drawn toward. For some it is overindulgence, for others they may work to excess, still others may find their temper hard to control. Everyone has some weakness in their character that makes them vulnerable to a particular sin. That is not to say that they don't struggle with more than one sin but rest assured we each wrestle with at least one major area of sin in our lives. Thus the author of Hebrews felt compelled by the Spirit to warn us in Hebrews 12:1 "…we must get rid of every weight and the sin that clings so closely, and run with endurance the race set out for us,"
As we delve into this subject of sins that so easily entangle us, the first step to freedom is recognizing our sinful patterns. The best way to identify sinful patterns is to have a list of what the Bible tells us is sin. If you have a hard time making a list of sins, google "lists of sins in the Bible." One passage that comes to mind immediately in the Old Testament is Exodus 20, as God lists the 10 commandments. A New Testament passage that comes to mind is Galatians 5:19-21. Just before he lists the fruit of the spirit, Paul gives us a list of the fruit of the flesh. Also, Ephesians 5 and Colossians 3 have lists as well as Romans 1. Until you recognize your own sin patterns you will never be able to help the children you teach recognize theirs.
Most of us don't need a list to identify the sin that clings to us so closely. We have confessed it so many times that it has become embarrassing to ask the Lord to forgive us again for that which we know is sin and know we should not do. The truth is though that we are stuck in a rut literally. We have walked down this road so many times that we automatically default to it. To get out of the rut we need to start a new pattern. Before we can start a new pattern we must identify the old one.
Here are some questions to ask yourself:
Why do you think sin in this way time and again?
When are you most susceptible to doing this sin?
What are the common factors that seem to set you in this direction?
Where are you the most tempted to do this?
Who in your life is most apt to participate in this sin with you?
How do you set yourself up to participate in this sin?
To win a battle, you have to know your enemy. In this case our biggest enemy is ourselves. We have gotten used to this sin, even many times preferring it to right living. We may be justifying it, encouraging it with our fantasies or thoughts. It may seem nonconsequential compared to other sins. God says this just is not so. Sin, all sin, leads to death. Some just takes a little longer than others. The type of death is different depending on the sin. What are some examples of death resulting from sin? For Adam and Even there was spiritual death that led to physical death. For some of us it may be the death of a relationship, a marriage, or even a dream. The Bible says, "Do not be deceived. God will not be made a fool. For a person will reap what he sows," Galatians 6:7