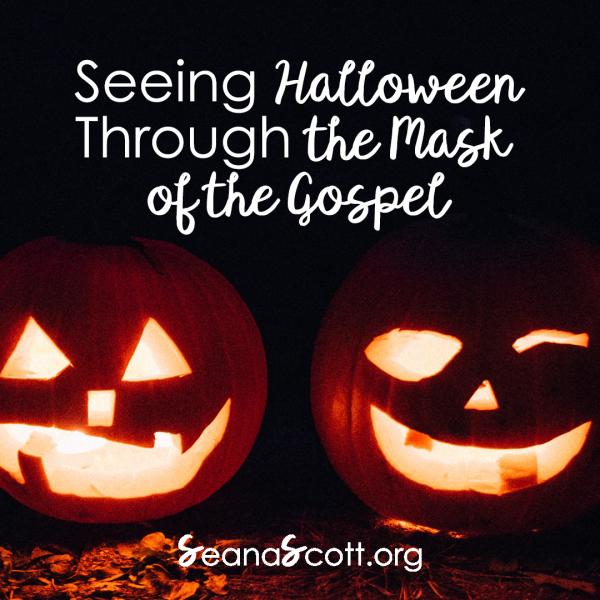 Seeing Halloween through the Mask of the Gospel
My two-year-old and I walked into Michael's this week to pick up some scrapbook paper. She stared at the life-sized skeleton in the entrance and whined, "I scared, mommy." Skeletons, ghosts, and witches decorate craft stores, malls, and houses this time of year.
HOW CAN WE LOOK AT HALLOWEEN THROUGH THE MASK OF THE GOSPEL?
At Halloween evil takes off some of its masquerade. Lawns are decorated with zombie arms, tomb stones, and evil ghosts. Death seems to reign. But kids run from house to house and fill their bags with gifts of sweet treats. This contrast reminds me of the gospel.
THE DARKNESS OF HALLOWEEN EMPHASIZES TO US THE GREATNESS OF THE LIGHT OF GOD.
In John Chapter 1, the picture of light piercing the darkness echoes the Genesis account of God creating the world out of chaos (Genesis 1:1-3, John 1:5). At Halloween we sense the darkness and chaos still present in this world because of sin—more than other times of the year. This season reminds us that even though the darkness can feel so dark to us, God sees everything. He can shine in the forgotten corners of our city—and our souls (Ps. 139:12).
HALLOWEEN ALSO REMINDS US THAT DARKNESS STILL DOES NOT COMPREHEND THE LIGHT.
We still live in a shadowed cities. Hungry homeless sleep on the street, children are sexually abused, and we lose loved ones to cancer. Neighbors hide behind garage doors with piles of debt and pain of addiction. The darkness presses in around us, but Light shines in the darkness—even when people do not see it nor understand (John 1:5). The hope of the gospel at Halloween is that as we shine the Light in the darkness, some will believe and become children of God (John 1:12).
HALLOWEEN REMINDS US THAT THE LIGHT CAME TO LIVE AMONG US.
"The Word became flesh and dwelt among us, and we saw His glory, glory as of the only begotten from the Father, full of grace and truth." (John 1:14)
I walked the streets with my kids last year, holding a flashlight, dressed like Super Woman. I imagined God walking with me like Jesus walked the neighborhood in Galilee and throughout Israel. He shinned His light into the darkness so that others would know that He is the Promised One to come. He humbled himself and as one Christian writer puts it, "He moved next door."
God is the walk-the-block with us kind of God. Not the far-off celestial being who leaves us to our own failures and successes. He is the Light that shines in our own dark corners of chronic arthritis, rebellious loved ones, or co-worker conflict.
HALLOWEEN REMINDS US OF GRACE.
We don't deserve the grace upon grace we receive in Jesus Christ (John 1:16). We don't earn the grace of being created out of nothing and sustained by God's power—or the added grace of knowing Jesus Christ as Lord. But just like my kids walk in the darkness of night, receiving free gifts of skittles and peanut butter cups, we wander in the darkness of this world, having received the free gift of grace through Christ Jesus (Ephesians 2:8-10).
SEE THE GOSPEL THIS HALLOWEEN
When my daughter told me the skeleton at Michael's scared her, I bent low and said something like "You're right. Skeletons are scary, but we don't have to be scared. Because God is light and in Him there is no darkness. God is always with us."
This Halloween as you see lawns turned into graveyards and Netflix filled with horror flicks, may it prompt your heart to praise God for His light. And may you consider one practical, tangible way to share the sweetness of grace with those around you.
PRAY ABOUT IT:
What is one way I can share the sweetness of grace this Halloween season to those around me?
This post first appeared on SeanaScott.org