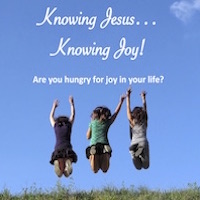 Seeking Happiness — Finding Joy
Picture in your mind one of the most enjoyable walks you have ever been on. What made it so enjoyable? How many of you would say it was the place? The weather or time of day? The one who was walking beside you?
Throughout the Bible, our lives are referred to as a "walk" although some days you may feel like yours is a sprint. Am I right? Though you may feel like you are sprinting, your whole life experience is considered a walk.
And, those who place their faith in Christ are living a "faith walk." But, here's the catch: a lifetime faith walk must be walked daily. Choices are made daily, weekly, and yearly to follow pathways that lead you to a joyful walk (the kind that you pictured in your mind) or to one that is frustrating and disappointing. Along life's journey, you have to know how to choose the walk that will lead you to find joy.
Is It Happiness or Joy?
So, what exactly is joy? How does joy differ from happiness? Happiness is a fleeting emotion based on external circumstances. But true joy is different – it is something that comes from within – it's a deep, abiding peace and sense of contentment and strength that is due to something internal.
The world defines joy as the emotion of happiness. And, happiness comes from good happenings—success, good health, and good fortune. Circumstances are good.
What if circumstances aren't so good? It's very hard to have a joyful walk if that's your definition of joy. But, for believers in Jesus Christ, we have access to a different kind of joy—biblical joy.
Biblical joy is a deep, inner gladness, regardless of circumstances, regardless of people or things. It doesn't find its source in anything earthly.
Biblical joy is supernatural. It is inseparable from the character of God and comes only from a relationship with Him.
Biblical joy is a fruit of the Spirit of Jesus living in us. That means joy is available to every believer. Someone described it as "Juice of the Spirit" because it flows out of us even when we are under pressure.
Biblical joy is primarily inward smiling, not outward "ha, ha" although you can do both at the same time.
Biblical Joy comes from relationship
"Joy is not the absence of trouble, but the presence of Christ." (William Vander Haven)
In the Old Testament, we see biblical joy in the enthusiastic response of people worshiping and praising God. Joy is seen as the people remember who God is and what He has done for them in the past. It's rooted in the hope of and confidence in what He will do in the future. It's all about relationship.
What about the New Testament? Over and over in the book of Acts as the gospel is taken to the people and received by the people, their salvation brought an overflow of joy. There must be a connection between the good news of knowing Jesus and true joy.
Biblical joy is based on a saving relationship with Christ and in enjoying fellowship with Him. Jesus spoke in John 15 of the necessity of a dependent relationship with Him because apart from Him we can do nothing. Then He says in John 15:11 that a dependent relationship and obedience to Jesus brings us HIS joy–full joy. Know Jesus to know joy.
Joy is most often linked in the New Testament with God's work in fellow believers whom we love and whom we serve. Several times in Philippians (as with his other letters), Paul says that the recipients are his "joy" or that he considers it a "joy" to pray for them. He rejoices in serving them and in them serving him and each other. Joy in knowing Jesus is contagious. It wells up within us and motivates us to serve others in love.
Even non-believers in Jesus can know happiness as they find it in the good things that God has given to all human beings so generously. But, the Christian knows a heightened joy that is rooted in the bond that exists between the believer and the Lord and the bond that exists with other believers whom we have come to love. The deeper our relationship with Jesus and with His people the greater the joy that awaits us and the less that joy is dependent on external circumstances.
"G.K. Chesterton says, 'Joy is the gigantic secret of the Christian.' I would say, it's no secret—because you can know Jesus and know joy." (Lori Schweers)
Want to have joy in your life? Find it through your relationship with Jesus Christ. He is the one who promises to complete His work in you. The one who supplies your every need. The one who gave Himself up for you on the cross. The one who gives you the motivation and the power to serve Him with joy. The one who strengthens you in every circumstance. The one who causes you to be content. The one who supplies your every need from His glorious riches. The one whom you can know well. The one who longs to produce joy in your life.
The deeper your relationship with Jesus and with His people, the greater the joy that awaits you. And, the less your joy is dependent on external circumstances.
Get to know Jesus and the joy He offers you through reading and studying the New Testament writings, especially the gospels (Matthew,
Mark
,
Luke
, and
John
) and the book of
Philippians
. Find the true joy that you are seeking.
---