Self-Care for the Whole Person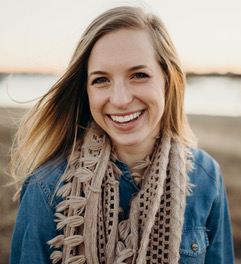 I'm excited to have Victoria Monet guest blogging for me this month. Victoria is from Georgetown, Texas. She loves her husband, son, dog, and impacting others' everyday theology through creative writing and teaching. She writes poetry and topical articles on her blog "Theology Reflected."
---
"Read your Bible and pray more," I heard over and over again growing up in the church. And I did. It helped fill my mind with truth and connect me with God. But it didn't stop me from becoming depressed during my senior year of college.
When my doctor diagnosed me with depression, I first thought, "No way. Not me. Christians don't get depressed."
As if she could read my thoughts, my doctor, who knew I called myself a Christian, said, "Depression doesn't mean you don't pray enough or love God enough. Depression involves physical, chemical imbalances in the brain, and it commonly creeps up in busy, stressful periods of transition."
During this time, I took some of the most demanding classes in my program, maintained a long-distance engagement with my soon-to-be husband, planned a wedding, worked two part-time jobs, led a small group, and continued to cultivate relationships with friends and family. A month later, I would graduate from college, get married, and move from Lubbock to Dallas all in one week's time.
In my busyness, I neglected to eat enough, exercise, and get quality sleep. I withdrew from close friends and rarely left my room. I receded into an exhausted, anxious, numb, and detached mental state. My doctor and I developed a regimen to fight depression that included counseling, taking vitamins and supplements, exercising, processing with trusted friends, eating healthy foods (and eating more), and spending time in self-reflection. Basically, I needed to start seriously taking care of myself.
I read my Bible and prayed, but I didn't properly care for my body and mind.
In many churches and Christian circles, we tend to emphasize the spiritual part of us as the only important aspect of self-care. However, one in five Americans struggle with some sort of mental illness including depression, anxiety, post-traumatic stress, and bipolar disorder—that's at least one person in every church small group and a large handful of people in our Sunday morning services.
Some Christians, in an effort to help those struggling with depression and anxiety, quote verses such as "perfect love casts out fear" (1 John 4:18) and "do not be anxious about anything" (Phil. 4:6). These verses contain helpful guidance in dealing with fear and worry but—examined in their proper context—do not contain a prescription for mental health disorders.
If your grandma fell down and broke her hip, we'd get her to the emergency room and let the doctor address the hip. We wouldn't stop with "don't worry" and "God will take care of you." In the same way, we can care for those with mental health struggles by recognizing the chemical imbalances and the troubling, toxic thoughts, and encouraging them to seek professional support. Prayer helps—and so does medication, counseling, nutrition, and exercise.
Whether we face depression, anxiety, burnout, or busyness, we need to adapt a rhythm of life that values self-care because it grows our capacity to delight in God and serve others. Self-care is not selfish or unspiritual, but rather a necessary part of a well-balanced, godly life.
While reading our Bible and praying remains important spiritual disciplines, we ought not to neglect our mental or physical health. God created us as a whole person—body, mind, and spirit—and we need to steward all aspects of ourselves to the glory of God and benefit of others.