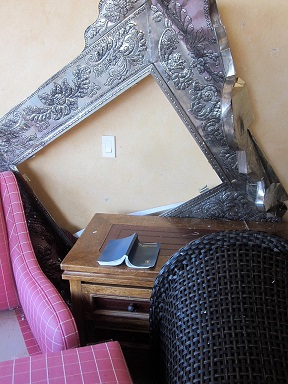 Six lessons we learned in our hurricane Odile Ordeal
God was with our kids in the hurricane, exemplified by an open Bible left untouched on a nightstand in one of the 5th floor suites of their hotel. Literally everything in the room was overturned and destroyed by the storm, yet they found this Bible intact, open to the Gospel of John, chapters 13 and 14. Our God spoke in mighty ways that week!
For four days we did not know if our daughter Heather and son-in-law Tom were safe. Praise God, last week a Delta humanitarian flight brought them out of Mexico after a terrifying yet faith-building experience. I've asked my daughter Heather to share what she learned.

You run from a natural disaster, right? Yet weathering hurricane Odile was the best, yet worst, experience of our lives–and we learned weighty lessons about God and people. Our first few days in Cabo, Mexico, were like one of those tropical paradise ads on TV. But the tide was changing– literally. Reports of a hurricane brewing. After multiple, failed attempts to fly out early, we hunkered down in our hotel room, awaiting Hurricane "Odile", the one that was to go down in the record books as the fiercest hurricane in Cabo's history since 1967.
When the full force of the storm hit, it was worse than expected, and four hotel employees came to guide us to the bowels of the hotel. The only route took us out into the storm, as we literally ran for our lives, with sliding glass doors shattering and ceilings crashing around us. These employees risked their lives to help us, using plywood sheets to block the winds so we could pass.

My mom taught my sister and I to learn from our experiences. I hope the lessons below help you if you find yourself riding out a traumatic event–and they may even be helpful in your everyday life as well.
(1) You can handle more than you think. Through tough scary circumstances, God manifests his strength, power and provision in unexpected ways. We were faced with a sleepless first night, limited power from a generator that was running out of fuel, no air conditioning, no transportation, no communication for two days with no assurance of our safety or possibility of evacuation. However, as we look back, God ultimately provided what we needed: clean water and fresh food, a clean room (after we dried it out,) and basic electricity for a few hours a day. We didn't have all the comforts of home, but we were grateful that our basic needs were met, especially when we learned the plights of so many outside our hotel.
(2) No communication with the outside world yields greater "community" inside. For several days we could not email, call home, get on the internet, or text. As challenging as that was, we found that without our faces glued to our devices, we actually enjoyed talking with people around us. We were all stuck in the same situation and we began really getting to know one another and listening to each other's "story". We discovered that the power of friendship helped us get through and even enriched the disaster experience. Knowing one another morphed into caring. Nurses and doctors freely distributed much needed information on medication substitutes and care for heat stroke and sickness. We shared what we had with those in need–luggage, medication, rooms, money, food, water, umbrellas and much, much more. And we all found ourselves in need at one point or another. We also shared our faith and words of encouragement. We became a community of survivors who had each other's back overnight. I'm not sure we would have connected that way if our technology had not gone down. Even after communication capabilities were restored, we all quickly returned to "community" after a few quick texts out to loved ones to say, "We're okay!" For we discovered that long list of emails could wait.
(3) True priorities quickly rise to the top: faith, family, friends and bare necessities, such as food/water, shelter, health, and okay–toilet paper. And even since our return home, we find our priorities have shifted. When our kids were anxious to tell us about the latest iPhone sale at Verizon, we kindly asked them if we could discuss it after we found out if "Kaitlyn", a guest we befriended, had made it out of Cabo alive! We find our patience short for the "ridiculousness" of trivial things and it's more difficult to tolerate the obligatory complaining around the house. Our kids are already tired of being reminded about the overwhelming plight in Cabo, compared to their "horrible" situations here in the States.
(4) There are no "economic class structures" during disasters. Guests worked side by side with employees, cleaning up Odile's destruction together so we could have a safe clean place to eat and sleep. We expressed so much concern for the employee's families that they almost seemed uncomfortable. I doubt they had ever experienced social walls coming down like that, but that happens in a disaster.
Also, we discovered that money and privilege couldn't buy one's way out of this situation. Despite the attempts of a large corporate group to evacuate their own people from our hotel earlier than the rest of us, their chartered plane never actually arrived to rescue them (or it wasn't allowed in by the Mexican government). I will plead the 5th if asked whether any of us left back at the hotel grinned when we learned this elite group was grounded just like we were.
(5) You reveal your TRUE colors in disasters. "The Good, the Bad and the Ugly" will ooze out. Most people were kind-hearted, demonstrating compassion to serve and share with others. A few selfishly pushed to the front of the evacuation line, lying and cheating to be more comfortable or get out early. One's true character can't hide in these situations.
And (6) God will use disasters to bring glory to His name and benefit to His kids. When we finally ventured out from the relative safety of our hotel, our jaws dropped at the devastation. At first, we asked, "Why, God, do you allow something like this?" But over time, God gently began to show us His answer to "why?". He graciously provided and protected us all at the hotel. No one died in the hurricane! We were brought to the end of ourselves and recognized our need and His provision! God showed himself mighty everywhere we turned.
My goal, here at home, is to remember that I can handle more than I think, to look up from my phone and facilitate community around me, to narrow down my priorities, to blur the lines of economic class structure, to be aware of my true colors, to bring glory to God, and to become aware of how He works in miraculous ways each day. How God is working around me currently may not look as dramatic as it did that week in Cabo, but for now, working in ordinary ways is fine by me!!