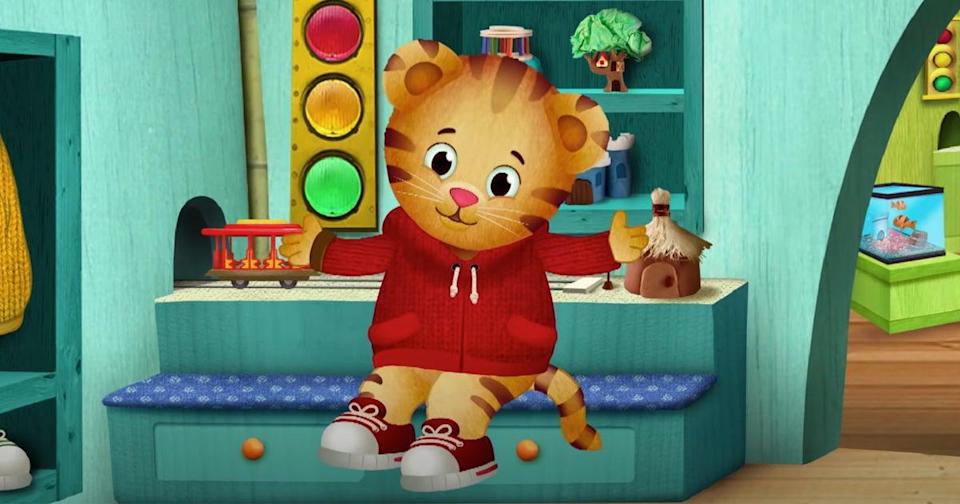 Spiritual Training Tip From Daniel Tiger
There's precious little that slices through the stupor of an exhausted parent in the earliest years of a child's life.  My wife and I have five children—and while we swiftly agree that children are an incredible blessing from the Lord—we don't remember much from the first months of their lives.  It all seemstoruntogether. 
I'd be inclined to believe that our children were born with the ability to smile, coo, and gurgle, instead of spending three to six months to get to that point—but the magic of digital photography and the "here's what happened a year ago" app reminders show us the blur. Until our blessings from the Lord finally slept through the night, our brains devoted every firing neuron to the task of staying awake—while also working through the mountain of new responsibilities we carried home in a car seat.
At some point during those early years, I remember sitting on the couch with my children after another frantic family dinner and enjoying an episode of Daniel Tiger together. Now, if you've seen even one episode of Daniel Tiger, you know that the entire episode revolves around a singular precept, encoded into a memorable jingle. This jingle repeats 5-10 times throughout the episode, but the fun doesn't stop there. No. My kids would accept the challenge, pick up these earworms with all their hearts, and set them to repeat 5-10 hundred more times.
A few favorites:
"If you've got to go potty, stop and go right away. Flush and wash and be on your way!"
"When you feel so mad that you want to roar, take a deep breath… and count to four."
"Bath time, pjs, brush teeth, story and song, and off… to… bed!"
"Grownups come back."
While there is still precious little that slices through the stupor of an exhausted parent in the earliest years of a child's life, these songs are still ours to cherish. Throughout each of my kids' toddler years, we've used these songs to score successes during potty training, manage frustrations and impulsivity while angry, develop an understanding of routine and process with multi-step directions, and quell some degrees of separation anxiety. And all this from a cartoon!
But I think Daniel Tiger is onto something. Song is powerful. Memorable. Song transforms complex and complicated ideas into portable packages our children can bring with them everywhere. Ask them to memorize a list of all the presidents in order, no dice. Give them a song of the same to a catchy tune, and in a few awkward seconds of mumbling, they'll summon for you the name of our twentieth president (Garfield).
Apps To Help Train Our Kids Spiritually
A few years ago, my wife and I stumbled across the New City Catechism. We were looking for some way to take advantage of our children's keen ability to memorize. We settled on this series of questions and answers about our faith for quite a few reasons, but one such reason was that each question and answer was paired to a simple, catchy tune. If you ask any of my children, "What is your only hope in life and death?" they will tell you (or sing to you), "That we are not our own, but belong to God!" From this singular talking point, we have had many rich conversations in a variety of contexts: fear of the dark and of storms, the sanctity of human life, the nature of human identity, and the responsibility we have to treat others as image bearers of God. We packed the truth into their heads and hearts that we can draw out later and explore together.
Another recent discovery is another app, called "Fighter Verses." This app is designed to help with Bible memory and includes a variety of passages and strategies for memorizing scripture. We've started learning these verses together as a family during our family devotions and while we are driving in the car. The result? As my children sit with us each Sunday morning, I get to see their heads pop up as they hear (and recite) the verses our pastors reference every Sunday. And we sing some of these songs together at the many lies our adversary whispers in our ears during moments of fear, temptation, worry, confusion, and distress.
While we are still exhausted parents, we are also entrusted with the solemn task of diligently discipling our children when we sit in our house and when we walk by the way; when we lie down, and when we rise (Deuteronomy 6). Daniel Tiger helped set us on the path to some great resources for our kids. You should try them too! If so, you may likewise enjoy "such a good feeling."
---
THIS GUEST POST was written by KC Myers. He is a Dallas Seminary doctoral student and principal of Kingsway Christian School in Avon, Indiana. He has a passion for education and the spiritual formation of children.