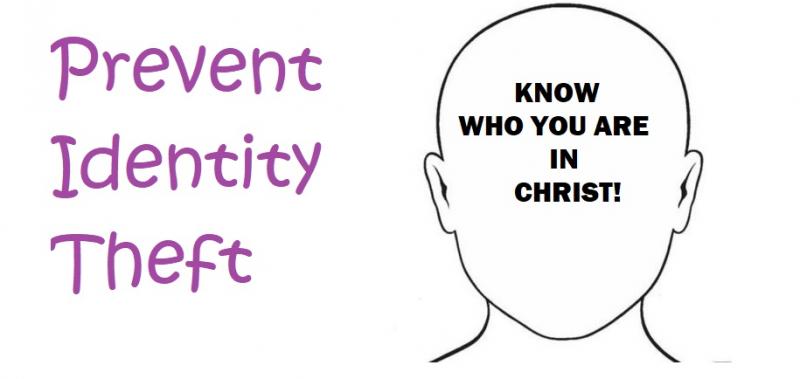 I was recently given a list of 301 things I am in Christ. I was blown away by all the things God says about those who follow Him. Then I was reading Lysa TerKeurst's Blog. She mentioned her favorite gift from a friend was a box of Scriptures typed out with her name in them, things that God has done for each believer.
It got me to thinking about many people I know both young and old who suffer from identity theft. I am not talking about the financial kind either. Spiritual identity theft! Satan attacks daily beating down the most vulnerable with his lies about who we are. If we only had the scripture planted firmly in our hearts it would protect us from the fiery darts of our enemy. "The thief comes only to steal and kill and destroy;." John 10:10 (Net Bible)
In that same verse we learn that Jesus came to give us abundant life. I am afraid that too many think this means, health, and wealth. It has to mean much more than that because He also said, (NET Bible) I have told you these things so that in me you may have peace. In the world you have trouble and suffering, but take courage—I have conquered the world." John 16:33 (Net Bible)
Too many children have been raised to have less difficulties than their parents' had. We hope to control all that we can because there is so much we can't control. Sadly more and more are struggling with life and its difficulties. We are hearing of teen suicides and it is not some stranger we are reading about. It is the boy next door or the son or daughter of a friend, or in the worst-case scenario it is our own child.
Have you ever wondered what is the most important thing that a child needs to know to be able to stand strong against the enemy who robs them of the value of their very lives? What will help them more than anything else to stand strong in Christ? Well, I am sure we would both agree that the greatest gift is God's gift of salvation. I would guess that that second would be our true identity in Christ. I am not talking about us telling them who they are. I am talking about us digging deep with them and looking at the scriptures that tell them who they are and have a deep heart to heart letting them freely express their doubt or concerns about what they hear
Of course, we want to start as early as we can finding the verses that speak to our identity and sharing them repeatedly in as many creative ways that we can. But with that said, I also believe strongly that the very best time to plan our lessons around this subject are those precious tween years. They have hit the double digits but they are not teen agers yet. They are in between, no longer a younger child but not quite a precocious teenager either.
I have found that thosef10 to 12 years old have a hunger to know what is right. They are open to talking about what they think and are eager for adults to care enough to listen. They want what they believe to be affirmed but are open to changing that belief if given enough evidence. They like to talk with their peers about things; small group discussions help to reinforce truth as we guide the group to come to a consensus with us that this is in fact what God is saying. They need to read the Bible verse and put their own names in the blank: "For this is the way God loved ______: He gave his one and only Son, so that _______ who believes in him will not perish but have eternal life" John 3:16 (Net Bible)
Let's stop spiritual identity theft. God's Word will not come back void. Find the verses and put your name in them. Encourage the next generation to do the same.