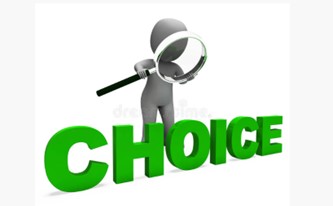 Taking Responsibility for Our Choices
"God created humankind in his own image, in the image of God he created them, male and female he created them." Genesis 1:27 God made humans different from the rest of His creation. In His loving kindness He made man in His own image. What a gift that is. Yet in that very gift he gave us another gift, the gift of choice. Every day we all make hundreds or maybe thousands of choices. Many of them are done without a thought. I don't know about you, but I don't always think about what I am doing when I do it; especially if it is something that I do all the time. Yet, I do consciously or subconsciously make a choice to do it. An important lesson is taught to us in the garden of Eden about choices that we don't want to miss, and we certainly don't want our children to miss it. With the gift of choice comes the responsibility for choosing.
Eve looked at the fruit of the tree of good and evil. She liked the way it looked. The serpent used her own desires as he tricked her into eating it. She had heard from Adam that God told them not to eat from it but she chose to believe her own eyes, that it looked good for food, and the serpent's lie that if she ate it she would be wise. She offered the fruit to Adam and then Adam had a choice whether to obey God or to join Eve in eating the fruit. He chose to join Eve. They both individually chose to disobey God.
Here is what happened when God confronted them about their choices. "And the Lord God said, "Who told you that you were naked? Did you eat from the tree that I commanded you not to eat from?"  The man said, "The woman whom you gave me, she gave me some fruit from the tree and I ate it." So the Lord God said to the woman, "What is this you have done?" And the woman replied, "The serpent tricked me, and I ate."  Blaming others for our choices seems to be a human bent. But God quickly spells out the consequences of their sins. They were ushered out of the garden and forbidden to return. They lost paradise and had to live with that consequence. Some consequences for out choices are far reaching. Their sinful nature has been passed down generation after generation.
As we help our children learn to take responsibility for making both good and bad choices, we can use this lesson in the garden. Let's help them see that though they may want to blame someone else or something else for the consequences they are facing, like Adam and Eve in the end we are each responsible for our choices.
Let's be sure to encourage them when they make wise choices, as well, and help them see the rewards for those choices. There are many negative opportunities to point out consequences, so we need to also make an effort to notice so that we can praise them when they make the positive ones. Cain's and Able's offerings are another good place to show how making the right choice to obey God really matters.
As parents and teachers, taking responsibility in front of them for the choices we make, instead of taking the good outcome for granted or just offering excuses or blaming when we have bad outcomes, is a great way to example this. However, we don't want to miss out on the power in God's Word. If you haven't brought your children to this story and shown them how Adam blamed Eve and Eve blamed the serpent it is a great place to bring them when they are wanting to shift the blame for a bad decision.