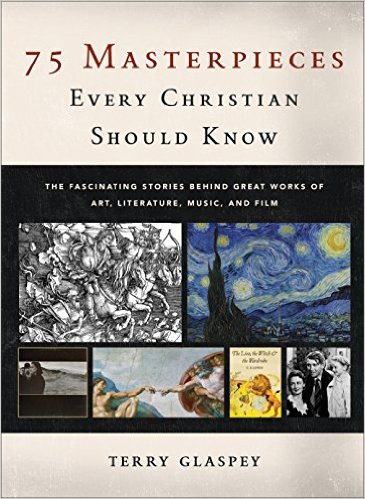 Ten Faith and Culture Gifts to give or enjoy: Books, art, music and websites to enrich the year ahead
What do all the following resources and activities have in common? Whether you give them as gifts or enjoy them for yourself, these iron-sharpening-iron books, art works, websites, culture makers and commentators will inspire and equip you to live with the truth and grace of Jesus in today's culture.
In the election-year culture war ahead they will keep you grounded in orthodoxy without being shrill and focus your heart and mind on the good, the true and the beautiful. In today's postmodern culture the arts open so many doors for bridging the cultural divide. These resources will help you connect with outsiders as well as the under-40's. To order or subscribe click on the titles. Don't miss my little Christmas present to you in #5.
1. Seventy-five Masterpieces Every Christian Should Know:
From the Book of Kells and Gregorian Chant to U-2's Joshua Tree and Terrence Malick's film Tree of Life, this new book by Terry Glaspey offers you fiveish-page overviews of memorable works of art. Think of it as a "quirky" ensemble of "movie trailers," Glaspey writes in the intro, a "fist full of invitations" to begin your own personal exploration of art and artists that explore truth from a spiritual perspective.
Entertainment sucks us in, but great art helps us transcend. It takes us out of ourselves, inviting us to think about God and life in fresh ways. Because the artists work so hard to imbue their work with the questions they are wrestling with or the truth they have discovered, there is a depth to their work that keeps giving and giving to us the more we look and listen.
Not only the masterpieces but the artists' stories have stuck with me—the early Christians who decorated the walls beside their loved ones tombs by torchlight, deep in the Roman catacombs, affirming their faith in the Good Shepherd. The black Christian artist, Ossawa Tanner, who had to leave the prejudice of America to find an appreciative audience in Europe. Read more about the book on Terry's blog.
Of course I loved Masterpieces because it is much like Kelly's and my book, Faith and Culture (below) except the focus is limited to the arts, the readings are a little longer and it is written by a single author. Oh…and Terry shelled out the big bucks for color photos.
Excellent for the arts lover or home schooler on your list. Or anyone you'd like to introduce to the riches and beauty of Christian culture-makers.
2. Faith and Culture: The Guide to a Culture Shaped by Faith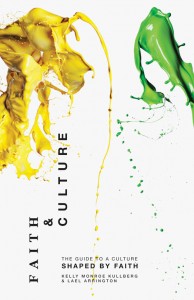 Many of you have come to know me since my most recent book came out. It's a daily reader in Theology, History, Philosophy, Science, Literature, Arts, and Contemporary Culture. Originally titled A Faith and Culture Devotional, now is a great time to gift it or start in as a new year approaches.
Written and edited with Kelly Monroe Kullberg (Finding God at Harvard), we offer a guided tour through many of the paintings, laboratories, rock arenas, great books, mass movements, and private lives that have shaped the ways we think and live. Explore significant ideas, people and events with insightful commentary from over seventy Christian thought leaders, including Os Guinness, Scot McKnight, Dallas Willard, Michael Behe, William Lane Craig and John Eldredge. Topics include Bach, String Theory, French Revolution and the Periodic Table.
Each reading concludes with guided reflection and discussion questions to help you personalize the meaning and apply it to your life. Faith and Culture inspires you to go beyond critique to creativity as you make something true, good, and beautiful out of the life and the world God has given you.
Excellent for personal study, family devotions, book groups, rich material for pastors and teachers, resource for students
3. Makoto Fujimura: One of America's finest contemporary Christian artists
Featured in Both Terry's and Kelly's and my book, Makoto came to Columbia this fall to speak on his new book Culture Care. Mako lived in the shadow of the World Trade Center when it was reduced to a pile of smoking rubble.
From that experience he brings a timely and timeless message of hope: "In the midst of fear, in the midst of material and emotional scarcity, in the midst of the world's collapsing idols, we can draw on the Giver / Artist, and let His creative Spirit spill over into a hurting world." Culture Care inspires us to incorporate the soothing beauty of art into our lives and the generosity of giving it to others using our gifts–cooking, writing, flower arranging–whatever gifts God has given us.
Mako has illuminated The Four Holy Gospels with his Japanese Nihonga style of art, using real gold and silver foil as well as ground malachite, lapis and vermillion to create exquisite colors. With illumined letters at the beginning of each chapter and hand-embellished drawings on most pages, it feels like a contemporary Book of Kells.
On the page where Jesus heals the man at the pool of Bethesda Mako entertwines his lavish colors into a graceful double helix of DNA, startling the reader into considering the anatomical repercussions of that miraculous moment." Read more and watch a video of Makoto painting in my post here.
Excellent for art lovers and anyone who wants to bridge our cultural divide with the power and creativity of art.
4. Guided reflections on great art- Contemplative Vision: A Guide to Christian Art and Prayer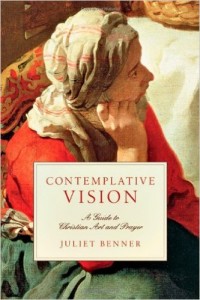 If you'd like to go even deeper into art as a springboard to your time alone with God, Inter-Varsity's Juliet Benner can take you there. Another great book to give or purchase this time of year and use as a 2016 devotional, she takes entire chapters to help you observe the details and craft of the works of art, interpret the symbolism and meaning and respond prayerfully.
I do not consider myself a contemplative, but I love Juliet's strong, Biblical approach to art. She deepens me and invites me "further up and further in."
Excellent for contemplatives or anyone who wants to learn how to mine the riches of great art to deepen and enrich their walk with Christ.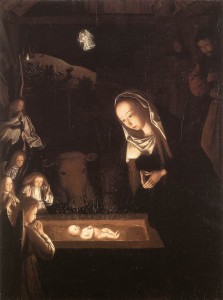 5. Artway Meditation: Free weekly meditations on art
Marleen Hengelaar-Rookmaaker, contributor to Faith and Culture and daughter of art history professor Hans Rookmaaker (friend of Francis Schaeffer and head of Dutch L'Abri), edits a wonderful website: www.artway.eu.
I remember taking a copy of her father's Modern Art and the Death of a Culture as my guide book through the Prado Museum in Madrid in the 70's—read a little, stand in front of the original art work he referenced, soak it in, read a little more and really understand what I was seeing. It was the experience that truly opened up the beauty and meaning of art to me.
Now we can do that on the web. I've subscribed to Marleen's website and each Sunday I receive an email that takes me into a work of art, some famous and classic, some little known but deeply intriguing and moving. Just like her father's, the commentaries written from a Christian worldview open up an entirely new perspective on these memorable works.
When you have three and a half minutes, get your laptop and a cup of coffee and sit by the fire or your tree and soak in the beauty of this power point presentation on the painting Nativity by Night by Geertgen tot Sint Jans that Marleen put to the music of alternative artist Sufjan Stevens. A lovely Christmas present from Marleen and me to you.
Excellent for everyone.
6. Sufjan Stevens-Alternative take on Christmas Music by a young, hip follower of Jesus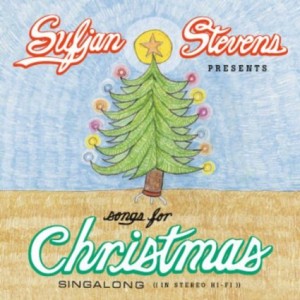 Some years ago I introduced my alternative music loving son Zach to the music of Sufjan Stevens. It was back when his album Illinois (as featured in the film Little Miss Sunshine) introduced a larger audience to his distinctive, gentle voice and funky, plunky instrumental style.
Zach, who became a big Sufjan fan, returned the favor by giving me a Christmas CD with selections from Sufjan's Songs for Christmas album, an ultra-eclectic mix of carols, hymns and new compositions. That's where I first heard and loved his version of "Holy, Holy, Holy" that Marleen used in her power point.
Other favorites include his versions of "O Come Emanuel," "Joy to the World," "It's Christmas Time" and "Put the Lights on the Tree," which you may have heard in the background of the Bojangles chicken commercial. Anyone who enjoys the commercial and googles the lyrics of "Put the Lights on the Tree" will hear an unexpected but remarkable message: "Put the lights on the tree; Put the ribbon on the wreath; Call your grandma on the phone; If she's living all alone; Tell her Jesus Christ is here; Tell her she has none to fear; If she's crying on the phone; Tell her you are coming home."
Sufjan has posted all the songs from the album on youTube so you can listen here.
Excellent for everyone, especially the younger set.
7. Bully Pulpit news digest
And where did I discover a cool, young artist like Sufjan Stevens? One of our contributors to Faith and Culture, Mark Joseph, put together an online digest that offers news and commentary on films, books, TV and music, all selected from the perspective of a Christian worldview. Mark is the author of Faith, God & Rock 'n' Roll and produced the CD for Mel Gibson's Passion of the Christ.
Subscription is free and the content offers analysis (often by Christian Hollywood insiders, directors, etc.) on new movies, TV, music and books that I find even more thoughtful and thorough than Movie Guide or other Christian review sites.
Excellent for anyone interested in the popular arts–movies, TV, Music and books.
8. The Stream news digest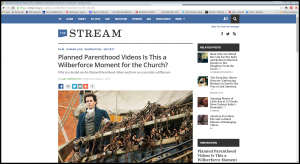 The Stream is a fairly new news digest from a thoughtful, nuanced Christian worldview, not as focused on the popular arts, but it does include reviews. It features more political commentary and will be a great source of analysis as we move into the election year ahead. Subscription is free. They have published several of my posts which you can read here.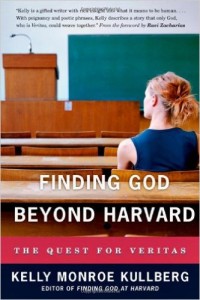 Veritas Forums are events that engage students and faculty in discussions about life's hardest questions and the modern relevance of Jesus Christ. I first connected with them in the 90's when they hosted a conversation about Intelligent Design vs. Darwinian evolution between Phil Johnson, father of the Intelligent Design movement, and Nobel prize-winning physicist Steven Weinberg at the University of Texas. SRO.
While a student chaplain at Harvard my co-author, Kelly Monroe Kullberg, founded Veritas and wrote an extraordinary book, Finding God Beyond Harvard, about bringing these discussions to over 60 of our nation's leading campuses. It would make a great gift for anyone interested in education, especially at the University level.
They have archived their speakers at their website so you can search "film" or "beauty" and listen to incredibly thoughtful and insightful talks on "What is a Beautiful World?" "What is a Beautiful Person?" "Media, Film and the Image–Veritas or Vanitas?"
Excellent for thinkers who want to go deeper into culture, the arts and beauty.
10. The Trinity Forum connects leading thinkers with thinking leaders
Oh how I love the Trinity Forum! They strive to provide leaders with events, readings and digests of articles that will sharpen them and help them engage today's culture at very thoughtful levels. Sponsored by local contributors, their events are free making it easy to invite guests to hear engaging Christian speakers in a non-church atmosphere.
Here in Columbia Os Guinness and Makoto Fujimura have discussed their books at Trinity Forum "Evening Conversations." In Houston Eric Metaxas has discussed his book Bonhoeffer at an "Evening Conversation." Many of these conversations have been formatted into podcasts which are archived here.
The Trinity Forum publishes wonderful booklet-size adaptions of master works that include discussion guides so you can use them in your community. I plan to gather a group to enjoy these together this year. Whether you use them in discussion or not you will enjoy reading the excerpts and introductory essays on "Abraham Lincoln: The Spiritual Growth of a Public Man," "Babette's Feast," and "Letter From Birmingham Jail," by Martin Luther King, to mention a few.
They also issue a "What We're Reading" digest a few times a week that links you to articles from sources you may not usually read like The New York Times, The Atlantic, The Federalist, The Wall Street Journal, World and Relevant magazines. Membership is $100 per year. Makes a wonderful gift.
Excellent for thinking leaders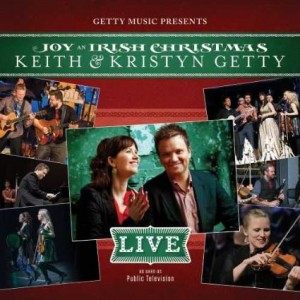 Bonus! Maybe the best Christmas concert ever…
We attended Keith and Kristin Getty's Joy–An Irish Christmas last night. A feast of Celtic whirling, fiddling, stomping, clapping by absolutely excellent musicians and singers interspersed with Keith and Kristyn's pure and worshipful renderings of lessons and carols with the same transcendence and beauty as their hymn, "In Christ Alone." Stunning. Breathtaking fun and beauty.
As of today, Dec 19, four more dates on the tour: Orlando, Birmingham, Atlanta and Nashville. Showing on local PBS TV affiliates here. Playing on Moody national radio network on Christmas Eve at 8p. If you can't take it in there the CD of the live concert will be one of your favorites.
As you head into this final week before Christmas I hope that the beauty of Christmas surrounds you and nurtures your heart. No other event in history has inspired such great art and music. And no wonder…consider the source of inspiration: Emanuel, God with us, the joy and hope of a darkening world.
Merry Christmas!