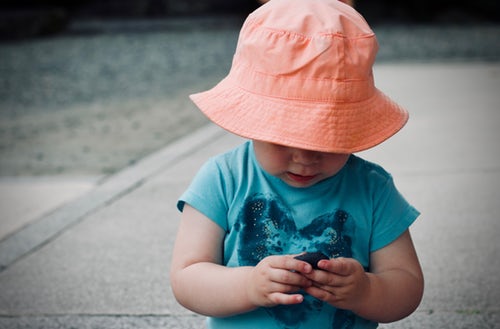 Recently I had the privilege of going to Kansas to visit my oldest son and his wife. My youngest son and I drove there together–giving me uninterrupted mom time for days with my boys and daughter-in-law. I was thrilled beyond measure. Just getting to spend time visiting, enjoying the quiet of the country, and the laughter and sweetness of family…was so relaxing and refreshing to my heart.
While we were there one of my son's best friend's stopped by with his little girl, Myla. She is just learning to talk– and is at that age where everything is new and exciting. My daughter-in-law and I spent the afternoon with her picking flowers, and playing peek-a-boo. But her favorite thing to do was to have us help her up and down the stairs, lift her up and back down off a bench and then go in and out of the house. Simple right? We played the same game over and over as she would squeal with laughter. Her round rosy cheeks and eyes of blue could win over the hardest of hearts to be sure. To say my daughter-in-law and I were in heaven would be a huge understatement. We loved every simple minute.
What struck me later was that even though Myla didn't know me well, her daddy did. He trusted me and so Myla did also. She trusted me to lift her up and down off the bench. She trusted me to keep her from falling as we walked up and down the stairs– her tiny hand gripping mine. She let me hold her and carry her when she got tired of walking. She laughed out loud when my daughter-in-law let her pick handfuls of flowers from her flower garden. Later that evening as we played games and finished dinner, she curled up in my daughter-in-laws lap and drew pictures. She never doubted or worried. She just laughed and enjoyed being the center of of attention. Even when her daddy wasn't within eyesight, she knew he was there. She could hear his voice.
It made me think how much Myla could teach me about childlike faith. When fear and anxiety grips my chest or it balls up in the pit of my stomach, my heavenly Father is right here. I just need to listen to His voice. When I am uncertain of my next steps, I just need to take His hand and trust Him. I need to remember that Jesus desires to lift me up and help me. My job is to keep my eyes on Him and to reach for Him. Myla didn't have any trouble devoting all her attention to taking the next step, reaching up to us to lift her up or help her down. But as adults we forget that God desperately wants our attention. He wants our childlike trust. I had to laugh that although I thought I was teaching Myla something, really…she taught me.
"The Lord will keep you from all harm–he will watch over your life; the Lord will watch over your coming and going both now and forevermore." Psalm 121: 7-8