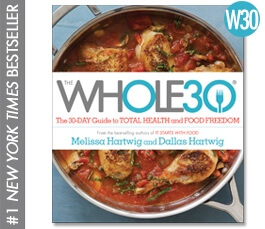 The New Year Has Already Imploded
A new year means new beginnings, and in that spirit I've started the Whole30 program. No longer can I enjoy the yumminess of dairy, sugar, and grains (read: no ice cream, cheese, or bread). This may sound sad, but discovering new recipes with vegetables I had rarely or never eaten has proven fun, tasty, and empowering. I mean, I can have a steak and potato on this diet!
Designed to help people discover their food addictions and bad food habits, Whole30 is a kickstart, a one-month fast from certain comfort foods. Two weeks into this 30-day experiment, I've lost weight, sleep better, no longer need coffee every morning (though I do miss it), and generally feel great. Exercising a little discipline in this realm of life is paying off in other areas, and I'm excited to see what comes next. My new year is off to a great start!
On the flip side, the last few weeks have brought distressing news from several people very close to me. Chapters are closing, hearts are hurting, futures are uncertain. I cannot fix any of it, which frustrates me some days—I dislike feeling helpless.
My loved
ones are not alone, however, in their struggles: the great actor Alan Rickman passed away last night. Tributes have been pouring in across the globe, saturating social media and news outlets. A few hours after that news broke, we learned that Celine Dion's husband, René Angélil, passed away. A few days earlier, iconic rock artist David Bowie died. All of these men had been battling cancer for a year or more. In other news, ISIS terrorists attacked in Jakarta yesterday and Istanbul a few days earlier. Tourists, shoppers, businesspeople, retail workers—unsuspecting people died due to the evil played out by jihadists seeking their twisted vision of glory.
The world is a mess. We struggle, we fear, we mourn, we cry out. And if we do all that without God, the maker of our world, we may easily lose hope. But God is waiting to hear from us. He wants us to cry out to him when trouble comes. Why? Because he is the author of life, our source of hope. And he offers it to us.
In John 16:33 Jesus says, "In the world you will have tribulation. But take heart; I have overcome the world."
So, yeah, he doesn't promise us a proverbial rose garden. Life is often just plain tough. But Jesus provided tools for us to see the bigger picture, to pursue wholeness and peace even through trials. I see the Whole30 program similarly: it is teaching me to see food in a new light, to keep it in proper perspective—not owning my impulses and emotional needs but working for my health and vitality. Likewise, we must put the struggles of life and death into proper perspective. When as we find refuge in God, seeking his counsel and comfort through his Word and worship, we are steadied and supported and strengthened for the journey given to us.
Lamentations 3:22–23 shines as a beacon of hope in the middle of a long, sad lament: "The steadfast love of the Lord never ceases; his mercies never come to an end; they are new every morning. . ." Such words reveal God's eternal character, not limited to the original events that provoked Jeremiah to write those words. God will always show steadfast, or faithful, love. His mercies start over every morning—a turn of phrase meaning "they are constant, neverending."
With that reassurance, let us commit to starting each new day secure in the faithful, loving, all-powerful God who sent his son to start a new chapter in history and in our lives. Let's be like the man in Psalm 112:7: "He is not afraid of bad news; his heart is firm, trusting in the Lord."
And he who was seated on the throne said, "Behold, I am making all things new.
Also
he said, "Write this down, for these words are trustworthy and true." Revelation 21:5