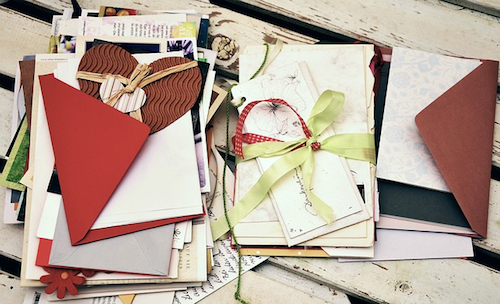 But when the right time came, God sent his Son, born of a woman, subject to the law. God sent him to buy freedom for us who were slaves to the law, so that he could adopt us as his very own children. And because we are his children, God has sent the Spirit of his Son into our hearts, prompting us to call out, "Abba, Father" (Gal 4:4–6, NLT, italics mine).
I love receiving Christmas cards. Have you noticed how elaborate, creative, and decorative Christmas cards have evolved? Some even have sparkle—dashes of glitter and gold leaf—within the lettering that often reads, Merry Christmas or Joy to the World, or Season Greetings.
What about photo cards? Each picture tells a story of a family, friend, and dear one. I can't help but look at each one carefully and wonder what God has done in each person's life. And so I pray for every child, the new babies, new family members, and even a missing one—a person absent from what I know and expect. I pray for the grieving, the hurting, those who find themselves in the depths of suffering during this joyous time.
With each card comes memories and a reminder of my family in Christ. Despite life's hardships right now, I don't stand alone this holiday season—this Christmas. And guess what? You don't either.
I'm confident by now you've read, heard, and perhaps seen a Christmas pageant depicting the events of Christ's birth. And like a Christmas photo card, the story in Luke (Luke 2) shows us the people we have come to love, and we wonder, once again, at what God did in each person's life.
Mary, a teen, super-pregnant, walking all the way to Bethlehem. What pain did she physically endure? What deep suffering did she muscle through with every whisper of judgment?
What about Joseph? He carried the heavy burden of taking (a very pregnant) Mary as his wife to raise a child that he did not father. What problems did he encounter along the way? He had never seen his wife intimately before, and now he knelt beside her, helping her deliver a baby. What did that do to him? What did he think?
Did they feel alone?
They understood, despite their circumstances—at the right time—God chose them for himself. And because they had faith, they took every step trusting God for deliverance.
As God's adopted children, we can rejoice knowing we don't stand alone—our family includes those who have received his Son into our hearts. Yes, moments of loneliness, especially during this time of the year, will want to distract us from the truth.
Scripture tells us, "We can rejoice, too, when we run into problems and trials, for we know that they help us develop endurance. And endurance develops strength of character, and character strengthens our confident hope of salvation. And this hope will not lead to disappointment. For we know how dearly God loves us, because he has given us the Holy Spirit to fill our hearts with his love" (Rom 5:3–5, NLT).
How wonderful to know we have access to call on God whenever and wherever, because he loves us dearly. What does that do to you knowing you have his undivided attention right now, at this very moment?
Through Christ, we also have hope. And nothing and no one can take that away from us. Christ himself said, "I give them eternal life, and they will never perish. No one can snatch them away from me, for my Father has given them to me, and he is more powerful than anyone else, No one can snatch them from the Father's hand. The Father and I are one" (John 10:28–30, NLT, italics mine).
So take heart. If Mary can keep and treasure all of these things (even the hard!) in her heart, pondered them and thought about them often, we can too. We can cry and miss those who no longer stand next to us in life. We can fear and freak out at the thought of going through another month without a job. We can muscle through the heartaches, the whispering, the judgments. And we can confidently walk to the place where God has called us to go, knowing he did so at the right time.
I love receiving this picture of Christ's birth from Luke. Have you noticed how elaborate, creative, and intricate God's love is for us that he sent his only Son for us? His plan for each of our lives has sparkle—dashes of glitter and gold—with lettering that will forever read, I love you, or I am with you always or Do not let your hearts be troubled and do not be afraid.