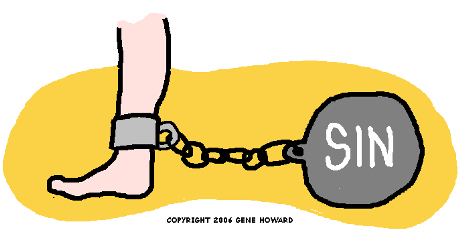 THE SIN WHICH SO CLEVERLY ENTANGLES US
How does one come to this place? Regret. Dark places in the back corners of the mind. Thoughts and deeds done in secret. Memories hidden from as many as possible and hopefully forgotten by the few. Painful remembering of deeds done that cannot be undone. A first, that led to a second, and then a third. Patterns set in time.
Saying yes that first time set things in motion. Hindsight is twenty- twenty. Knowing what you know now would have been helpful then. No one knows what they do not know. You did say yes. Now you want to say no, You even can for a time. Yet, the cycle remains a constant struggle of your flesh against your spirit.
A war is going on inside of you, feelings, needs, desires out of control. This thing you want to do, this thing you constantly give into is unhealthy. Unwise. Ungodly. So, you fight against it. You seek to control it. You think you have victory. When you least expect it, the cycle starts all over again.
The author of Hebrews talks about a sin that "so easily and cleverly entangles us." Hebrews 12:1 You are not alone. Everyone has one. No one is exempt. There are skeletons in every closet. But even worse there are patterns in every life, sin patterns that threaten to undo us.
For some their sin is sinister, evil, dangerous. For most the sin is subtle, justifiable, seemingly harmless but deadly in the end. "…when sin has run its course, it gives birth to death." James 1:15
As believers in Jesus Christ we have an answer to this besetting sin. As in salvation the answer is grace by faith. "…stripping off every unnecessary weight and the sin which so easily and cleverly entangles us, let us run with endurance and active persistence the race that is set before us, [looking away from all that will distract us and] focusing our eyes on Jesus, who is the Author and Perfecter of faith…" Hebrews 12:1b-2 Our faith is in Jesus, in His grace and love that forgives and covers a multitude of sins.
Where do these sinful patterns come from? How is it that we who have the Spirit of the Living God inside of us can so easily become entangled in sin? What will it take to lay this sin aside so that the race can be run with endurance? Can we help our children to see these patterns and avoid them?
These are good questions. God has answers. Over the next few blog posts we will dive deep into God's Word and discover what He says to us. For today, let's meditate on Hebrews 12:1-2 and thank God that He is not surprised by our sin or disappointed as though He didn't know when He chose us that we would succumb to such depths of entanglement. He has a plan and it is a good one.
Therefore, since we are surrounded by so great a cloud of witnesses [who by faith have testified to the truth of God's absolute faithfulness], stripping off every unnecessary weight and the sin which so easily and cleverly entangles us, let us run with endurance and active persistence the race that is set before us, [looking away from all that will distract us and] focusing our eyes on Jesus, who is the Author and Perfecter of faith [the first incentive for our belief and the One who brings our faith to maturity], who for the joy [of accomplishing the goal] set before Him endured the cross, disregarding the shame, and sat down at the right hand of the throne of God [revealing His deity, His authority, and the completion of His work]. Hebrews 12:1-2