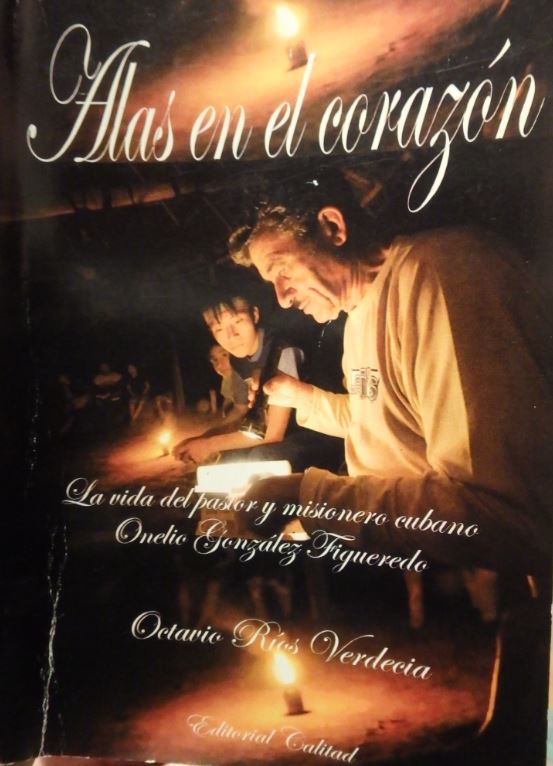 The Testimony of Onelio Gonzalez
"For to me, living is Christ and dying is gain" (Philippians 1:21).
Communist Cuba, circa 1963, four years after La Revolución.
The young pastor, still in his twenties, had just finished conducting evening services when four men in a Jeep pulled up outside of the church, exited the vehicle, spread out around the building, and then entered. "Onelio Gonzalez," they said, confiscating the preacher's Bible, his hymn book, the pulpit, and the forty cents given in the evening offering, "We have orders to take you to prison."
They gave no reasons.
Five days later, having already moved him through two prison locations, they finally spoke to him: "Do you know why you are in prison?"
"I don't know," Onelio answered. "I would like to know."
"You have built your church without a permit. Do you know this is a violation of the law?" (At that time Christian activity was regulated to the point where home churches were not permitted. A person could read the Bible alone in their home, but they could not invite others.) But the Communists were not interested in any answers he might give; they were interested in other goals which were not yet forthcoming.
A week later, at his fourth prison location, he was given a stack of blank papers. He was instructed: "Write on this paper the entire history of your life since you were born."
"I wrote from 8 am until 10 pm," the seventy-year-old man told me as we sat after dinner, around a table at an apartment in northeast Philadelphia. "What would I do? I wrote for them, I was a drunk, I was a profane man, but I gave my life to Jesus…"
A week later, at a fifth prison location, an interrogator took Onelio out into the yard and said matter-of-factly, "Do you know we can kill people? Do you know I would like to kill you?"
"I know you are the ones killing people," Onelio answered, "but if you kill me, then what else can you do to me? The reason I accept Jesus is because when I die I go to heaven. You can kill me, but I lose nothing else."
"You are a fanatic, then," the man said.
"I was a drunk but Jesus delivered me from alcohol. I used foul language and Jesus delivered me. I was an enemy to my neighbor and now we are friends. Jesus delivered me from all this. Therefore, I have the honor of being a fanatic for Jesus."
Days passed and the interrogations continued: "Do you have any family against the government? Do you have any friends against the government? Do you have friends in America?" Then they asked the key question, the one behind the entire charade: "Will you do everything the government asks you to do?"
"No."
"Negative? You will not do everything the government asks of you? Well then what will you say when you cannot defend your church?"
"It is not my job to defend the church. The church will defend God and God will defend me. Why do you persecute the church?"
"We are not persecuting the church."
"Well I was not a robber. I was not killing people. I was preaching the Gospel."
"Why will you not do everything the government asks of you?"
"If the government asks me to do anything against my faith, I cannot do it. I will cooperate with the government as far as I can, as long as I do not go against conscience."
"Then you are an enemy of the Revolución."
I think back to that evening in early 2005 when I sat at the dinner table with Onelio, his sister, and his niece, (my mother-in-law and my wife), listening to him tell the story. "Do not be afraid of those who kill the body," he said, quoting Jesus from the tenth chapter of Matthew's Gospel, "but cannot kill the soul."
"Do not be afraid of those who kill the body but cannot kill the soul. Instead, fear the one who is able to destroy both soul and body in hell. Aren't two sparrows sold for a penny? Yet not one of them falls to the ground apart from your Father's will. Even all the hairs on your head are numbered. So do not be afraid; you are more valuable than many sparrows. Whoever, then, acknowledges me before people, I will acknowledge before my Father in heaven. But whoever denies me before people, I will deny him also before my Father in heaven" (Matthew 10:28-33, NIV).
It was simple enough. To secure his release, Onelio needed only to sign a paper agreeing to cooperate with the authorities, promising to report back to them weekly. This was not parole, however. No. Through their intimidation tactics the Communists were "recruiting" spies. They wanted informants. A pastor was the perfect candidate, someone in whom people placed their trust, someone to whom they would confide their true thoughts and feelings; a pastor would be the perfect person to report on anyone who might have opinions against the government, against La Revolución.
Onelio had been in prison for eighteen days.
In a moment of weakness, he agreed to their terms. He wanted to go home. He signed the agreement. As quickly as it all began, it was over. He was released.
Free.
He was forty miles from his home. The forty-mile walk gave him time to think. For miles and miles he was plagued by the guilt of having signed the paper. He prayed. Arriving at home was bittersweet. He confessed to his wife: "I could only come home if I signed the paper agreeing to compromise with the Revolution." His wife responded by saying she would rather he be in prison than he sign the paper. So the following morning Onelio returned to the prison, this time of his own accord. He asked to speak with his interrogator.
"Since I had returned so quickly, they thought I was bringing them information as a spy," Onelio said, recounting the story. "They treated me like a V.I.P."
He was taken to the Warden.
"Why are you here," the Warden asked.
"I want to reject the paper I signed yesterday," Onelio replied.
"Why is this?"
"Because I was in prison for eighteen days and did not feel as much of a prisoner as I have felt since I signed that paper."
"Have you thought about the consequences this can bring? Do you think we are going to negotiate with you?"
"If I sign the paper, I can walk out of here. If I do not sign, I go to prison. This is not exactly negotiation." (Onelio then side-remarked to us, "My mother once said they would eventually cut my tongue out because I could not keep my mouth shut.")
The warden angrily replied, "If my mother was against the Revolution, I would kill her."
"I am here," Onelio responded. "You can kill me. But I came here free, and if you kill me I will leave here free."
Here I am reminded of Jesus' words when He said, "You must watch out for yourselves. You will be handed over to councils and beaten in the synagogues. You will stand before governors and kings because of me, as a witness to them" (Mark 13:9, NIV). Onelio was given the opportunity to display faith in Christ to the authorities. And perhaps we will not know of the impact, if any, it had on them until eternity. Little did American missionaries Jim Elliot, Pete Fleming, Ed McCully, Nate Saint, and Roger Youderian realize that some of the very tribesmen who speared them to death would eventually come to faith in Christ. We just never know the impact of our testimony. God our Father knows. And we will know one day…
Onelio was put into a cell. During his previous imprisonment he shared a cell with more than a dozen prisoners. This time he was alone. "I had no one to share my testimony with," he said. Meanwhile the interrogations continued.
On the eighteenth day of his second imprisonment he was called before the Warden again. "What is your attitude now?" the Warden asked.
"My attitude is the same," Onelio answered. "I do not want to be a spy for the Committee."
There was a pause.
"Then take your things and go."
By the grace of God, Onelio was released, no longer expected to be a spy, and never to be imprisoned again.
He remained forever after a faithful witness to friend and potential foe alike. Once, years later, the authorities sent for him. They attempted to discourage him by saying, "You know there are many Communists in the church?"
"Oh, I am happy about this," Onelio responded, "because the Gospel is the truth."
Onelio remained a pastor in Cuba for another twenty-three years before emigrating to Ecuador in 1986 and then to the United States in 1991. He lived in Philadelphia, Florida, and Texas. He pastored in New Mexico. But in his mid sixties, at an age when many people consider retiring, Onelio heard a call from God to go to the mission field, into the jungles of Ecuador. At the age of 67 this man, with "a plastic femur bone" from a previous operation, put a pack filled with donated clothing on his back and took to the mountains and hills of the Ecuadorian jungle on his Mission for the Indigenous of Ecuador. The joy of the Lord was his strength (Nehemiah 8:10). He was happy to serve Jesus and serve the native people.
Eventually, however, the pain in his arm came, and the tests that revealed the cancer. An operation to remove the cancer rendered his arm virtually useless. Later, when the cancer returned, he underwent radiation treatment.
The last two years of his life were spent living with this new enemy. The pain he endured was at times unbearable, so much so that he would cry out desiring the amputation of his arm. But despite his suffering, with family gathered around him, in the evenings when dinner time ended, he used the opportunity to lead them in singing hymns, then he would open his Bible to read and teach Scripture, and finally he would pray, sometimes well until midnight. He wanted to be about his Father's business.
During his illness, sometimes in the middle of the night his sister Migdalia would hear Onelio speaking. She would rush to his bedside to check on him thinking perhaps he had called; perhaps he needed something. However, she usually found that he was simply talking with God: "Thank you Lord… Praise you Jesus."
Communion with his God.
Then.
Now.
Forever.
Onelio Gonzalez faced Communists and endured Communism, he braved the jungles of Ecuador, and he faced cancer. On Thursday night, November 18th, 2010, at the age of 76, Onelio faced the final enemy: Death.
It took his body, for now, but did not take him (2 Corinthians 5:8).
He acknowledged Jesus Christ before men; He has not been disowned in heaven (Matthew 10:32-33).
Onelio will be remembered as a faithful witness, a man always with a hymn on his tongue, a man who spoke with animated musical inflection in his voice, a contagiously joyous man to be around. It is because of Christ Onelio had joy. It is because of Christ Onelio had hope. It is because of Christ that believers do not mourn like those who do not have hope, for Christ has said, "I am the resurrection and the life. The one who believes in me will live, even though they die" (John 11:25, NIV).
Therefore, "when this perishable puts on the imperishable, and this mortal puts on immortality, then the saying that is written will happen, 'Death has been swallowed up in victory. Where, O death, is your victory? Where, O death, is your sting?'" (1 Corinthians 15:54-55).
Onelio Gonzales came to mind as the media recently has been filled with stories of the death of Fidel Castro, Cuba's dictator, a man who ruthlessly murdered and oppressed his own people for over 50 years. When I first wrote and published this article in 2010, his family in America was actually worried about its publication; they were worried that there might be repercussions for the Gonzales family who still lived in Cuba. I thought it strange since I was only an online blogger, not a writer for the New York Times. This shows the level of intimidation the Communist regime exerted on the Cuban people, that even decades after leaving Cuba, they still had an instinctive fear of reprisal for any possible anti-government speech.
"Be sure of this: The wicked will not go unpunished, but those who are righteous will go free…. The desire of the righteous ends only in good, but the hope of the wicked only in wrath" (Proverbs 11:21 & 23, NIV).
"For God did not give us a Spirit of fear but of power and love and self-control. So do not be ashamed of the testimony about our Lord or of me, a prisoner for his sake, but by God's power accept your share of suffering for the gospel. He is the one who saved us and called us with a holy calling, not based on our works but on his own purpose and grace, granted to us in Christ Jesus before time began, but now made visible through the appearing of our Savior Christ Jesus. He has broken the power of death and brought life and immortality to light through the gospel! For this gospel I was appointed a preacher…. Because of this, in fact, I suffer as I do. But I am not ashamed, because I know the one in whom my faith is set and I am convinced that he is able to protect what has been entrusted to me until that day" (2 Timothy 1:7-12).