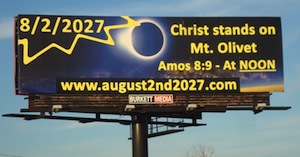 What If We Only Had 6 More Years?
Driving between Austin and Waco recently, the words on one particular billboard captivated me. It said, "8/2/2027 — Christ stands on Mt. Olivet at NOON — Amos 8:9." While the billboard's creator was not predicting a specific date for Jesus' Second Coming (but it did predict his actual presence on earth on a specific date), my mind went to the "what if's." What if Jesus was on earth by then, the 7-year tribulation over, the Rapture of believers having already occurred? What if we as Christian women had only 6 more years to share Christ with everyone we know? Would that make a difference in how we planned this year's women's ministry schedule?
I have been visiting a lot of churches over the past year, communicating with women's ministry leaders, looking over their lists of existing activities and listening to their plans for the coming year. Frankly, I haven't seen much urgency to prepare each woman to reach the women in her sphere of influence THIS YEAR for Christ. Yes, everyone believes that sharing our faith is a good idea. We all have good intentions to share our faith with others, IF they ask us. Where is the "love compelling us" (2 Corinthians 5:14) to share the truth? Where is the compassion for the unbeliever that should drive us to not wait until later to share the life we have with a "dead woman walking" (Ephesians 2:1-3) in our neighborhood, PTA, workplace, and Bunco group?
I am just as guilty as anyone else for putting it off until later. One sweet neighbor lived next door for more than two years. She was on my prayer list for almost a year. I was thinking about getting together with her last fall to talk about life and maybe find out about her spiritual needs. Then, she suddenly died! Too late! Thankfully, I read in her obituary that she was a Christian. Isn't it sad when you don't find out that someone who lives right next door is a sister in Christ until you read her obituary?
So, getting back to women's ministries in churches. Just how important is that fellowship event for Christian women that takes hours and hours of planning and preparation plus huge amounts of energy to implement when everyone who attends is going to be partying in heaven anyway? Don't get me wrong. I love partying with other Christian women! But, shouldn't there be equal if not greater strategic ongoing effort to reach the unreached women, especially in the neighborhoods surrounding the church? To help each woman in a church learn how to reach her own non-Christian neighbor this year?
The New Testament teaches that Jesus' return for us could be at any time. Yes, it has been just shy of 2000 years of waiting. That doesn't negate the fact that we might only have this year (2014) or even just 6 more years to fulfill our individual calling in the Great Commission – to make disciples (Matthew 28:18-19). If we lived as though we believed that to be true, and asked Jesus to give us his heart's compassion for the unbelievers around us, how we schedule our personal lives and our church ministry schedules would reflect that. At least, I think it would. Don't you?
As for me, I met a new neighbor last week and have already asked her to go to coffee with me this week. From experience, I can't count on having next month to do it.
---
More Resources:
Perspective Bible Study of 1 & 2 Thessalonians (read online)
Perspective Bible Study of 1 & 2 Thessalonians (download pdf)
Death—Swallowed Up in Victory! article
The Rapture: A Message of Comfort
Disciple-Making Resources (read online)
Disciple-Making Resources (download pdf)