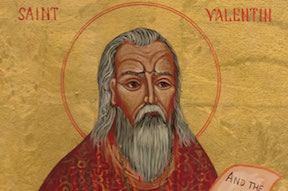 Why Celebrate Valentine's Day?
According to the market research firm IBIS World, Valentine's Day sales reached $17.6 billion last year, 2014, and this year's sales are expected to exceed that figure. February 14 has catapulted into a lucrative opportunity for the sales community.
Tangled up in the legends and history of this holiday is a remarkable story.
The legend: Saint Valentine was a Roman Priest at the time of the rule of Emperor Claudius- a persecutor of the church. Valentine lived and ministered against the backdrop of a very permissive society where there were no boundaries or strict codes morally. Polygamy would have been more popular than one man and one woman in a union.
During his reign Emperor Claudius pronounced an edict prohibiting marriage of young people. The hypothesis behind the thinking was that unmarried soldiers fought better than married ones because married soldiers might be afraid for the future of their wives and children in case they died in battle.
Since the Church obviously thought marriage was a sacred and holy union between one man and one woman a huge conflict in principle arose with the pagan government of Rome.

But, some of the young people were attracted to the Christian faith and Valentine encouraged them to marry within the Christian Church. He secretly married them because of the edict. He was eventually caught, imprisoned and tortured for performing marriage ceremonies which defied the command of Emperor Claudius the second.
In 269 AD Valentine was sentenced to a three-part execution of a beating, stoning and finally beheading all because of his stand for Christian marriage. He was martyred. Legend has it that during his imprisonment he healed the blind daughter of his jailer Asterius and the night before his execution he wrote a card addressed to her signing it "Your Valentine". The alleged expression "from your Valentine" was picked up and used in modern Valentine letters.
St. Valentine's Day began as a liturgical celebration and it is said to honor one or more early Christian saints named Valentinus. The English poet Chaucer helped romanticize it in his 14th century writings and it gained popularity throughout Britain and the rest of Europe. In the Middle Ages handmade cards became the remembrances of the day. Eventually the tradition made it to the New World and the Industrial Revolution ushered in factory made cards in the 19th century. In 1913,Hallmark Cards began mass-producing paper "valentines".
What is our response to these beginnings of Valentines Day and should we use this day an as opportunity? Absolutely. This is an opportunity, not the same level as a liturgical tradition, but a significant, creative opportunity. What a better chance to express love and appreciation for those you love and point them to the never changing, always present, incredible love of God.
It is a unique opportunity to honor the One who first loved us by offering to others God's love–as recorded in the Bible John 3:16"God so loved the world that He gave His one and only Son that whoever believes in Him shall not perish but have eternal life."
Without the love of God where would we be? If Jesus had not died for us, we could not offer love to anyone. As a believer in Jesus Christ, God's love can never be lost (Romans 8:37-38).
Offer to others this Valentine's Day the love of God – Zephaniah 3:17 "the Lord your God is in your midst, a victorious warrior. He will exult over your with shouts of joy." I have a friend who inscribed this verse in calligraphy on a card and gave it to her friends in honor of Valentine's Day.
And if true, the story of Saint Valentine's willingness to die for His convictions and faith is compelling and prompts the question for us – what would I be willing to die for? Who can I send an expression of God's love to this Valentine's Day?
You have plenty of time…8 more days until February 14.
---
http://www.npr.org/2011/02/14/133693152/the-dark-origins-of-valentines-dayhttp://www.cbn.com/spirituallife/ChurchandMinistry/churchhistory/st_valentine_the_real_story.aspx
http://en.wikipedia.org/wiki/Valentine%27s_Day
This blog was originally published on February 4, 2015.