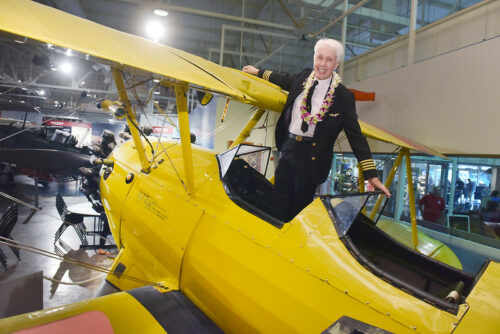 In Celebration of International Women's Day: Women Excelling in Space and in Service
Today is International Women's Day. Certainly the world benefits when women invest their talents. Similarly the church benefits when women serve fully in their area of gifting. 
NASA tested men to find the best candidates for the Mercury space program, but a privately funded program tested women to see how they measured up. Wally Funk was a member of this group of women later nicknamed the "Mercury 13." The women excelled. Some of them lobbied to have women included in the space program in the sixties, but it wasn't until 1983 that Sally Ride had the distinction of being the first U.S. female astronaut.
Being a NASA astronaut wasn't an option for Ms. Funk. Never bitter, she went on to have a full, distinguished career. But if the name Wally Funk sounds familiar, it is because the opportunity to go into space which eluded her as a young woman came to her last year. On July 20, 2021, the then 82-year-old rode into space with Jeff Bezos aboard "Blue Origin."
The exhilaration of Wally Funk as she emerged from "Blue Origin" spoke to something deep within me.
Wally's adventure has prompted me to think about women and the church. As a young believer until the present, I have tried to discern God's direction and thrive in response to the teaching of Scripture as I understood and now understand it. But too often, especially as a young woman, when I had questions, much of the guidance I encountered seemed designed not to ensure that women served using their God-given gifts, but rather to keep the boundaries around women tight enough to make certain they didn't accidentally step out of bounds. From my perspective, the possibility of a woman not being able to use her gifts ought to weigh more heavily on us than the possibility of her momentarily coloring outside the lines.
So, I have questions to challenge all of us, regardless of our position on the role of women in the church. Let's ask these questions to check ourselves and our churches and organizations:
If you are a woman, are you fully using your gifts to serve? Are you serving in an environment where you can?
If you are a leader in a church or organization, do you know the gifts of the women serving alongside and under your leadership and are you advocating for their use?
Is your church being strengthened by the exercise of every member's gifts?
In general, are women in your church or organization excited about their opportunities to serve or discouraged by their limitations?
I'm grateful to serve in an agency that has encouraged me to get seminary training. Even in the last five years, by God's grace, I've had the opportunity to serve and grow in new ways in my seventh decade of life. My church has avenues for me to serve and lead inside and outside the church walls.
I rejoice with Wally Funk and her opportunity to fulfil a dream. I pray this will be the experience of all women in work and service, especially those in the Body of Christ.
"But practicing the truth in love, we will in all things grow up into Christ, who is the head. From him the whole body grows, fitted and held together through every supporting ligament. As each one does its part, the body builds itself up in love." Eph. 4:15-16 (NET)
"Open Cockpit Day 2018" by Pearl Harbor Aviation Museum is licensed under CC BY-NC-ND 2.0