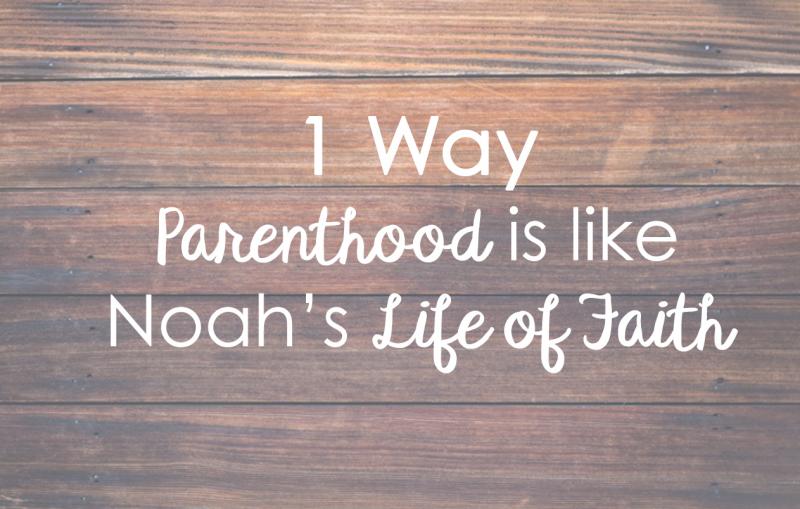 1 Way Parenthood Is Like Noah's Life of Faith
Judah, my middle child, is a rocks, sticks, leaves, tree-climbing kind of boy. On one of our Fall walks a couple years ago, He picked up an acorn and with an excited smile, said, "Look!" As he handed them to me for safe keeping.
What I thought were simple, brown acorns, the kind with tops that look like hats, he thought were beautiful seeds of possibility.
A Simple Seed
I began to think about how I felt like that acorn.
Tossed. Un-noticed. Set-aside from the hustle of busy, important people, going to busy, important places, doing busy, important things.
Did my holding a fist full of acorns matter?
But then, I looked up.
And I saw this huge, green oak tree full of life. Squirrels dancing on the branches. Birds singing on its limbs. Life made possible by an acorn tucked under the earth where no one saw it, except the creator who formed it. Watered by God's rains. Unnoticed by busy, important people doing busy, important things.
An acorn—offering its whole existence to service so that something might grow after its death—grander and more life-giving and beautiful than it could ever see, or ever be.
To me, this is parenthood.
And the scriptures show us, it is also the way of the kingdom of God.
What seems like ordinary life, takes all we have sometimes—even breaks us open. Away from the spotlight. Away from cheers and promotions. Secretly offered to the soil of time because we expect God to take our lives of service and help us to raise up humans, who will raise up humans, who will raise up humans in times and generations we will never see this side of eternity.
But we are not alone in this journey of faith.
There is a long line of God-followers who came before us.
From the beginning, we have examples of God-followers whom offered themselves to what seemed like busy unimportant work.
We read about some of them in Hebrews chapter eleven. Some call this passage the Great Hall of Faith, like we are walking into a museum of faithful God followers who did what seemed on the outside like busy unimportant work, was actually the most important work they could have done.
Hebrews 11:1 is the definition of faith.
"Now faith is confidence in what we hope for and assurance about what we do not see."
Faith is the expectation of what is not yet. Faith is what we do when we trust God to grow something from our lives for the kingdom.
Faith is knowing that what we do matters because God has led us to this task. Maybe it's not glamorous today as we change diapers, or hold a kicking and screaming toddler through the parking lot. Maybe we wonder how we are changing the world when we YouTube common core math to help with algebra homework or balance office work hours with work-in-the-home hours.
Like the acorn, maybe parenthood is even breaking us open in deeply sacrificial ways so we can be faithful in the season of raising kids.
But when we live by faith, doing what we believe God has led us to do, what we do matters.
Like Noah.
Hebrews 11:7
"By faith Noah, when warned about things not yet seen, in holy fear built an ark to save his family. By his faith he condemned the world and became heir of the righteousness that is in keeping with faith."
This verse is rich with theology, but what I want us to focus on, is that Noah put his hands to the task of what seemed like ridiculous work because he believed God.
God warned Noah that a flood was coming to judge the earth because (Genesis 6:5 says) every intent and thoughts of humans was evil continually. But Noah found favor with God.
---
So, God told Noah to build an enormous boat.
Noah lived in the desert.
God told Noah He was going to bring a flood of water on the earth.
Noah lived in the desert.
---
And Noah believed God, so he spent years sourcing and hueing out logs for the boat.
Shaving wood in the heat of the desert sun, back bent over, arms strengthened by lugging logs—while the people in his neighborhood lived busy, important lives doing busy, important things.
And they thought Noah was crazy. Who would build a boat in a desert in case of a flood?
Noah knew it would flood. Because he lived expectantly by faith. God said it water would fall from the sky.
Like Noah's neighbors, some people think that the work of parenthood is crazy. Offering our lives to our families, serving day in and day out in working hard to provide, cheering on the sidelines of baseball, sweeping floors and folding laundry—is crazy.
But like Noah, we keep on hueing anyway. We keep giving our lives to hugs, and kisses. After school football practice and Friday night pizza anyway—because we are following God by faith in the service of parenthood.
Some day, after we are gone, may lives of future generations flourish with the power of the gospel of Jesus Christ because we lived faithfully to plant ourselves in service and sacrifice.
At least, that is what I am living for, by faith, as I allow myself to be broken open and planted for the sake of the flourishing of my own family—today.
---
For more writing from Seana, visit www.SeanaScott.org