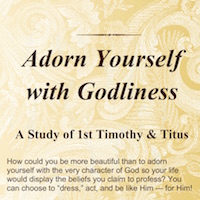 Adorn Yourself with Godliness
Every morning when you approach the mirror to get ready, do you long to be more beautiful? Do you wish that you could simply put on one thing, or do just one thing, that would present you to the world looking just the way you would like to look?
You can do that! Each and every day, you can adorn yourself with godliness.
What "adorn yourself with godliness" means
The English word "adorn" translates the Greek word kosmeo from which we get our word "cosmetic." It means, "to arrange, to put in order."
Have you ever thought that as you were applying your make-up, you were actually putting your face in order? Or, when you get ready for a big job interview, you're actually arranging yourself in such a way by what you wear and how you act to demonstrate that you are truly the right person for the job! And, if you are married, you might make arrangements for a special dinner with your spouse and adorn yourself with his favorite dress, hairstyle, and perfume. Adorning yourself is a good thing.
What is godliness? Godliness is a reverence for God characterized by living a life that reflects His character. It is a life that is well-pleasing to Him. It also means to take on His likeness as we present Him to the world around us.
Attributes of godliness are those same ones found in our Lord Jesus Christ—humility, compassion, love, prayer, dependence on God the Father, and many more. What could be a more beautiful, worthwhile goal than to aspire to adorn yourself with godliness? To put yourself in order with the very character of God? To arrange or live your life properly displaying the beliefs you claim to profess? To "dress," act, and be like Him for Him!
Well, Paul's letters of 1stTimothy and Titus are full of "fashion" facts so that, as stated in Titus 2:10, we can truly…
"…adorn the doctrine of God our Savior in every respect." (NASB) 

"…in every way make the teaching about God our Savior attractive." (NIV)

"…make the teaching about God our Savior attractive in every way." (NLT)

"…bring credit to (adorn, show the beauty of) the teaching of God our Savior in everything." (NET)
But, how do we do that?
In view of the finished product
Seamstresses use patterns to create fashion pieces to adorn themselves—a dress, skirt, or blouse. Looking at a single pattern piece for a dress won't teach you how to make the dress. Looking at the finished product, the picture of the dress gives you an idea of how the pieces fit together, though. A seamstress has the finished product in mind as she follows the instructions to use all the pattern pieces to construct the dress as it was designed. This is similar to studying the Bible.
To understand how to live as God intended us to live, we need to spend time perfecting our knowledge of Him through His Word—not just pieces every now and then, but diligently familiarizing ourselves with all of it. We need to read through the Bible at least once, not expecting to understand it all, but we will begin to have a grand picture of God and His plan throughout the ages.
Before starting a detailed study of a book of the Bible, we need to read the whole book to get a general feel for its message. Like a seamstress, we get a glimpse of the whole picture before putting together the pieces. When studying a specific passage in the Bible, we should read the whole chapter in which it is found to see the context of the passage.
All of these actions require diligent planning similar to the process of a seamstress making a dress. The pieces only make sense as they contribute to the whole dress. We should not be content to adorn ourselves with only one piece of the dress—a sleeve, cuff, or collar—and think we are wearing the completed dress.
And, when it comes to adorning ourselves with godliness, be assured that God doesn't ask us to do something without equipping us to do it. See this in 2 Peter 1:3:
"His divine power has given us everything we need for life and godliness through our knowledge of him who called us by his own glory and goodness." (2 Peter 1:3 NAS)
We have everything we need for godliness through the Spirit of God who lives inside every believer and is continually at work in us. What assurance! We CAN adorn ourselves with godliness because of Jesus' Spirit in us. We CAN live a godly life because of His Spirit in us.
Adorn yourself with godliness because others are watching
For now, why would our adornment be important? Because those who oppose Christ and the Gospel (the "fashion police") are always watching, looking for an excuse not to believe. When we adorn ourselves with godliness, there is nothing for "them" to accuse. Then, the word of God, God's message to the world that we profess, will not be dishonored or discredited (Titus 2:5).
Though there are several ways to reveal Christ, there is only one thing to put on—Christ! Hebrews 12:2 describes it this way: "keeping our eyes fixed on Jesus." Is that whom you see when you are looking in the mirror in the morning? Focusing your eyes on Jesus at all times will get the job done!
Adorn yourself with godliness. Look in the mirror each morning and see who you really are, and then "dress" in such a way to let others see Jesus in you. This isn't about "acting religious." This is about "wearing Jesus comfortably!" We (all believers) are the Body of Christ. Paul wants to encourage us in his letters so that we will approach our world every morning as we do our mirrors—getting ready to present His Body to an ugly world, desperately in need of adornment!
P.S. Cleanliness is not next to godliness. No amount of disinfecting wipes can change a human heart. 🙂
Much of this blog was taken from a lecture given by my dear friend, Joan Floyd, who exemplified adorning herself with godliness in this life. Now, she is rejoicing with Jesus in heaven. 
---
More Resources:
Adorn Yourself with Godliness Bible Study of 1 Timothy and Titus (read online)
Adorn Yourself with Godliness Bible Study of 1 Timothy and Titus (download pdf)