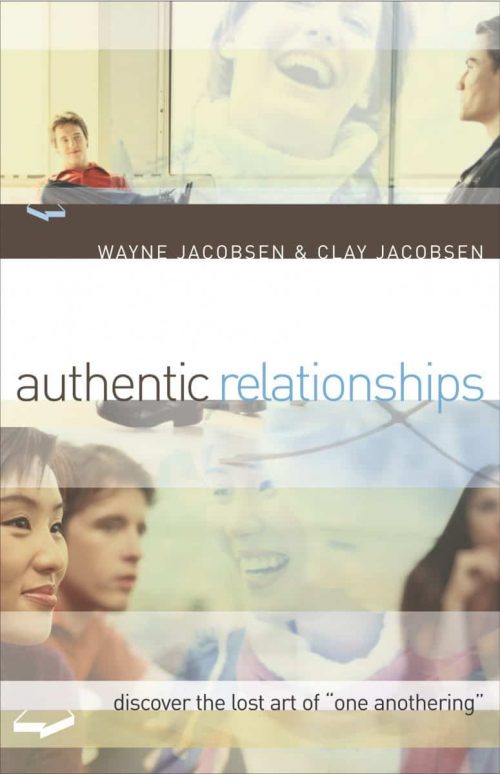 Authentic Relationships: Loving One Another
To love another person is to see the face of God" – Les Misérables
---
Dear friends, if God so loved us, then we also ought to love one another. No one has seen God at any time. If we love one another, God resides in us, and his love is perfected in us. (1 John 4:11-12 NET)
Our loving others may be the only "face of God" that they ever see. (John 13:34,35)
One at a Time
Jesus loved in the singular. (Mark 10:21)
How do you eat an elephant? One bite at a time!
How do you love a city full of people? One person at a time!
Actually, we are not commanded to love, encourage, serve, or share "with everyone." We are commanded to love, encourage, serve, or share "with one another." Jesus freed us to demonstrate love at the moment, for whoever is before us. We will never learn to love others unless we do it one at a time. To help an individual, we do not have to start a ministry and look for others with the same need. All we have to do is take the circumstances at hand and do the best for that person. Jesus has come to us as Love so that we might come to love like Jesus!
Not Getting but Giving
Jesus did not say to "get love from each other." He told us to simply "give love to one another." If we focus on what others can do for us, then we are going to be disappointed. To engage in loving others, we must shift the focus from our wants, agenda, and needs to theirs. God has given us the freedom to NOT to be focused on ourselves all the time. Jesus spent His ministry following His Father's instruction to love those around Him. It is not about getting love but giving it.
Living Loved
We cannot do for others what has not already been done for us:
"I give you a new commandment– to love one another. Just as I have loved you, you also are to love one another. John 13:34
I in them and you in me - that they may be completely one, so that the world will know that you sent me, and you have loved them just as you have loved me. John 17:23
We love because he loved us first. 1 John 4:19
For this is the way God loved the world: He gave his one and only Son, so that everyone who believes in him will not perish but have eternal life. For God did not send his Son into the world to condemn the world, but that the world should be saved through him. The one who believes in him is not condemned. The one who does not believe has been condemned already, because he has not believed in the name of the one and only Son of God. John 3:16-18
No one can come to me unless the Father who sent me draws him, and I will raise him up at the last day. John 6:44
So Jesus added, "Because of this I told you that no one can come to me unless the Father has allowed him to come." John 6:65
...because apart from me you can accomplish nothing. John 15:5 b
We must turn our attention to God, realizing He is the source of every good thing. We must reject the tendency towards self-effort and self-striving (1) so that God can bring about real fruit and so He can work permanent and effective change into our lives.
"I am the vine; you are the branches. The one who remains in me– and I in him– bears much fruit, John 15:5 a
Before a man can seek God, God must first have sought the man (prevenient grace). This kind of love only flows from God Himself. God will provide everything you need when you need it – He is the great I AM! This security in God's love is what will free us to live a "One Anothering" life. The more you experience the reality of God's love, the more you will find yourself sharing it. God does not want us to pretend to love others. God wants to set us so free in His love that it spills from us and touches others. We cannot forgive unless we are experiencing God's forgiveness. We cannot serve others unless we know God is providing all of our needs. We cannot live in kindness to others until we see God's kindness towards us. "One Anothering" scriptures are less mandates to obey than they are descriptions of what love frees us to do. Such love does not begin in the human heart. This kind of love only flows from God Himself. God will provide everything you need when you need it – He is the great I AM! This security in God's love is what will free us to live a "One Anothering" life. The more you experience the reality of God's love, the more you will find yourself sharing it. God does not want us to pretend to love others. God wants to set us so free in His love that it spills from us and touches others.
How do you see God exemplify "One Anothering" in your life? Ask God to show you how He has "One Anothered" you in the past. Realize we treat others the way we perceive God treats us (Psalms 115:4-8). If you believe God is judgmental of your sins then you will be judgmental of others. If you believe God is impatient with your weaknesses then you will be impatient with others. If you believe God is uninvolved in your pain then you will be uninvolved with others.
What do you understand the following verse to mean?
"If you love me, you will obey my commandments. (John 14:15)
A – I can prove my love for Jesus by keeping His commandments.
B – If I am "head over heels" in love with Jesus, then I will naturally keep His commandments!
Answer:
A – This is legalism (i.e., performing to earn God's pleasure).
B – This is grace (i.e., performing out of gratitude knowing You already have God's pleasure in Christ). This is the correct answer.
"To the angel of the church in Ephesus, write the following: "This is the solemn pronouncement of the one who has a firm grasp on the seven stars in his right hand—the one who walks among the seven golden lampstands: 'I know your works as well as your labor and steadfast endurance, and that you cannot tolerate evil. You have even put to the test those who refer to themselves as apostles (but are not), and have discovered that they are false. I am also aware that you have persisted steadfastly, endured much for the sake of my name, and have not grown weary. But I have this against you: You have departed from your first love! Therefore, remember from what high state you have fallen and repent! Do the deeds you did at the first; if not, I will come to you and remove your lampstand from its place—that is, if you do not repent. (Revelation 2:1–5 NET) 
The church at Ephesus originally started performing works because they were "head over heels" in love with Jesus – to bring Him pleasure! Then they left their first love and started doing the works to try and earn Jesus' pleasure. Jesus said they needed to go back to being "head over heels" in love with Him as the motive for their works. Remember, good works are motivated out of love, and dead works are motivated by the desire to please or earn acceptance. Living in God's love is the first step to "One Anothering." If living in His love does not occur first, then the process will wear you out with self-generated good works (the Bible calls these dead works) that will not bear the fruit of the kingdom. Remember:– Good works are those done in God's ability. (Ephesians 2:10. Hebrews 10:24,25) – Dead works are those done in our ability. (Psalms 127:1. John 15:5)
"One Anothering" is not to be a chore but rather the joy of sharing God's life with His people and the world. It really boils down to our motive for doing.
The Fruits of One Anothering
There are two fruits to "One Anothering":
It demonstrates the reality of Jesus to a world that cannot see Him (John 13:35)
It is the only way to know the fullness of Jesus' joy (John 15:8-12)
A Self-Centered Life is its Own Punishment
Expecting and demanding from others only results in stress, disappointment, and despair. Captured by the reality of the love of God, we are freed to focus on others rather than on ourselves. Focusing on others is where we find the joy of deep and abiding friendships. God designed it, so that right relationships are the surest way to find fulfillment and freedom. The Greatest is Love The ultimate "One Anothering" Scripture – LOVE ONE ANOTHER (John 13:34. 2 John 1:5). All the "One Anothering" Scriptures express how we let God's love live out through us. They show us how to express that love and expose to us the deepest treasures of what it means to be part of God's family (1 Timothy 1:5). (2) The word for this kind of love in the original Koine Greek language of the New Testament is Agape – the transliterated Greek word for a love that recognizes the worthiness of the object loved. This love consists of the soul's sense of the value and preciousness of its object and its response to its recognized worth in admiring affection. A love which sacrifices itself for the benefit of the object loved, that object being both unlovely and unlovable, and a bitter enemy of the one who loves—a love of devotion not of emotion (Transliterated Greek word "phileo" is the love of emotion).
Love's Nature:
Love meekly and patiently bears ill treatment from others. (Wuest) (1 Corinthians 13:4)
Love is patient. This is the normal attitude of Love. Love passive, Love waiting to begin, not in a hurry, calm, ready to do its work when the summons comes, but meantime wearing the ornament of a meek and quiet spirit (1 Peter 3:3,4). For Love understands and therefore waits even with people that are not rich, influential, or powerful. It does not rush people but rather gives them time to grow (2 Timothy 2:24). Patience is the ability to have a Christlike attitude while waiting. (Matthew 5:5)
Love is kind, gentle, benign, pervading and penetrating the whole nature, mellowing all which would have been harsh and austere. (Wuest) (1 Corinthians 13:4)
Love active. Think about how much of Christ's life was spent in doing kind things – in merely doing kind things! (Acts 10:38) God has put in our power the happiness of those about us, primarily to be secured by our being kind to them (1 John 3:18). One of the greatest things a man can do for his Heavenly Father is to be kind to some of His other children (Matthew 25:40). Kindness is the quality of being warm-hearted, considerate, humane, and sympathetic. (Matthew 5:7) However, kindness has the toughness to confront others with their shortcomings and helps them overcome them. (Proverbs 27:5,6,17. Hebrews 10:24)
[Love] is not envious. (Wuest) (1 Corinthians 13:4)
Love is not envious. This is Love even when in competition with others. Whenever you attempt a good work, you will find others doing the same kind of work and probably doing it better. Envy them not. Envy is a feeling of ill will to those in the same line as us, a spirit of covetousness and detraction. Love is generous in its opinion of others. It enjoys the success of others! (1 Corinthians 12:26. Romans 12:15) If you only enjoy recognized personal successes, then you will feel rejected much of the time. It remembers that we cannot control how others will respond to us in the world, but we can control how we respond to others. (James 3:13-18)
Love's Behavior:
Love does not brag, nor does it show itself off, is not ostentatious, does not have an inflated ego. (Wuest) (1 Corinthians 13:4)
To put a seal on your lips and forget what you have done. After you have been kind, after Love has stolen forth into the world and done its beautiful work, go back into the shade again and say nothing about it. Love hides even from itself. Love waives even self-satisfaction. It is humble in relationships with others (Romans 12:16). It is not on an ego or power trip. It remembers that leadership is serving others. Love does not boast is not puffed up. (Matthew 6:1-4. Philippians 2:2-4)
[Love] does not act unbecomingly. (Wuest) (1 Corinthians 13:5)
This is Love in society, Love in relation to etiquette, Love in little things. The secret of politeness is to Love. Love cannot behave itself unseemly. Love is courteous. Love is friendly. Love has good manners. It treats others with dignity even if they do not seem to deserve it. Love is courteous with good manners. (1 Peter 4:9. Galatians 6:10)
[Love] does not seek after things which are its own. (Wuest) (1 Corinthians 13:5)
Love does not seek even that which is her own. This is the giving up of not just our rights but of ourselves. To be abandoned to God's will and purpose for our lives. Remember that there is no greatness in things – greatness is only found in unselfish love. There is no happiness in having, or in getting, but only in giving – for Life consists of giving and serving (Acts 20:35). Love is unselfish and selfless. (Romans 12:10-13)
Love's Reaction:
[Love] is not irritated, provoked, exasperated, aroused to anger. (Wuest) (1 Corinthians 13:5)
Ill temper is the vice of the virtuous. The one blot on an otherwise noble character is to be easily ruffled, quick-tempered, or have a touchy disposition. An evil temper can cause the name of Christ to suffer more than vice, worldliness, greed, or even drunkenness. Temper is significant in not only what it is but even more so in what it reveals. Temper is the symptom of a lack of Christ conformity within our souls. However, souls are not made sweet by taking the acid out but rather by putting the Spirit of Christ within. Love is even-tempered even with less powerful, rich, or influential people. Love is not easily provoked. (James 1:19,20. Matthew 5:9. Matthew 5:43-48. Romans 12:14. Romans 12:17-21)
[Love] does not take into account the evil [which it suffers]. (Wuest) (1 Corinthians 13:5)
Guilelessness is the grace for suspicious people. Love imputes no ill motive, sees the bright side, and puts the best construction on every action. Love believes in others; knowing this is what helps others to believe in themselves. Love believes the best in others giving the benefit of the doubt. Love leaves all judgment to God (Luke 6:37. 1 Corinthians 4:3). Love is guileless. (Matthew 5:8)
[Love] does not rejoice at the iniquity but rejoices with the truth. (Wuest) (1 Corinthians 13:6)
Self-restraint, which refuses to take advantage of the faults of others. The Love which delights not in exposing the weakness of others but covers them like a medicated bandage over a wound (Proverbs 10:12. Proverbs 17:9. 1 Peter 4:8. James 5:20). The sincerity of purpose that endeavors to see things as they are and rejoices to find them better than suspicion feared or slander denounced. It gets no pleasure out of the shortcomings or failures of others. Love embraces those that fail, and it builds up those who have been hurt. It finds no room for racism or sexism. It is not full of hypocrisy or dishonesty. Love is sincere. (Matthew 5:9)
[Love] endures all things, believes all things, hopes all things, bears up under all things, not losing heart nor courage. Love never fails. (Wuest) (1 Corinthians 13:7,8)
Love quietly covers all things. Love does not give up for the Battle is the Lords. (Proverbs 21:31. Philippians 4:13) Love perseveres! (Habakkuk 3:17-19. Matthew 5:10-13) (3)(4)
Authentic Relationships Series:
---
---
Shalom
(Security, Wholeness, Success)
Peace
Dear friend, I pray that all may go well with you and that you may be in good health, just as it is well with your soul. 
(3 John 1:2 NET)
---
---
(1) Select the link to open another article in a new tab with additional information.
(2) This blog adapted from Authentic Relationships: Discover the lost art of "One Anothering" by Wayne Jacobsen (http://www.lifestream.org) and Clay Jacobsen. ISBN-13: 978-0801064517
(3) Resources for the section on Love:
"The Greatest Thing in the World", Authored by Henry Drummond in 1874, ISBN 1-55748-422-8, a partner with D.L. Moody
Tony Campolo (1992). Everything You've Heard is Wrong. Irving, Texas: Word Publishing.
---