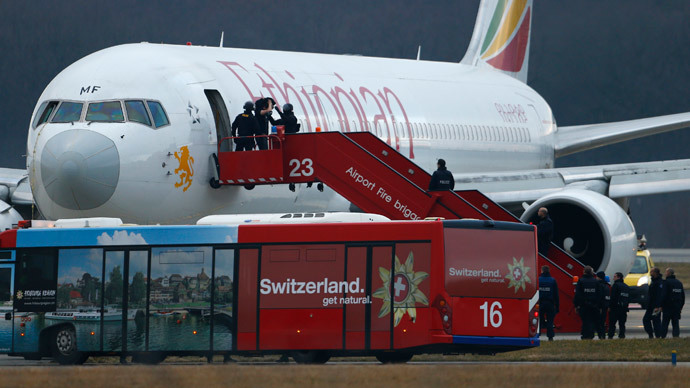 Co-pilot Hijacks Ethiopian Airliner and Freedom
The Wall Street Journal reported that on Monday, Feb. 17 the co-pilot of an Ethiopian Airways jet was arrested after forcing the Rome-bound aircraft to land in Geneva in a bid for asylum in Switzerland.
Once the plane landed, the man, 31year old Haile-Medhin Abera Tegegn shimmied down a rope from the cockpit window asking for political asylum before the Swiss authorities took him into custody.
Think of the resolve it took to make the choice of hijacking. Was this a desperate grasp for freedom and a chance to start over?
This hijacking raises many questions. What was this co-pilot thinking? Was his desire for freedom worth the coast of jeopardizing the lives of the 200 people on board – 7 crew members, 139 Italians, 11 Americans, 10 Ethiopians, 5 Nigerians and 4 French citizens? Did he even consider that? Does this action take airline security to a new level of management having now to deal with the "inside" threat?
Ethiopian airlines is owned by Ethiopia's government which, according to The Washington Post, has faced persistent criticism over its rights record and its alleged intolerance of political dissent. One report said that he felt threatened in his own country. Ethiopia's communications minister said his government will seek Tegegn's extradition.
While it remains to be seen what his fate will be, Mr. Tegegn's action, in the purist sense, given he really was only wanting asylum reveals again the deep longing of the human spirit to be free, to be unencumbered, to live and move as one desires.
God created man in his own image for realtionship with Himself and free discourse, yet, because of the fall of man, man can never really be free because of the bondage of sin. Romans 8:2 "For the law of the Spirit of life in Christ Jesus has set you free from the law of sin and death."
Even in complete political freedom one is not free until one receives the forgiveness of sins by Jesus Christ, the only One who can deliver humankind from the perpetual bondage one lives in because of the sin issue. John 8:36 "If therefore the Son shall make you free you shall be free indeed."
Another story to consider is the one of the little slave girl in II Kings 5 who was taken captive by a band of marauding Arameans and placed into houeshold of the Captain of the army of the King of Aram, Naaman who was a leper. This little girl did NOT have political freedom. She was a slave; she was in bondage, she had to serve another.
This unnamed girl remains a heroine today. Despite her bondage she was free; she was free to tell the wife of Naaman that he should seek the help of the prophet of the Almighty God.
There is always freedom within the will of God and within His Presence. God's power is never thwarted by prision walls,a hostile government, difficult circumstances or physical limitations. Freedom comes when one surrenders to the only One who can give true freedom. Captain Naaman DID seek the prophet who DID cleanse him of his leprosy.
The longing of the hijacker for freedom from oppression represents the longing of humankind. Christ died for that longing and He is the only who can give true freedom. That freedom lasts for all eternity. Galatians 5:1 "It was for freedom that Christ set us free…"
google.com images