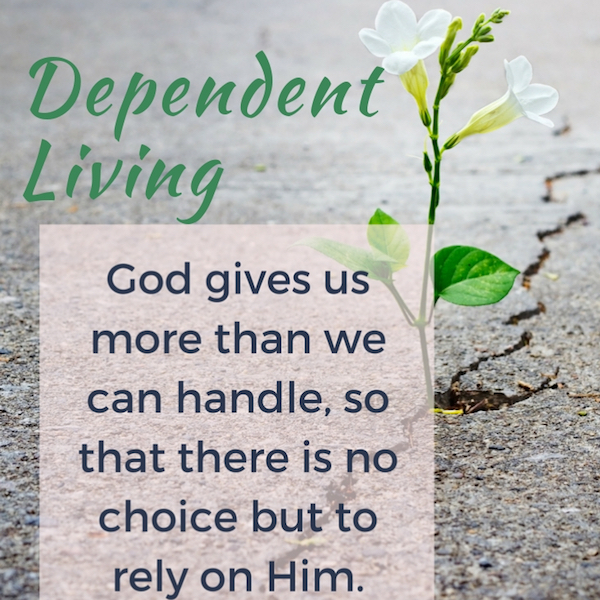 Dependent Living—God's desire for His children
Listen to this blog as a similar podcast:
Paul writes in 2 Corinthians 1:9, "But this happened that we might not rely on ourselves but on God, who raises the dead." Not relying on ourselves. Relying on God.
In the verse before this one, Paul describes how he and his companions were experiencing something far beyond their ability to endure. On their own. If you ever studied Acts, you realize how tenacious Paul is, how bold he is, how much he endures, and how he even endures beatings and imprisonments with singing. After all that time, why did God still want them to rely on Him rather than what they had learned already?
If you look up the definition of "rely," you will find it means to place confident trust in, to depend on. So, God wanted Paul to live dependently on Him. He wants the same for us. Dependent living. It's not a senior housing option. It is a choice of how to live life with God.
Dependent Living is counterintuitive to culture.
If you have been reared in western culture, this is contrary to what you've been taught most of your life. To compensate for poor teaching in the past, women are taught from girlhood to "stand on your own two feet" and "you don't need anyone to be successful." But, what if something happens beyond your control that keeps you from being successful without help? You are left with a sense of failure. Can anyone really be totally isolated from needing the help of others during their lifetime? I think not. So, what we are being taught is an illusion.
As a wise sage from the Star Wars movies quips, "You must unlearn what you have learned."
So, what does this living dependently on God look like?
Dependent Living is how God grows His children.
Are we as Christians supposed to stay like babies not doing anything for ourselves? Does it mean we are supposed to just lie back and let anything happen to us? Does it mean we aren't supposed to use our skills, talents, advantages, and opportunities to be the best we can be? No! That's not what it means.
We are supposed to grow and mature in our thinking and behavior. God wants us to give to Him all the skills, talents, advantages, and opportunities and use them for His glory. That involves following His leading and guidance. It means submitting our strengths and our weaknesses to Him for His purposes in our lives.
Here is what I figured out several years ago from studying this topic in the Bible.
Human parents raise their children to be less dependent on them and more independent. But, God raises His children to be less independent and more dependent on Him.
Whatever He brings into our lives that makes us more dependent upon Him is good for us.
Wow! That is so opposite of what we are taught in our culture. And, rightly so when it comes to parenting. We rejoice when our children get out on their own and can pay for their own housing, food, transportation, and insurance.
So, does God allow things into our lives so that we are forced to live dependently on Him? Yep. He does.
And, if you have ever seen or heard the saying, "God doesn't give you more than you can handle," that's a lie! Biblically, God gives you more than you can handle so that you will learn to rely on Him more than on yourself.
Dependent Living is not weakness.
Dependent living is not weakness. It is being stronger and having more influence, success, and satisfaction than you could ever have through your own efforts—as brilliant and self-sufficient as you might be (or think you are) or as weak and ineffective as you think you are. Or, anywhere in between. All of us need to learn how to live dependently on God more than on ourselves.
You learn how to do this as you act in obedience to the Word of God, depend on Jesus Christ for the power to do so, and trust Him with the results. As His child, God transforms your life by teaching you to live dependently on Him in weakness and in strength. This "dependent living" will make you stronger and more effective in life.
Dependent living is God's desire for His children. But, why? And, what does that look like? We'll explore those questions in future blogs.
---
More Resources:
The God-Dependent Woman Bible Study of 2 Corinthians (read online)
The God-Dependent Woman Bible Study of 2 Corinthians (download pdf)
Everyday Women, Ever-Faithful God Bible Study of Old Testament Women (read online)
Everyday Women, Ever-Faithful God Bible Study of Old Testament Women (download pdf)
The Value of Suffering by Sue Bohlin