Disciples Admit Their Sin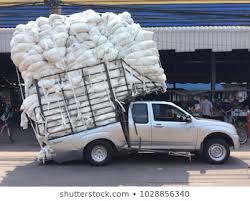 Thailand is known for overloading its vehicles.[1] An overloaded vehicle cannot function properly and is dangerous to the driver and others. Likewise, unconfessed sin overloads us with unnecessary burdens so we do not function as God intended us to function. Confession unloads us.[2]
"If we confess our sins, He is faithful and just to forgive us our sins and to cleanse us from all unrighteousness. If we say we have not sinned, we make Him a liar, and His Word is not in us. My little children, I am writing these things to you so that you may not sin. But if anyone does sin, we have an advocate with the Father, Jesus Christ the righteous. He is the propitiation for our sins, and not for ours only but also for the sins of the whole world." (1 John 1:9-2:2)
To confess your sins, you have to know that you sin. We all sin.
Sin is an act or feeling that transgresses something forbidden or ignores something required by God's law or character; whether in thought, feeling, speech, or action.
Sin is anything that is not a faith-filled response to circumstances.
How can you know if you have sinned? One way is to practice the discipline of self-examination.
"Self-examination is a process whereby the Holy Spirit opens my heart to what is true about me. This is not the same thing as a neurotic shame-inducing inventory. Instead it is a way of opening myself to God within the safety of His love so I can authentically seek transformation."[3]
Our hearts are deceptive so ask God to search you to see if there be any grievous way in you (Psalm 139:23-24).
Read your Bible with the intent to examine your own life.
Other ways to detect sin in your life include:
Be attentive to any sin patterns or reoccurring themes in your life.
Richard Foster in Celebration of Discipline encourages believers to "divide life into 3 periods—childhood, adolescence, adulthood. Invite God to reveal to you anything that needed forgiveness, healing, or both. Wait in silence. Don't pass judgment on it. Confess those things to God one by one and seek forgiveness or confess to a trusted friend."[4]
Adele Calhoun encourages believers to "set aside some time for confession and self-examination. In the presence of God, ask for light to pierce your defenses. Then ask yourself, Who have I injured recently through thoughtlessness, neglect, anger and so on? As the Holy Spirit brings people to mind, confess your feelings about these people to God. Ask God to forgive you and if need be to give you grace to forgive them. Write an apology, make a phone call or confess out loud an attempt to put the relationship back on track."[5]
An examination of your heart in regard to the Seven Deadly Sins can reveal sin: Ask yourself, "Where is there envy instead of contentment, greed instead of generosity, lust instead of purity, sloth instead of perseverance, gluttony instead of temperance, pride instead of humility, or anger instead of love in my life?"
Sin is primarily rebellion against God and should be confessed to Him and others as God directs.
Confession is when we admit to a sin. Foster says, "The Discipline of Confession brings an end to pretense. God is calling into being a Church that can openly confess its frail humanity and know the forgiveness and empowering graces of Christ. Honesty leads to confession, and confession leads to change."[6] Confession is applying the Gospel.[7]
As disciples of Christ, we want to be what God called us to be. Confessing or admitting our sin is part of what God calls us to do. He knows that admitting our sins unloads the unnecessary burdens of sin we carry around. Just like the image of the overloaded vehicle we, too, cannot function properly with unconfessed sin in our lives. Admitting our sins frees us to be transformed into Christ's image. Admitting our sin is part of being a disciple of Jesus.

---
[1] Overloaded Vehicle Images, Stock Photos & Vectors, Shutterstock, accessed August 13, 2019, https://images.app.goo.gl/Vz8Dnh2JTeVahnyc6.
[2] Mary Kassian, The Right Kind of Strong: Surprisingly Simple Habits of a Spiritually Strong Woman (Nashville, TN: Thomas Nelson, 2019), 82-83.
[3] Adele Ahlberg Calhuoun, Spiritual Disciplines Handbook: Practices that Transform Us (Downers Grove, IL: InterVarsity Press, 2005), 91.
[4] Richard Foster, Celebration of Discipline: The Path to Spiritual Growth (New York, New York: HarperOne, 1998), 149.
[5] Calhoun, Spiritual Disciplines Handbook, 93.
[6] Foster, Celebration, 157.
[7] Mary Kassian, The Right Kind of Strong: Surprisingly Simple Habits of a Spiritually Strong Woman (Nashville, TN: Thomas Nelson, 2019), 98.