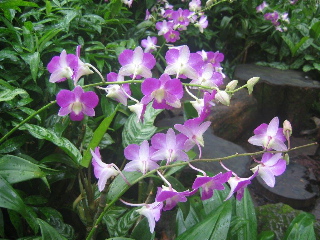 Encourage Children To Bloom…"Blooming As An Infant"
Several years ago, my husband and I had the opportunity to visit Singapore. While there, we were thrilled to get to visit the National Orchid Garden. This garden was not just any orchid garden; rather, it was filled with more orchids than any other garden in the world.
Upon entering we saw a large array of orchids, large and small, growing from one single stem. Each one was unique, a one of a kind. There were myriads of varieties sprinkling the sidewalks, paths, and walkways with their vibrant colors and designs.
If you have ever tried to grow an orchid then you probably know of their temperamental nature. Unlike most flowers, orchids can be very difficult to start from a seed. An experienced florist or gardener will plant the seed and have to wait to sell the flower until it is in full bloom.
As with any flower, when a seed germinates the life cycle begins. As the seed grows it develops roots, stems, and leaves. Soon the bud appears and within days a colorful flower is born.
Cues are given within the life cycle process to enhance and promote the necessary growth that is needed to create a flower. Without these cues many plants would not grow and produce and therefore, would wither away. Cues, such as the right temperature, the appropriate light intensity, and the right amount of moisture are all needed to enrich the flowering process, so that the transformation will occur from a bud into a beautiful flower.
When a child is conceived in the womb, the cycle of life begins. Children are born with an innate God given ability to learn. Cues to help them develop and grow are everywhere. These cues can affect the way a child makes choices, either right or wrong, and thus will have lasting effects on a child's character, value system, and moral outlook as they grow and mature into adulthood.
According to the book, Creative Bible Teaching, by Lawrence O Richards and Gary J. Bredfeldt, as soon as a child enters this world they begin to receive data, organize it, and then interpret it accordingly. The data is processed and choices are made based upon a child's perception.
From the very beginning a child learns about God as they explore their environment. Cues are received and processed as a child uses their five senses to discover their world. As the child begins the journey of life and starts the process of growing and developing, it is important that age appropriate cues are given to them about God and His world.
Below are a few age appropriate activities that can be used with infants to teach them about God and His created world.
Give the child an age appropriate rattle and let them shake it. While shaking it say…"God gave you ears to hear. God made you special."
Give the child an age appropriate ball or toy and let them look at it. While looking at it say…"God gave you eyes to see. God made you special."
Give the child an age appropriate stuffed animal and let them feel it. While touching the stuffed toy say…"God gave you fingers to feel. God made you special."
Read simple picture board books about God. As you are reading say…"God loves me. God loves you."
Play music and sing along. Introduce them to God through words and melodies.
Allow enough time for children to play with age appropriate toys. Children learn best through play as they discover the world God has created. As the child is playing say…"God loves you. I love God."
On the walls, low to the floor, place pictures of children interacting together. While the child is looking at a picture say…"God made you special. God made Susie special. God made Henry special. God made Lucy special. God loves Susie. God loves Henry. God loves Lucy. God loves you."
Encourage children to bloom in every stage of life. As you provide the appropriate cues children will grow and develop into the beautiful flowers God has destined them to become, full of His beauty.
Proverbs 22:6 Train a child in the way that he should go, and when he is old he will not turn from it.
Stay tune for part two…Encourage Children to Bloom…"Blooming as a Preschooler."