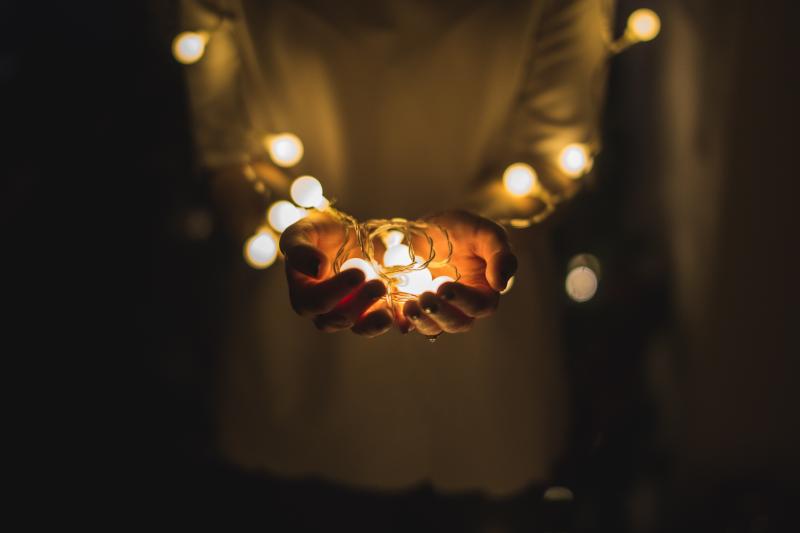 How to Beat the Winter Blues
As I got home from work last night, I happened to notice that many of the surrounding apartments still had their Christmas lights lit. Around the complex, balconies shone and flashed with various colors and types of lights.
Something about those lights in the darkness gave me a warm feeling. Maybe the occupants in those units weren't ready for the holidays to be over. Maybe they were silently protesting the end to the Christmas season. Or maybe they were still observing it. Or perhaps they just enjoyed the bright lights and didn't want to take them down. Whatever their reasons were for keeping up their lights, I was glad.
As I walked into my apartment, I thought how bare and cold it felt with all the decorations put away for the next year. It made me think how January and February are sort of dreary months. The weather is rainy and gray. It's cold outside. There isn't much happening. The holidays are over, and it can leave you feeling blah, for lack of a better word. So, why is that and what do can we do manage these winter blues?
First, I think we need to reach out to others. The holidays are filled with activities and celebrating with family and friends. Just being with others can bring sweetness, goodness and joy to our lives. When we know we are going to be together, we plan menus of things we love to eat and plan things we enjoy doing. We keep up traditions and incorporate new ones.
But once the holidays are over, everything seems to stop. So, take time to regroup. But also reach out and invite a friend, or elderly neighbor over for dinner. Meet a family member for a coffee or pizza. Help someone who is struggling and lonely.
Second, I think one of the reasons we feel crummy is because all the decorations are gone. Everywhere we go from October to December there seem to decorations and lights everywhere. For believers, December is a sweet time of remembering the birth of Christ. We listen to Christmas music on the radio and watch Christmas movies at home. But after Christmas is over, the lights get put away, the music stops, and the decorations all come down and the darkness of January sets in. So what can we do? Turn on soft, warm lamps at home and in your office at work. Put on your comfy warm socks under your boots and light that fire in the fireplace. Listen to good, uplifting music. Pick up a new indoor hobby. Take your dog for a walk. Get plenty of rest and exercise. It's good for your body and mind.
And remember, this darkness that settles in during the winter will pass.
It reminds me of the darkness that fell over the earth before Christ's resurrection. As the winter slowly settles in, remember the next season to come is Spring, and Spring always brings Easter – the celebration and remembrance of Christ's sacrifice and power over death. Had it not been for Christ's birth and subsequently His death, and resurrection, we would have no reason to celebrate anything. We would live in perpetual darkness forever. But because of His amazing gift to us we have the promise of new life.
As John 8:12 says, When Jesus spoke again to the people, he said, "I am the light of the world. Whoever follows me will never walk in darkness, but will have the light of life."
And last of all, the most important thing you can do to rid yourself of these winter blues is draw close to the Light. Read the Word, pray and take a moment to reflect on Christ, the One who lights the darkness. The One who is the Light of the World. Without Him, we would have no hope.
Psalm 119:105 says, Your word is a lamp to guide my feet

and a light for my path.
But, because of Christ we have hope because we know, as John 1:5 says, The light shines in the darkness, and the darkness can never extinguish it.