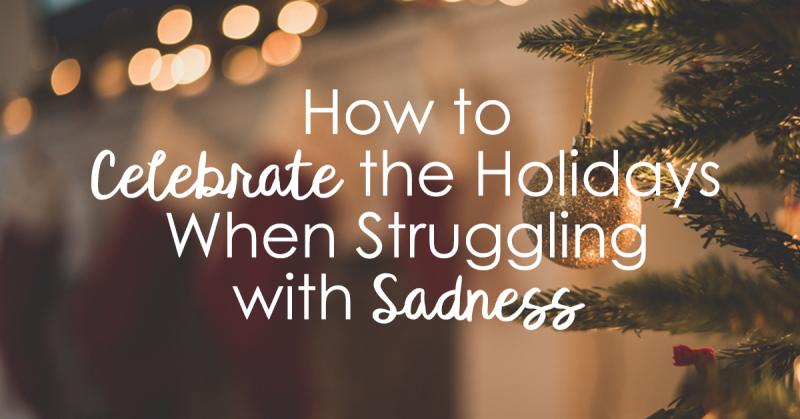 How to Celebrate Holidays While Struggling with Sadness
The pies are baking. Presents are tied with bows. It's holiday season! Which brings so much joy and fun in our home as I plan gingerbread-making and Christmas tree decorating—

but it also makes me sad.
I miss deceased loved ones and my childhood home we sold last year. I have friends going through divorce, grieving the loss of children, or persevering through medical challenges.
WHEN THE HOLIDAYS ARE MIXED WITH SADNESS, HOW CAN WE CELEBRATE?
Here are a few things I'm doing this year.
REMEMBER.
We need to stuff turkeys, not feelings. It is unhealthy for us to pretend nothing is wrong when we genuinely feel sad. But instead of sitting on the couch eating candy canes and hosting a self-pity party, we should be proactive about our sadness.
Journal.

Pray.

Talk

to a trusted friend or counselor.

Honor

their memory. If you are grieving the loss of a loved one, do something to honor their memory. This year I am going to have a nice Christmas Day dinner and use my mom's china. That was one time she would go all out and cook.
REFOCUS.
Focus on the relationships in your life. Whether you have littles running around your feet, kids slipping in from college, or joining in with a friend for the holidays, people are what matters in our lives.
By refocusing our sadness on serving others and enjoying the co-workers or loved ones in our lives this year, we are able to be comforted and comfort others. Sometimes laughter really is the best medicine.
RELEASE.
Release the pressure to do all the things you imagine—and prioritize. We cannot do everything social media suggests—or that we ideally would like, especially in a season of sadness.
What is the most important to you this season? It's okay if you don't get to the handmade Christmas ornaments or the made-from-scratch apple pie.
I was feeling the pressure this year, so I asked my kids why they like Christmas. They answered:
Decorations

Making gingerbread men

Ice-skating

Presents

Snowball fights

Christmas books

Christmas movies.
So, that is my list this year. There are 1,000 other things I could add, but one of the most important purposes for the holidays is relationships—not realizing ideals.
RESPOND.
Christmas is ultimately about Jesus. Who is this baby in the manger, born 2,000 years ago? Why does all of history culminate on one infant child?
Because Jesus is God-in-the-flesh, who came down to offer himself as our ultimate sin-sacrifice. A free gift of salvation for those who choose to believe.
Our hope for comfort this Christmas is in Christ—not in a perfect holiday or that wished-upon Michael Kohrs purse—in Christ is where we can find our ultimate comfort and joy.
MAYBE THAT'S THE PICTURE OF GOD'S GRACE FOR US THIS CHRISTMAS—COMFORT AND JOY.
This post first appeared on SeanaScott.org.