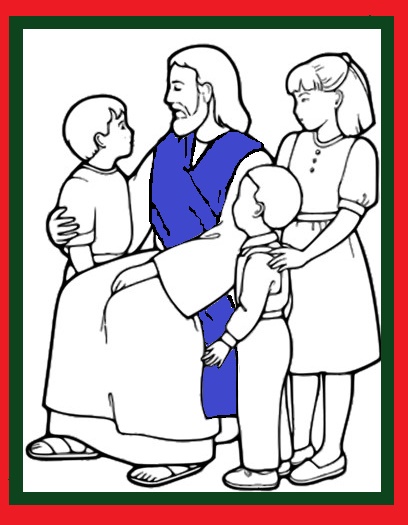 What is Christmas Without a Christ-child?
The future of our world depends on steady hearts and strong hands from the next generation. The next generation always comes to us first as a child. The children we teach today will be the future leaders of our homes, our churches, our country, and our world. They are valuable even when many times they don't feel that value. Christmas is a perfect time to emphasize the importance that God has placed on children.
"The potential possibilities of any child are the most intriguing and stimulating in all creation." — Ray L. Wilbur, third president of Stanford University
"Every child you encounter is a divine appointment." — Wess Stafford, President Emeritus of Compassion International
"Let the little children come to Me, and do not forbid them; for of such is the kingdom of heaven."— Jesus, Matthew 19:14
Great words from great men but the greatest and most profound of the three was spoken by the Godman, Jesus. God, the creator of the universe stamps a great value on children when He rebukes His disciples and commands them to stop turning away the children. Children in Christian homes and churches above all others should know they are valued.
Emphasizing the Bible stories about those who served God even in their youth such as Samuel who is called by God and given a prophecy even as a child, 1 Samuel 3. One of my favorites is the young maiden serving Naaman's wife, 2 Kings, 5. Of course probably the most famous are Joseph with his coat of many colors, David who slays the giant with only a sling and a stone, the boy with the loaves and fish, John 6:9.
My favorite stories in the Bible are the stories of Jesus as a child. Christmas is my favorite time of the year. I have heard other teachers say that they find Christmas and Easter the hardest times to teach. Teaching the same story year after year that children know so well is hard to keep interesting. I understand their sentiment. If our goal is to be new and exciting, then teaching such a familiar story could prove tedious.
Growing up in a home with seven children, my most endearing memories came from moments when our parents told stories about me or my siblings. No matter how many times I heard these stories they fascinated me. They were family stories about things that shaped us, our history. They spoke of God's blessing, provision, or care. The story of Christmas has become one of my family stories. It is the story that makes my faith possible and placed me in the family of God.
It is a mind-boggling truth that the very God who created us not only entered the creation but chose to come and experience it like we do. He was willing to endure the vulnerabilities of a baby. God placed His highest mark of value on children when He chose to become one. He chose to humble Himself to learn obedience even as each child before Him and after. This can be a great comfort to our children as they come to understand that Jesus truly knows how hard it is to be a child growing up in a difficult world. It is my prayer as we interact with our children during this Advent Season, that we will allow the Spirit to fill us up to over flowing with excitement and passion in remembering and sharing the joyful stories of the Christ who willingly and joyfully became the Godchild of Christmas.