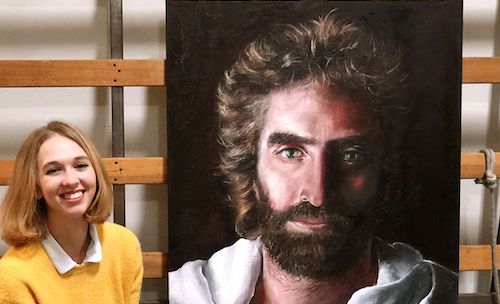 During worship at my church recently, the familiar song, "I Want to Know You" struck a different chord in me than usual. The chorus—representing the soul speaking to Jesus about knowing Him more—declares, "I want to know You, I want to hear Your voice, I want to touch You." The next phrase is what grabbed me, "I want to see Your face." Could the picture on my iPhone really be His face?
I recently read the book Heaven Is For Real in which a little boy (Colton) recounts his visit to heaven when he was only 3 years old. Colton died for three minutes and spent that time in heaven with Jesus. Over the next several years, he would describe to his parents in detail what he saw—many of the details he could not have known any other way than by actually being there in God's heaven, not just having a dream! Colton's best way of describing Jesus' face was that our Lord had beautiful eyes. Whenever he saw pictures of Jesus in a book or painting over the next three years, he would be quick to point out what was wrong with the picture. Jesus didn't look like that.
One day, Colton's father showed him another picture of Jesus. A young girl (Akiane Kramarik) who had visions of heaven at the age of four painted this portrait of Jesus when she was eight. Based on the news report surrounding the portrait, the girl's descriptions of what she had seen in heaven matched Colton's so much that the father was curious to see Colton's response to the portrait. Without giving any background information, Colton's dad just showed him the picture and asked what was wrong with it. Colton's response was to stop and stare at the picture for a while then reply, "Dad, that one's right."
Well, when I got to that point in the book, I googled the portrait of Jesus painted by Akiane Kramarik and saved it to my computer. I was immediately drawn to the manly strength in the face and, yes, very beautiful eyes. Could this be the face of Jesus? Or at least a similar likeness? If two children agreed that this was the face they saw during their short time in heaven, then maybe I was seeing His face too. And I loved that!
I am a visual learner. I remember more of what I see than what I hear. I have always pictured myself during my prayer time bowing before Jesus' throne, opening my heart to Him. Now, I have a face to put to that, and I love it! Maybe it is not exactly what Jesus looks like, but if it is close because it is how He presented Himself to two children, the childlike faith in me responds with great joy!
So, I put Akiane's painting of Jesus on my phone and show it to people. What a conversation starter! What woman would not be drawn to such a face (and the One with such a face) when I share with her that Jesus is the one who loves her?! Not the wimpy or imaginary figure often presented. That Jesus has the power to make her life something beautiful. That Jesus is the One she can trust, the one I do trust.
I have a picture of Jesus? Want to see Him?