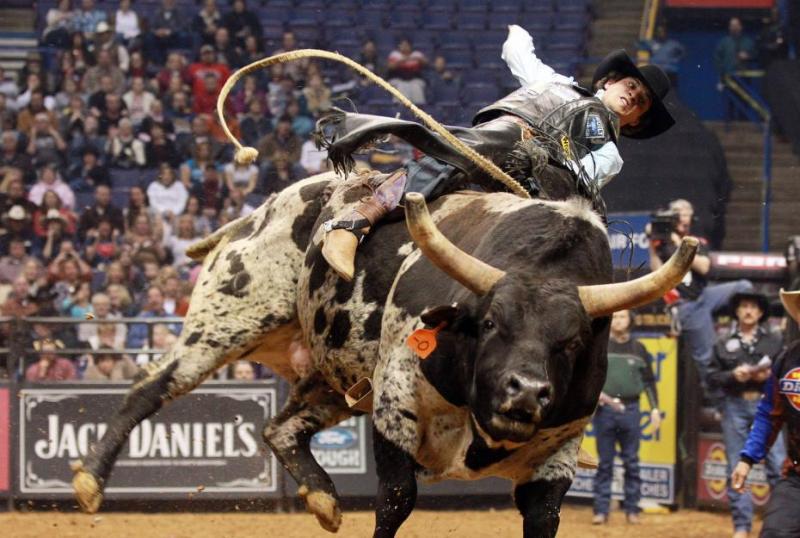 Managing Our 2016 Expectations
Back in the saddle of weekly activities, 2016 is already barreling along, the stock market and the weather jerking around like a bull in the Houston Rodeo. (Or…maybe that should be a bear?)
Whether we write down our goals and vision for the year ahead or not, we all have this picture of the way we'd like things to be. And then life happens. Here are some reminders to think about, pray about, as we try to live on purpose when life starts bucking around:
We hold our expectations with open, God-trusting hands. Like Nehemiah, we may long to see certain outcomes and ready strategic plans for the moment when doors of opportunity swing open, but our God is a God of shock and awe, disruptions and surprises.
He fulfills his promise to be Emmanuel, God with us, by means of the incarnation and a virgin birth. He fulfills his promise to deliver us from sin and death by means of crucifixion. If we weren't so used to it we would find it utterly amazing. God thinks and acts completely out of the box.
As I look back over the last twelve months of my own life I see so many totally unexpected, disrupting developments: two deaths and a cancer diagnosis on the parent front, five last-minute plane tickets, stepping into the vacated leadership of women's ministries at our church, surgery avoided and several as-good-as-winning-on-Jeopardy! gifts.
When we look back over the last twelve months in our culture, we see the threat of ISIS, the rise of Trump, the legalization of same-sex marriage, the exposure of Ashley Madison and Planned Parenthood, and in my own state of South Carolina, heart-breaking flooding and church shootings.
All of which reminds us that our strategic plans rest on a sure, but unpredictable foundation: "If the Lord wills." Control is in the hands of a God who is always, always doing something new, far beyond our imagining, even (especially) n the midst of tragedy.
To unbelievers it feels like randomness and chaos. Think how many rise each day into a world they believe is at best out-of-control, at worst hostile and dangerous. We have such good news to offer.
What a gift to rise into a world in the hands of a God who loves us so much that he sent his Son to die for us. Control founded on goodness and love calms our fears and enlarges our hope. "I am God, and there is no other; I am God, and there is none like me, declaring the end from the beginning and from ancient times things not yet done, saying, 'My counsel shall stand, and I will accomplish all my purpose,' calling a bird of prey from the east, the man of my counsel from a far country. I have spoken, and I will bring it to pass; I have purposed, and I will do it." Isaiah 46:9-11
Expect to overcome. Not just cope. If this new year finds you in distress, or pain, trying to wait on God or endure trials, don't settle for simply coping. We are called to overcome in Jesus name and power.
If you look it up you'll find that "cope" means to maintain a contest or combat, usually on even terms, pehaps with some degree of success. To "overcome" means to get the better of in a struggle or conflict; conquer; defeat: to prevail over. It's the difference between "maintaining" and "prevailing."
But how can we prevail when circumstances remain difficult? Several Biblical phrases come to mind: We lean into Jesus and his power so that we "don't give way to fear," we don't harbor "a root of bitterness" and we don't "lose heart." We have a confident expectation that God will do exactly what he has promised.
God knows we are broken and deeply in need of grace and comfort. But he also calls us to overcome. In Revelation those who overcome in Christ are promised astonishing rewards of provision (the Tree of Life), intimacy with Jesus and reigning with him.
"Who shall separate us from the love of Christ? Shall tribulation, or distress, or persecution, or famine, or nakedness, or danger, or sword? As it is written, "For your sake we are being killed all the day long; we are regarded as sheep to be slaughtered." NO, in all these things we are more than conquerors through him who loved us. Romans 8:35-37
Expect for God to fulfill his purposes for you. For me January means time to reread Nehemiah. See again how the news of a great human need pierces Nehemiah's heart. Plunges him into prayer, fasting and planning how to meet the need. How God opens amazing doors of opportunity to move ahead. How God and the king himself give him everything he needs to rebuild Jerusalem's wall. How he fights to overcome the opposition. As a result, many renew their hope and their worship. It's a whole new beginning for the people of Israel.
What makes us weep and pound the table? May God give us the expectation that as we use our gifts to meet others' needs we will be a blessing and help them delight in the power and beauty of our God.
"The LORD will fulfill his purpose for me; your steadfast love, O LORD, endures forever." Psalm 138:8
In this election year expect the Holy Spirit to be a far more effective agent of real hope and change than any political change agents. This will be a year of election drama and tension. The culture war doesn't go away simply because we are tired of it. In our deeply divided nation our elections have become battles without bullets. Especially in the early-voting state where I live, we are in for a winter blizzard of promises, accusations, polls, ads and robocalls.
Politics matters. We should all be good stewards of our vote. It was the King and his soldiers and foresters who helped Nehemiah rebuild Jerusalem's broken and burned walls. Political power can be a powerful change agent. But it was God who went before Nehemiah and gave him favor with the King. Who helped Nehemiah develop his plan and pursue it every step of the way.
In an election year we can get so caught up in the drama. Who's up? Who's down? How do we expect them to deliver on their promises?
Again, we hold their promises lightly, knowing that, even if they are elected, they are not ultimately in control. And perhaps we spend less time on the sidelines
watching the political reality show
than being a player ourselves. In our entertainment culture our great temptation is to scroll, read and watch and not get in the arena ourselves.
If we expect the Holy Spirit and the Church to be where the real action is, then it will impact the time we spend watching this year's political pageant.
In real life God is writing the epic drama of redemption and we each have an important role to play…
From Nehemiah 1-2 "'The remnant there in the province who had survived the exile is in great trouble and shame. The wall of Jerusalem is broken down, and its gates are destroyed by fire.'
"As soon as I heard these words I sat down and wept and mourned for days, and I continued fasting and praying before the God of heaven…'O Lord, let your ear be attentive to the prayer of your servant, and to the prayer of your servants who delight to fear your name, and give success to your servant today, and grant him mercy in the sight of this man.'
"Now I was cupbearer to the king…And the king said to me, 'Why is your face sad, seeing you are not sick? This is nothing but sadness of the heart.' I said to the king, 'Let the king live forever! Why should not my face be sad, when the city, the place of my fathers' graves, lies in ruins, and its gates have been destroyed by fire?'
"Then the king said to me, 'What are you requesting?' So I prayed to the God of heaven. And I said to the king, 'If it pleases the king, and if your servant has found favor in your sight, that you send me to Judah, to the city of my fathers' graves, that I may rebuild it.'
"So it pleased the king to send me when I had given him a time.".