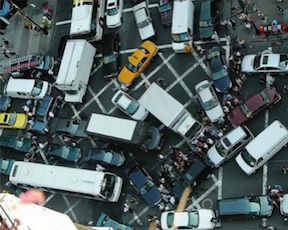 Summer Trouble and Soul Anchoring
You are in the thick of it, not quite the needed summer respite you anticipated.
This is NOT the picture you had in mind of yourself this summer -swinging in a hammock breathing in the fresh mountain air.
Instead you feel like you are in what this picture represents: chaos…a big, fat traffic jam –uncertainty of moving forward or anywhere, confusion, impasse, no apparent way out, delay, craziness, burdens, stress -TROUBLE.
Scarily this picture can also mirror the state of our souls revealing the necessity of soul anchoring in a speed saturated, no margins-crammed to the gills society.
Soul anchoring becomes critical especially when the circuits are jammed, the traffic stalled, an impasse reached and we are depleted, then what?
The Psalmist voices it well, "Oh God, you are my God, earnestly I seek you, my soul thirsts for you, my body longs for you in a dry and weary land where there is no water." (Psalm 63:1)
Impose Jesus' words in John 16:33 on this picture "I have told you these things, so that in me you may have peace. In this world you will have trouble. But take heart, I have overcome the world".
His words offer a reality check. He told us there would be trouble as long as we were living in the world. He knew there would be hardships, turmoil in transitions, change, grief – geographic, physical challenges. He is never surprised or caught off guard by the challenges, the difficulties – the unwanted assignments, the burdens. It is only in Him that we have peace and anchoring for our souls.
Jesus also knew: that He would send His Spirit to indwell each believer – to inform, to comfort and to guide (John 14:16-21). He knew he would provide His Presence. He knew He would always be with us to give us exactly what we would need in trouble. He would give us His peace. He would provide a way out (I Corinthians 10:13). He desperately wants us to trust Him.
He was preparing the disciples to learn how to live in the midst of trouble. He deeply wanted to comfort them and us with these words.
So, why are we surprised when difficulty seems to dominate and we have days, weeks, even months that seem un-navigable? These are givens when living in "this world".
Expect difficulty, expect trouble – it is part of the territory of humanness in a fallen world – BUT don't give into it. Don't let it overwhelm you. It is what it is… this is reality. Don't fight against it. Instead lean into what Jesus promises you and trust Him.
Consider again the Psalmist's words as your prayer for this day, for this time:
"Have mercy on my, O God, Have mercy on me for in you my soul takes refuge.
I take refuge in the shadow of your wings until the disaster has passed.
I cry out to the God most High, to God who fulfills His purpose for me." Psalm 57:1-2
May the peace of Christ be yours this day for whatever soul storm you are in and for whatever trouble is plaguing your soul.