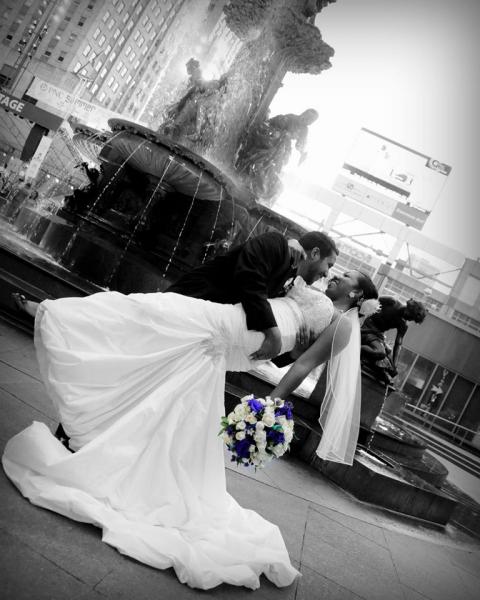 Marriage: Jumping with Both Feet
I had a friend once tell me, "You're not ready for marriage." Her critique left me wondering, though, how in the world does one ever become ready for marriage? There is no graduate degree in loving someone who constantly forgets to clean the sink after shaving. There is no crash course in biting one's tongue when you know the exact words that would decimate your spouse. And there certainly is no true way to ready yourself for a lifetime of being an imperfect person who loves another imperfect person.
Now, I'm not saying don't get premarital counseling, and don't read all of the "How To" books. Certainly there is wisdom in preparation; however, a sense of readiness in light of the realities of marriage can often bring about false security. Saying you are ready for marriage is like saying, "Yes, I am absolutely ready to bungee jump off of this cliff." You may have gotten all dressed up to bungee jump, you've got all the supplies, watched the videos, did the training class, got additional life insurance, but when it's go time your preparation is dwarfed in light of the monumental task set before you.
Yesterday a single mother told me the story of when her son-in-law asked for her daughter's hand in marriage. As the young man mustered up his courage and explained his intentions to this protective but gracious mama, the mother responded to his request with another question, "Do you know what you are asking?" she said. Puzzled, the young man's mind started to race, thinking of all the possible answers to her question, but the mother held his hand firmly and looked into his eyes, "You're not asking for my daughter's hand in marriage, you're asking to sign up for a lifetime of servitude."
What the mother had in mind was this: marriage is self-denial in the form of service. Jesus told his disciples, "I give you a new commandment – to love one another. Just as I have loved you, you also are to love one another. Everyone will know by this that you are my disciples – if you have love for one another." (John 13:34-35) And what is the legacy of love that Christ exemplified for us? John 15:13 says, "No one has greater love than this – that one lays down his life for his friends."
In marriage we are given a unique task to bear resemblance to our Lord by loving with abandon, an imperfect person who makes you laugh and cry, who uplifts you and infuriates you, who builds you up and sometimes tears you down. But what would it look like if an army of believers were to love their spouses in such a way that people would know we are disciples of Christ? What would it look like to be "quick to listen, slow to speak,(and) slow to anger," (James 1:19) with our spouse? What would it look like for husbands and wives to truly submit to one another out of reverence for Christ? (Ephesians 5:21) What would it look like if we imitated Christ's love, that yet while we were still sinners he laid down his life for us? (Romans 5:8)
So I pose this question…who is really ready for marriage? Who is really ready for self-sacrifice? Who is really ready to love so unselfishly that they would be willing to lay down their lives? This task laid out before us in marriage brings readiness to its knees. Why? Because the journey of marriage is ever changing! It's beautiful and thrilling, it's frightening and dizzying all at once. So instead of taking to the unfathomable task of trying to ready yourself for every twist and turn in marriage, stand on the edge, hold boldly to the one constant we have in Christ and jump with both feet!