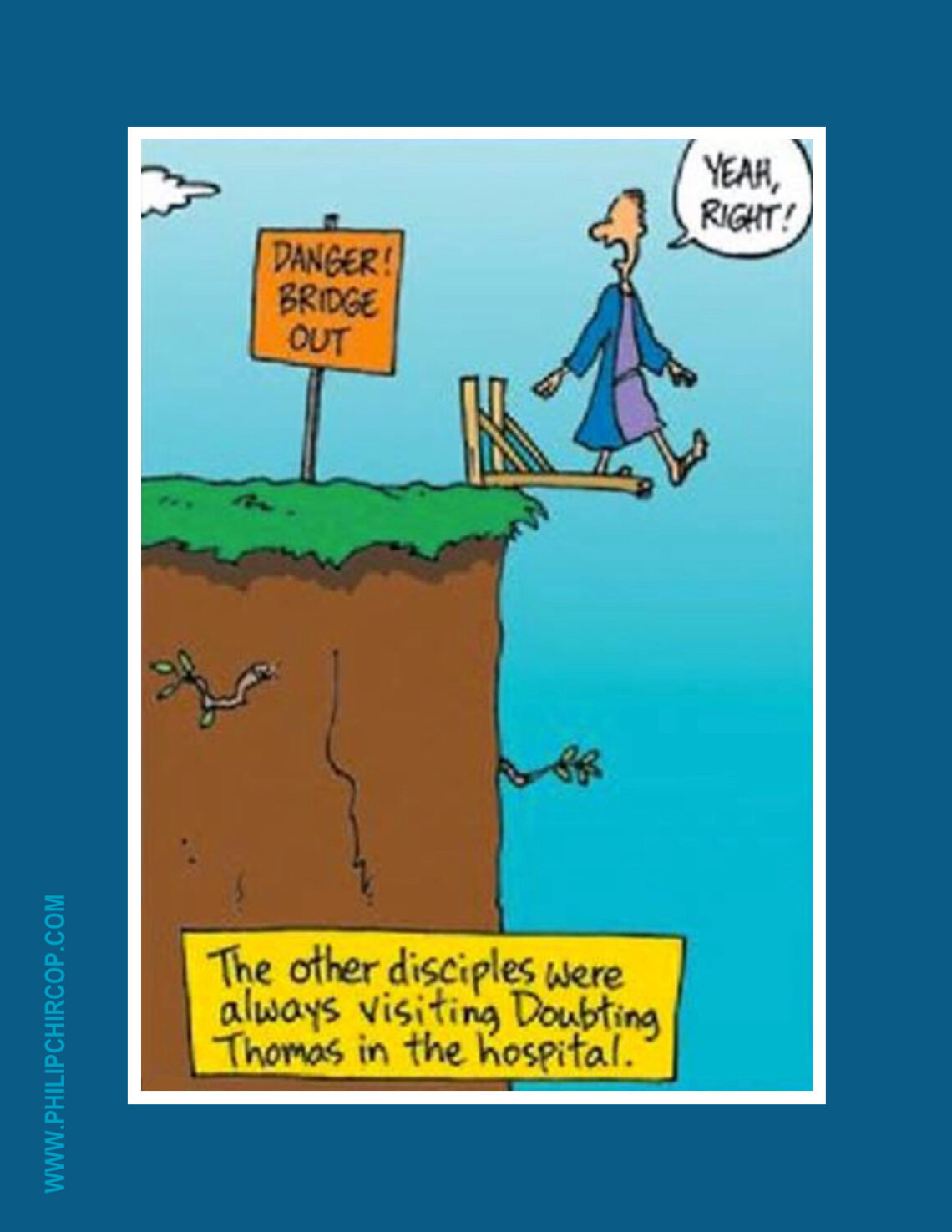 How Easter helps us Deal with Doubt
True confession: Sometimes I doubt.
I doubt lots of things. From nominal things like a beauty product's guarantee to transform my skin (it probably won't) to more consequential things, like whether or not a politician is telling the truth (ummm….you be the judge).
A degree of doubt is certainly normal and healthy, as the alternative would be gullibility. But what about when our doubts move beyond distrusting imperfect products, humans and institutions to doubting our faith? Doubting Scripture? Doubting the very thing Christians all over the world have set their hope on?
True confession: Sometimes I doubt.
These under-the-surface doubts regarding my faith rose to the forefront just after my dad died. As my family and I wept and laughed and celebrated his life, we took comfort in the fact that he was with Jesus, and we would one day be together again. But anytime we'd discuss the hope of heaven, internally, an unbidden thought would cross my mind: "Man, I hope that's true." It was a quiet thought, pretty easy to shut down, but it was there. And it lingered.
The thought pops up occasionally as I look at the mess of the world and think, "You're sovereign over this?" Doubt creeps in when I'm reading through some of the wackier stories of the Bible to my son. "And then Delilah had Samson's hair cut off, and he lost all his strength!"
Left to its own, doubt can lead to some other detrimental D's: Disillusionment. Distrust. Despair.
OR…
Doubt can lead us to deepen our faith.
We have been created by a God who wants a relationship with us. So much so, that He allowed the unthinkable, the unbelievable. And that unthinkable, unbelievable chain of events – the death and resurrection of Christ – reinforce my belief that the whole shebang, the grand narrative of Scripture, is 100% true.
Doubt entered the story early on. "Did God really say…," Satan whispered to Eve. Giants of the faith struggled with doubt – Abraham & Sarah, Job, David, Zechariah, Peter, Thomas – just to name a few. And doubt often enters our minds and hearts as we feel the effects of a world gone awry, wait for the redemption of all things, and put our hope in things unseen and as of yet, unrealized.
That's why rehearsing the story of Easter is so powerful. This unthinkable, unbelievable chain of events could have been historically debunked time and time again through the centuries, if it weren't true. Many have tried – proposing elaborate theories to explain away the disappearance of Jesus' body, the testimony of eye-witnesses who previously would have recanted but went to their deaths proclaiming the 'good news', and the church movement that began 2000 years ago and is still changing the world. Evidence for the resurrection of Christ as a real, historic event is incredibly strong, even for the greatest of skeptics. (For excellent resources regarding the historicity of the Resurrection, see A Dozen Evidences for the Resurrection of Christ, Lee Strobel's The Case for Christ, McDowell's Evidence that Demands a Verdict, and Tim Keller's Reason for God, among others.)
When I find my mind drifting towards doubt, I think of the story of Easter. I think of the saints who have gone before me and how their doubts pushed them towards the Lord, rather than away. I think of my dad, who faced death with confidence and hope, assured of his destiny and the legacy of faith he was leaving behind. And I think of Paul, the most unlikely convert, who penned these words over 2000 years ago:
For what I received I passed on to you as of first importance: that Christ died for our sins according to the Scriptures, that he was buried, that he was raised on the third day according to the Scriptures, and that he appeared to Cephas, and then to the Twelve. After that, he appeared to more than five hundred of the brothers and sisters at the same time, most of whom are still living, though some have fallen asleep. Then he appeared to James, then to all the apostles, and last of all he appeared to me also, as to one abnormally born…. (I Cor 15:3-8)
And if Christ has not been raised, our preaching is useless and so is your faith. … (I Cor 15:14)
But Christ has indeed been raised from the dead, the firstfruits of those who have fallen asleep. For since death came through a man, the resurrection of the dead comes also through a man. For as in Adam all die, so in Christ all will be made alive. … (I Cor 15:20-22)
When the perishable has been clothed with the imperishable, and the mortal with immortality, then the saying that is written will come true: "Death has been swallowed up in victory."
"Where, O death, is your victory?
Where, O death, is your sting?"
The sting of death is sin, and the power of sin is the law. But thanks be to God! He gives us the victory through our Lord Jesus Christ.
Therefore, my dear brothers and sisters, stand firm. Let nothing move you. Always give yourselves fully to the work of the Lord, because you know that your labor in the Lord is not in vain. (I Cor 15:54-58)
Have hope, my friends. He is Risen. He is Risen, indeed!