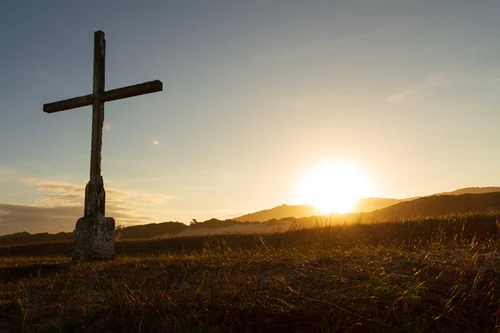 Meet Me at the Cross: A Poem
Looking to redeem your guilt and your shame?
Hoping for a way to relieve the pain.
Meet me at the cross.
Seeking shelter in the storm, frail and worn.
Fighting a battle you can't seem to win.
Longing for love that knows no end.
Meet me at the cross.
Trapped in a cycle of doubt and fear.
Aching to know the comfort of peace.
Meet me at the cross.
He makes all things new. He is waiting for you.
Meet me at the cross.
Gather at the cross, it's a compass for the lost.
I'm just like you, so I'll be there too.
Meet me at the cross.
Though today it's an empty and solemn place,
It's a representation of the deepest grace.
There is not a piece of your story that is kept from His sight,
Step out of the shadows and into the light.    
The foot of the cross is only the beginning,
But it is also the start of a victorious ending.
It's here we are part of the great exchange,
His life for ours, no more guilt, shame or pain.
I was led to the cross sometime ago. It's not a journey I took alone.
There are many who go there, day after day.
The Lord himself only knows who will join you along the way.
Meet me at the cross.