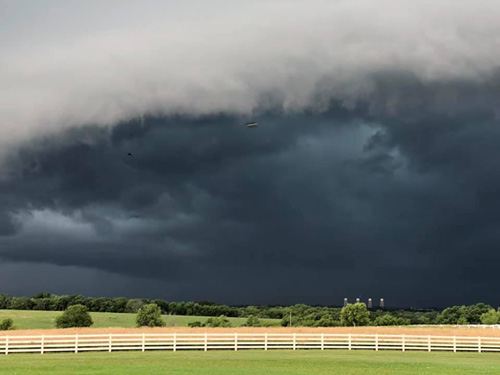 No Fear…"Seeking My Favorite Things"
What are your favorite things? According to the familiar song, "My Favorite Things" written by Richard Rodgers and Oscar Hammerstein II, these are a few of Maria's favorite things. Julie Andrews, who portrays Maria, in the award-winning musical "The Sound of Music" gives a list of some of her favorite things to help the Von Trapp children from being afraid of the storm.
"Raindrops on roses and whiskers on kittens,
Bright copper kettles and warm woolen mittens,
Brown paper packages tied up with string
These are a few of my favorite things."
As the song continues, the lyrics are uplifting and fun. In the movie, Maria whisk through the music with delight to encourage the children to embrace good thoughts, instead of sad thoughts, as the storm rages outside. The lyrics in the song continue to remind the children that the storms can be scary and unpleasant, but when they think of their favorite things, they won't feel so bad.
"When the dog bites
When the bee stings
When I'm feeling sad
I simply remember my favorite things
And then I don't feel so bad."
This past year has given many of us, discouragement, pain, affliction, despair, sickness, and suffering. For some, the storms of 2020 raged so furiously that seeking anything that might be considered ones favorite things were far from one's mind. Without hope and a source of strength life becomes a mess full of sad thoughts and emotions that lend themselves to discouragement. Our minds and hearts wonder in search of things we desire that will give us satisfaction, happiness, and peace. In God's word, Jesus said, "Come to me, all you who are weary and burdened, and I will give you rest. Take my yoke on you and learn from me, because I am gentle and humble in heart, and you will find rest for your souls. For my yoke is easy to bear, and my load is not hard to carry." (Matthew 11:28-30) NET. Are you weary? Are you burdened? Do you need rest?
Thinking about this past year, I am reminded that some of my favorite things are temporal and not the best things for me to think about when I am sad. Instead, my mind should be filled with thoughts of the One who gives me hope and satisfaction in the middle of the storm. His name is Jesus! His peace is perfect and not from the temporal things of the world. "Peace I leave with you, my peace I give to you; I do not give it to you as the world does. Do not let your hearts be distressed or lacking in courage." (John 14:27) NET. Seeking Him will bring peace in the middle of the storms of life. His peace is perfect and forever.
As parents in this raging storm of life, teaching children to seek Jesus for answers when they are afraid is so important. As children walk down the path of life and experience a journey that is happy and sad, it is vital that they learn who to seek for answers and hope.
Below is a list of my favorite things that give me hope in this raging storm of life.
1. Seeking Jesus and finding Him who cares for all of my needs. (Matthew 6:25-34; 7:7-8)
2. Seeking Jesus and finding Him who comforts me when I am sad. (Matthew 5:4)
3. Seeking Jesus and embracing Him who holds me through the storms when I am afraid. (Philippians 4:7-8)
4. Seeking Jesus when I am weary and tired, who gives me rest. (Matthew 11:28-30)
5. Seeking Jesus and trusting Him with my life, there is nothing I can do without Him, who gives me eternal life. (John 3:16)
6. Seeking Jesus and pouring out my heart to Him who hears when I am discouraged. (Romans 5:1)
7. Seeking Jesus when I am weak who gives me strength. (Psalm 46:1)
8. Seeking Jesus when I need a friend, who will be my forever friend. (Romans 8:38, 39, II Corinthians 1:22)
9. Seeking Jesus when I feel alone who is always with me. (John 14:27)
10. Seeking Jesus when I need a hand to hold, who will love me forever. (John 15:9, 1 Peter 5:7)
What are your favorite things? These are just a few of my favorite things when I look to Jesus for answers…and of course there are many more verses of comfort to find in God's Word. His power, strength, peace, and comfort will take me, you, and our children through the storms of life. Jesus said to them, "I am the bread of life. The one who comes to me will never go hungry and the one who believes in me will never be thirsty." (John 6:35) NET.
I will not be afraid of the storm because I know who holds my life in His hands!