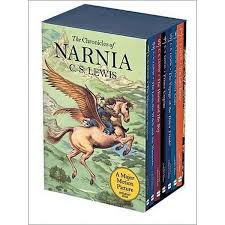 Nuggets of Truth in Narnia
C. S. Lewis is truly a gifted writer. If you haven't read his Chronicles of Narnia, it is never too late to dive into this world of talking animals, a wardrobe with a secret pathway into Narnia, and adventures that range from creation to the final judgment.
Nestled in the context of the make-believe world of Narnia are many nuggets of God's truth.One good example is found in the book, The Voyage of the Dawn Treader. This is a story of danger and courage with great insights on the issue of forgiveness.
Forgiveness is a difficult issue for everyone. It is hard for us to admit that we need it and may times even harder to give it. This is especially true when the pain we have endured seems that it will be diminished in the forgiving.
Tucked away in the great quest of the Dawn Treader is the story of a boy named Eustace. At first glimpse we see him as a very selfish and mean lad whose greatest joy in life comes from making his cousins' lives miserable. It is a story of one who needs forgiveness and others who need to learn to forgive.
Eustace wrongs so many but has no capacity to see his wrong doing. Each of the offended must work hard to forgive. Eustace suffers much to come to grips with his need to be forgiven. Others struggle to understand that being freely forgiven they must freely forgive. The story is layer upon layer of truth about the multifaceted act of forgiveness.
More and more children grow up in homes where they experience abuse at the hand of an adult or sibling. There is no worse abuse than that given by someone God intended to not only be safe but also a protector. They need to learn how to forgive without placing themselves in danger.
Countless men and women who were wronged as a child have grown up with shame and pain of that abuse which has festered into a bitter heart of unforgiveness. Abused children not only have a need to forgive the abuser but most times will also need to forgive themselves for being abused. Left to fester and grow, abuse will not only become a part of their story, but also a defining part of who they are.
It is not surprising that we should read in the same chapter how the Lord spoke both to those who mistreat little ones: Matthew 18: 6 &7 and then to those who have been forgiven who will not forgive their offenders: Matthew 18: 23-35. At the very heart of Christianity is the need for and the wonderful gift of forgiveness. How can we as believers receive such a gift from the heart of our suffering Savior and not freely give it to those who have made us suffer?
Forgiveness does not come naturally to us, even as believers. The old nature in us fights against the Spirit's urge to forgive. IThis makes it Imperative for us to teach children both their need of forgiveness and their need to forgive.
Here are some wonderful truths about forgiveness and they have changed my life along the way:
If we make the choice to forgive, God will supply the forgiveness.
There should be no limit to our forgiveness because there is no limit to His.
Forgiveness is not a feeling or an emotion. Forgiveness is a deliberate choice.
Forgiveness is our greatest need and God's greatest gift.
While we cannot change the past, we can change our response to the past and dictate the power it has over us.
May God Grant every child an opportunity to learn the wonderful truth that Eustace learned, his need for forgiveness and the wonderful freedom and joy that his cousins learned in the joy of being able to forgive.