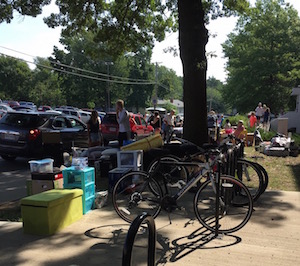 Only Strong and Courageous
I cried when I hugged my daughter goodbye on the parking lot across the street from the dorm where she now lives.
I didn't care.
I knew that moment would unleash the emotions I had bottled up all summer long.
So I released it right there.
Up to this point, I had watched my student take charge of her college checklist. I helped her unpack and I watched her settle into her new "home."
Honestly, it all felt so wrong but I knew in my heart God wanted this. So when I hugged her one last time, God said, "Let her go." And I did and it hurt.
So I cried.
Having children will do that—the experiences with them will elicit deep courage and it will hurt in ways you never thought it could.
It starts the day you find out you need to add, "mother" or "father" to your description. I don't mind telling people my kids bring out the best and worst in me. They have in so many ways.
And I'm certain God uses moments with them to refine me, mold me so I will find my courage in Him.
So I cry because when I am weak, He is strong.
And I no longer have to "get over it," "woman up," "move on," "suck it up," "get a grip," or "handle it." I can just feel—the letting go and letting God.
I don't have to hide it. I don't have to pretend it's easy. I don't have to do anything except step aside and watch God do His thing in my life and in the life of my kids.
I've read it in scripture, "Have courage! Take heart!" and I often tell my loved ones, "Only strong and courageous, for the Lord your God will be with you always" (Ps. 31:24, Jos. 1:9).
Will be with you always! Something about this promise…
It stirs up my soul to remember God keeps His promises to those He calls His own. He protects the lives of His godly people and rescues them from the ways of the world (Ps. 97:10).
It makes me recall His ways.
He will use the difficult moments in my life to remind me, He's the source of my strength. He's my confidence, which has a great reward.
We are not of those who shrink back.
I will not shrink back.
For I need endurance in order to do God's will and so receive what is promised (Heb. 10:35–39).
And I'll hold on to Jesus 'cause He is enough. He knows how I feel. When you submit to God's plan, it can hurt. We will experience sorrow, but joy arrives in the morning (Ps. 30:5b).
So I cry. Just like I did that afternoon on the parking lot.
I do so remembering He stands next to me as I wrestle with letting go. I let the tears fall because I can feel His presence holding me deep in His arms as I struggle with living far away from my loved one. And I tremble recognizing His handiwork in the life of my girl—His girl.
Because I know it—I've seen it before.
It's the same work He did in me not so long ago.
The faithful love of the Lord never ends!
His mercies never cease.
Great is his faithfulness;
his mercies begin afresh each morning.
I say to myself, "The LORD is my inheritance:
therefore, I will hope in him!"
Lamentations 3:23–24 (NLT)