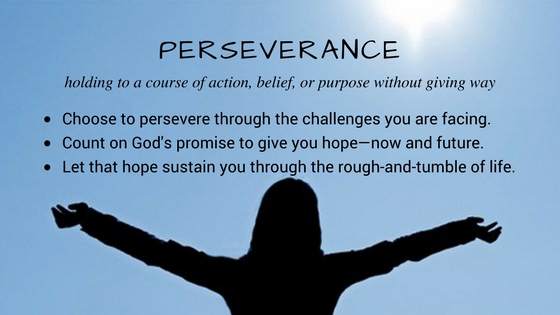 Perseverance in the Rough-and-Tumble of Life
Listen to this blog as a similar podcast:
Look around you. Something is going on somewhere in your country, your town, your neighborhood or your family that's got someone upset, nervous, or in panic mode—maybe even you. Cancer. Disaster. Job loss. Death. Enemy attack. For those of us who like to plan and control our environment so that our loved ones (and ourselves) can rest, relax, and be productive, these interruptions to life are very hard to bear. So, we try to escape to something that makes it go away for a while—a feel-good movie, book, or a retreat. But, then we get back to the rough-and-tumble of real life and find that whatever is stressing us is still there. Most stressors don't last just for a day—more like a month or year or even a decade. Right? In order to not only survive but also to thrive over a lifetime of ups and downs, we need to have something called perseverance, something the Bible says is good for us. But, perseverance is only learned when there is a challenge to our comfort. And, who likes that?
What is perseverance?
By definition, "perseverance" is holding to a course of action, belief, or purpose without giving way. Perseverance, often used interchangeably with the word endurance, is the quality that enables a person to stand on her feet when facing a storm head on. It refers to active staying power and tenacity to hold up under some long-term burden, not just getting stuck in traffic. It carries the idea of whole life experience. Sadly to say, we can't learn it from a book. Bummer.
Jesus said we will surely have trouble in this world (John 16:33). Some trials and tribulations simply come from living in this fallen world and are common to all—illness and natural disasters. Other troubles are related to being a child of God living in an unbelieving world—persecution and rejection. Then there are those we inflict upon ourselves because of sin still present within us—usually resulting from bad choices—or troubles that others inflict upon us because of their bad choices. Either way, we get stuck with the results. Maybe that's what you are experiencing right now.
The need for hope
Regardless of the cause of our struggles, we need a secure hope in order to "hang in there" over a lifetime. In Hebrews 6:19, hope is called an "anchor for the soul." That is a tremendous image—the picture of an anchor giving security and stability to a ship in the midst of a storm. That is what hope does for us, and more!
Our God is faithful. That is a fact. By trusting God through present difficulties and pains, we can remain steadfast because we know the outcome. Christ will complete the work He began in us that enables us to persevere over a lifetime. We can have a secure hope rooted in the faithfulness of God. Without hope, people give up. We can persevere through the rough-and-tumble of real life when we are empowered by our faith and sustained by our hope in an always faithful God.
The writer of Hebrews pointed to the one focus in life that can give us hope that lasts, "keeping our eyes fixed on Jesus" (Hebrews 12:2). We must focus on what he is doing in the midst of what we are doing. It is our total confidence that Christ will complete the work he began in us that enables us to persevere through the rough-and-tumble of real life.
Prepare by instruction, learn by experience
God's way of developing perseverance in our lives is this: "Prepare by instruction; learn by experience." Have you noticed this in your life? Our instruction comes from the Bible, especially viewing the work of God in the lives of men and women during much of their lifetime. We can see God's faithfulness to them and be confident in his faithfulness to us as well. He is the same God after all.
I heard this several years ago, and it has stayed with me.
When we look at life just with our own eyes, we become fearful, pessimistic, & negative. We think, "Nothing's going to work. I don't know if I can get through this." But, when we look at the Bible and begin to see how God empowered everyday people like you and I, the Holy Spirit takes the Word of God to strengthen us and give us courage that we didn't know we had.
That is so true. God is the best teacher.
Choosing to persevere
Perseverance involves a choice. And, there are rewards for choosing to persevere all the way to the finish. James 1:4 says we will have maturity, be complete and lacking nothing. Romans 5:5 says we will have hope that doesn't disappoint. I like not being disappointed, don't you?
Choose to persevere through the challenges you are facing (for days, weeks, years).
Count on God's promise to give you hope—for today and for the future.
Let that hope sustain you through the rough-and-tumble of real life.
Are you ready to develop perseverance in your life?
---
More Resources:
Profiles of Perseverance Bible Study of Old Testament Men (read online)
Profiles of Perseverance Bible Study of Old Testament Men (download pdf)
Susanna Wesley—A Portrait of Perseverance by Susie Hawkins
Perseverance and Promise of Faith by Vickie Kraft